Heidi Messer, Co-Founder and Chairperson, Collective[i]
While campaigning for the 2020 US Presidential election, candidate Andrew Yang warned that automation would jeopardize 1 in 3 American jobs. To avoid an unprecedented crisis, he proposed a universal basic income which he called the "Freedom Dividend", a policy which would guarantee a $1000 a month check from the United States government to every American adult. Yang argued that a universal basic income was needed to address the massive structural changes in how the U.S. economy would operate in a digital age, and that it would be the basis on which a stable, prosperous and just society could be built. The Freedom Dividend and the conversations about the impact of automation on employment, and the role of government in providing income relief, died with his campaign.
But then came COVID-19. In April 2020, less than two months after Yang suspended his run for office, Congress passed a stimulus package totalling nearly US$1/2 trillion, putting cash into the pockets of millions of Americans. Why? It was the obvious solution to prevent massive unemployment and business displacement that everyone recognized would be as, if not more, dangerous than the pandemic itself. Similar stimulus and relief measures were also implemented around the world, including in the UK, Australia and Europe – countries where austerity and fiscal discipline have been the catchcry of politicians for decades. And US politicians from both sides of the political spectrum ended the year debating a stimulus package double that of the earlier relief measures.
The COVID-19 crisis has shown itself to be more than a virus. It's been a crash course in the future. Senior citizens have flocked to Zoom. Colleges and primary schools are educating students online. Telemedicine has replaced in-patient visits. 3D printers are producing medical supplies. The global in-office workforce has shifted to almost entirely remote and the consensus is that where you work will be less of a consideration in determining for whom you work. Scientists, physicians, funders and manufacturers came together as part of an international collaboration, to help speed the availability of a vaccine. Google and Apple, fierce competitors, struck a landmark agreement to jointly use data to fight the spread.
The businesses built for the future became the must-have technologies for the present. Slack, Zoom and my own company Collective[i] (we provide AI-enabled forecasting, intelligence and collaboration tools for B2B sales organizations) all saw a huge uptick in demand as companies suddenly had to operate in the digital-first world and make decisions in an environment unlike any other they've experienced.
Like Yang's policy, what was perceived as futuristic fantasy suddenly became the status quo. The speed at which this transformation happened was both breathtaking and terrifying. The transition to digital happened in a matter of months. The companies leading the charge crushed earnings, grew market share and saw unprecedented adoption. By comparison, the transition to an industrial economy spanned two world wars and the decades following. The pandemic will pass but many of the changes in how we live and work will not. When the world re-emerges, our cities, our institutions and industries– real estate, education, health care, insurance, hospitality, travel and countless others– will never be the same. Now is the time to carefully consider how and what we rebuild. It's time for a digital New Deal.
Automation is coming and along with it the potential for mass unemployment. At the same time, new jobs will emerge posing a shortage of people with the proper skills. Under the quarantine, we saw a clear line– essential workers and everyone else. And even then, many of the jobs we deem essential would be replaced by machines if the option existed. Would you prefer a robot or a person packing your Amazon order? An Uber driver, a self-driving car or a drone delivering your food?
On the other hand, many essential workers are in short supply. In the world we are experiencing it's clear that we need more nurses and therapists to help us heal, artists and athletes to entertain, scientists to innovate, engineers to create, leaders to inspire, journalists to report and a whole host of skills that are uniquely human. The line between where machines and humans add value is clear. The problem is we are over-indexed on at-risk work and have a shortage in the places where we need people most. Hence the paradox.
Without technology we are powerless and without people, we are hopeless
When China sneezed, we got more than a virus. The global supply chain broke with shortages of toilet tissue, paper towels, masks, gowns, ventilators. The problem also revealed the solution. 3D printing and robotics rose as alternatives to traditional manufacturing. The positives are clear. Automation neutralizes the threats external cheap labor, pandemics and geo-political squabbles pose to our supply chain. So is the challenge. A rapid loss of manufacturing jobs and an increase in poverty would threaten social stability.
The best antidote to unemployment and unrest is education. Education fuels the talent and creativity that technology and the new jobs that will be created need to thrive. We must bridge the digital divide and surface all the talent the world can muster. COVID-19 made it clear that every child needs connectivity and a computer. Curriculums must evolve with more teachers who can teach online and to the future. We have to decide now whether we want to expand opportunity for the next generation or be at the mercy of countries whose children have the skills to architect the future. The pandemic also revealed the elements of the global healthcare systems
that are clearly unsustainable. We underinvest in caregivers, prevention, wellness and primary care. Telemedicine, at-home diagnostics, health trackers and other forms of prevention and low cost delivery of medical services are a step in the right direction.
Civilizations are measured by their art. Right now in cities around the world, cultural institutions are in ruin and losing the war as places where cultural innovation flourishes. The businesses, institutions and cities that support innovation and creativity have been decimated. With no museums, theaters, concert halls and restaurants, we are restless and starved for stimulation. Millions of hard-working food purveyors, gig workers, aspiring actors, artists and musicians are without employment and any safety net. We will need a new model to create opportunity (and security) and compensate the creative class. And we must invest in artificial intelligence. The companies that flourished during the pandemic were able to adapt because this technology gave them minute by minute intelligence on how to deliver goods, entertainment, medical advice and more.
The speed at which multiple vaccines were successfully developed should be a model for all innovation. It is striking to see the potential for collaboration between industry and researchers supported by network scale data and AI. In software, there is the concept of agile. When an assumption changes, so does the direction of what's developed. This approach requires data to provide feedback, transparency to assess progress, trust in team members and the talent to execute. The governments who most successfully battled COVID-19 (South Korea, Australia, New Zealand, Germany, Taiwan and Singapore) operated with agility. They provide a better model to address societal challenges– test and acquire data, engender trust and collaborate with industry and citizens towards a shared goal.
Devastation can shed light on vulnerabilities masked by prosperity. Following the Great Depression, Frances Perkins, the first female member of a presidential cabinet, introduced the policies that protect modern workers — Social Security, unemployment benefits, the 40-hour work week and an end to child labor. It was an industrialist, Lewis Brown, who recognized that Germany needed to be rebuilt that led to the Marshall Plan and decades of prosperity and peace. Perkins and Brown helped the world recognize that we needed to make life better for workers and restore the world's cultural and political centers to move forward.
This glimpse into the future has provided us with a drastic example of what works and what doesn't in the digital age. If we rebuild sustainable industries supported by a properly educated workforce, the future can be a massive improvement on what was. Opportunities (and horrible alternatives) have presented themselves during the COVID-19 pandemic. It is up to us to replace cultural and economic stagnation, massive unemployment and pervasive fear with opportunity, abundance and education. We can learn from this challenge and rebuild around the things that will make the world stronger. As Winston Churchill said, never waste a good crisis and in this one, there's no time to waste.
---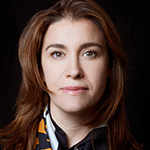 Heidi Messer currently serves as Co-Founder and Chairperson of Collective[i]®. Collective[i] (short for Collective Intelligence) hosts a network and AI/ML powered application that enables companies to predict, manage, and grow revenue. Prior to Collective[i], Ms. Messer co-founded and served as President of LinkShare, host to one of the world's largest online affiliate networks until its sale to Rakuten for USD $425m. She received her B.A. from Brown University and her J.D. from Harvard Law School.