Candace Johnson, Serial Space Entrepreneur, Chair Seraphim Space Advisory Board and Partner, Vice-Chair NorthStar Earth & Space, Executive Board Member ICC
---
Space is ubiquitous1. In the digital world and thanks to IoT, sensors, AI, robotics, etc. our world and our planet have become connected via space and in space. It is not an overstatement to say that today our world and our universe are dependent on space, whether it be for connectivity, observation, analysis of all things, people, weather, mobility, infrastructure, environment, climate change, etc.
It is also not an overstatement to say that "Space" is the perfect realisation of Global Blended Finance, having from the very beginning inspired innovation in a spirit of international cooperation that has benefitted governments, citizens, and our earth. One need only look at such examples as the International Space Station, public-private launch and satellite consortia, publicly funded research giving way to space exploration and exploitation as examples of "Blended Finance" in a sector which by its very nature is global. We are at a critical point in our utilisation of Space and just as we sounded the alarm bells for our planet, we must now all come together to make certain that Space remains the valuable resource it is for life on earth.
Space fulfils all of the SDGs on earth and more in the universe. Were you only to think of the GPS satellites which are essential to our mobility today, not even mentioning autonomous driving; when you think of the weather satellites; when you think of the "traditional" satellites such as SES, Intelsat, Inmarsat, together with the new satellite constellations such as Kacific or Starlink providing the Internet either directly or via trunking to billions around the world; when you think of the advent of 5 G, many times enabled by satellite frequencies or in the case of new constellations such as AST Mobile, actually bringing 5G directly from satellites to the phone, space is green, clean, democratic, universal, connected and more. Space helps alleviate poverty, bring education and communication to all, monitor our oceans, our planet, our air, our climate.
In April of this year, 2022, the United Nations charted a new path for "Meaningful Universal Connectivity". This means that anyone, anywhere, regardless of geographic location, socio-economic status, race, gender, or any other differentiating demographic, has access to affordable services and devices to connect to reliable and safe internet.
Whereas certainly space tourism captures the imagination of many, the role of space in our digital world and economy is crucial, critical, and enabling.
But just as we are recognising that the earth's resources are not limitless, and that we must limit and if possible eliminate pollution and degradation of our earthly environment, we are now understanding that space is also a limited resource which must be shared equally amongst all of the world's population, so that some • countries, in particular the emerging "Space Faring" ones are not excluded from reaping Space's benefits. Just as we strive to overcome "Digital Divides", we must make certain to not have a "Space Divide" with those • countries who are only now asking for access to space orbital positions and frequencies.
This is why I recently helped pen the European Business • Angels' Manifesto for a Clean, Safe, Equitable and Peaceful Space for All2, and why I am urging all nations, citizens, and stakeholders to pursue the following • 5-Point action plan to ensure that Space will continue to be the great resource for all life on our planet and in the universe:
International co-operation through peaceful participation in international organisations, such as the UN and the ITU to devise new rules for space exploration and commercialisation.
Transparency of space activities, so that everyone on earth can see and understand what companies and governments are doing in space, and what the implications for life on earth and their future will be.
Co-ordination of our efforts through working together in diverse and open space communities on a national, regional and global scale.
Use of good design principles, coupled with social awareness, to drive innovation and investment in new space technologies and services.
Entrepreneurs, governments and academia being involved on an equal basis in creating the peaceful use of space for the future.
---
MANIFESTO
For a Clean, Safe, Equitable and Peaceful Space for All
Space is the largest resource in the universe.
It needs to be protected and made accessible for all.
As the digital transformation gains further momentum, more and more countries and citizens around the globe are becoming dependent on space as a resource for their economies, for their societies, for the health and well-being of all life on the planet and for peace in the Universe.
The United Nations Sustainable Development Goals (UN SDGs) and the United Nations Declaration of Human Rights must now be extended to space. Without this, the same devastation that has occurred on earth and our oceans will also be encountered in space, thus depriving us of this most valuable resource. Mindless, unintended and intended harm is already endangering the access and ability to operate in space. This includes pollution coming from fossil fuels, debris, and inefficient use or colonisation of frequencies or orbital positions. This is leading to an inequitable use of this invaluable resource.
We must take action now to preserve and protect space in order to keep it clean, safe, equitable and peaceful for all.
In order to do this, we call on all existing and future operators to apply the UN SDGs and the U.N. Declaration of Human Rights. We as investors will not be able to ensure the financial viability of the ventures we are financing without applying these very principles and guidelines.
In addition, we refer to the excellent work being done by UNOOSA / EUSPA on the report covering how space technologies such as GNSS and space data contribute to the SDGs1 ;as well as work being done by The Secure World Foundation and several publications on Ethical and Socially Responsible Investing.
All countries and citizens around the globe need access to space for eternity.
Let's make it happen.
Humanity deserves a clean, safe, equitable and peaceful space for all.
1 https://www.unoosa.org/res/oosadoc/data/documents/2018/stspace/stspace71_0_html/st_space_71E.pdf
---
1 This article was first published on the occasion of the author's speech at the G20 in Bali, Indonesia, 15-16 November 2022.
2 https://www.eban.org/manifesto-for-a-clean-safe-equitable-and- peaceful-space-for-all-by-eban-space/
---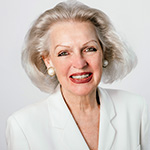 Candace Johnson is Founder/Co-founder SES, Loral Teleport Europe, Europe Online, GTWN, OWNSAT, VATM, GBRW. Currently: Chair Seraphim Space Advisory Board and Partner, Vice-Chair NorthStar Earth & Space, Executive Board Member ICC.