Gabriela Ramos, Assistant Director-General for the Social and Human Sciences, UNESCO
---
New technologies are at the cutting edge of transforming the world and the way we live. Maximising the positive impact of AI technologies is high on the international agenda.1
Today, artificial intelligence plays a role in billions of people's lives. Sometimes unnoticed but often with profound consequences, it transforms our societies and challenges what it means to be human. AI can provide millions of students with support to complete secondary education, fill an additional 3.3 million jobs, and, more urgently, help us tackle the spread and the aftermath of the COVID-19 pandemic. It is estimated that the use of artificial intelligence technologies can generate nearly four trillion dollars in added value for global markets by 2022, an increase of 70 percent from 2017.
Along with multiple advantages, however, these technologies also generate downside risks and challenges, derived from the malicious use of technology or deepening inequalities and divides. Would you trust a machine to decide whether or not you should have access to a bank loan, for example?
We need international and national policies and regulatory frameworks to ensure that these emerging technologies benefit humanity as a whole. We need a human-centred AI. AI must be for the greater interest of the people, not the other way around.
Todaytheinternationalcommunityhasnotrulyglobalinstrument to channel benefits and tackle the risks of AI technologies. This is what UNESCO wants to support through our work on the Recommendation on the Ethics of Artificial Intelligence. This is a truly grand endeavour, because ethics is everything. This moral basis has been translated into developing solutions for AI aligned with human goals, and with full respect of human dignity and human rights and all the values and principles that we believe in, and that have proven so important in these torrid times that we are altogether facing and trying to cope with.
On 24 November 2021, UNESCO adopted a comprehensive global standard-setting instrument2 to provide AI with a strong ethical basis. It will not only protect but also promote human rights and human dignity and will be an ethical guiding compass and a global normative bedrock allowing to build strong respect for the rule of law in the digital world.
Key Principles in the UNESCO Recommendation on AI:3
Respect, protection and promotion of human rights and fundamental freedoms and human dignity.
Protection of the environment and ecosystem should be recognized and promoted throughout the life cycle of AI systems.
Respect,protection and promotion of diversity and inclusiveness should be ensured throughout the life cycle of AI systems.
AI actors should play a participative and enabling role to ensure peaceful and just societies, which is based on an interconnected future for the benefit of all, consistent with human rights and fundamental freedoms.
Recognition that AI technologies do not necessarily, per se, ensure the health and protection of human societies, the environment and ecosystems.
Unwanted harms (safety risks), as well as vulnerabilities to attack (security risks) should be avoided and should be addressed, prevented and eliminated throughout the life cycle of AI systems to ensure human, environmental and ecosystem safety and security.
AI actors should promote social justice and safeguard fairness and non-discrimination of all kinds in compliance with international law.
The development of sustainable societies relies on the achievement of a complex set of objectives on a continuum of human, social, cultural, economic and environmental dimensions.
Privacy, which is a right essential to the protection of human dignity, human autonomy and human agency, must be respected, protected and promoted throughout the life cycle of AI systems.
Data for AI systems must be collected, used, shared, archived and deleted in ways that are consistent with international law and in line with the values and principles set forth in this Recommendation, while respecting relevant national, regional and international legal frameworks.
It must always be possible to attribute ethical and legal responsibility for any stage of the life cycle of AI systems, as well as in cases of remedy related to AI systems, to physical persons or to existing legal entities. Human oversight refers thus not only to individual human oversight, but to inclusive public oversight, as appropriate.
The transparency and explainability of AI systems are essential preconditions to ensure the respect, protection and promotion of human rights, fundamental freedoms and ethical principles.
Public awareness and understanding of AI technologies and the value of data should be promoted. There should be open and accessible education, civic engagement, digital skills andAIethicstraining,media and information literacy led jointly by governments, intergovernmental organizations, civil society, academia, the media, community leaders and the private sector, and considering the existing linguistic, social and cultural diversity, to ensure all members of society can take informed decisions about their use of AI systems and be protected from undue influence.
The potential for digital technologies and artificial intelligence to contribute to achieving gender equality should be fully maximized, to ensure that the human rights and fundamental freedoms of girls and women, and their safety and integrity are not violated at any stage of the AI system life cycle.
AI systems, where appropriate, should be incorporated in the preservation, enrichment, understanding, promotion, management and accessibility of tangible, documentary and intangible cultural heritage.
There must be credible and transparent monitoring and evaluation of policies, programmes and mechanisms related to ethics of AI, using a combination of quantitative and qualitative approaches.
This Recommendation is the starting point for ensuring that these technologies enhance the quality of our lives. It provides for concrete measures to control the downsides and proposes solutions for current and anticipated problems. We invite everyone to join us in this endeavour, as artificial intelligence is everyone's business.
5 things you need to know about AI
AI has proven its value in confronting the COVID-19 pandemic
It contributes to slowing down the economic impact of the crisis through digital platforms. It also helps researchers crunch huge amounts of data in the race to find a vaccine or treatment. AI has participated to contain the spread of the virus through test, track and trace technologies. Yet, as people are giving access to their data, the use of AI during this pandemic has reopened concerns regarding privacy, data protection and the use of data beyond the needs of virus-tracking.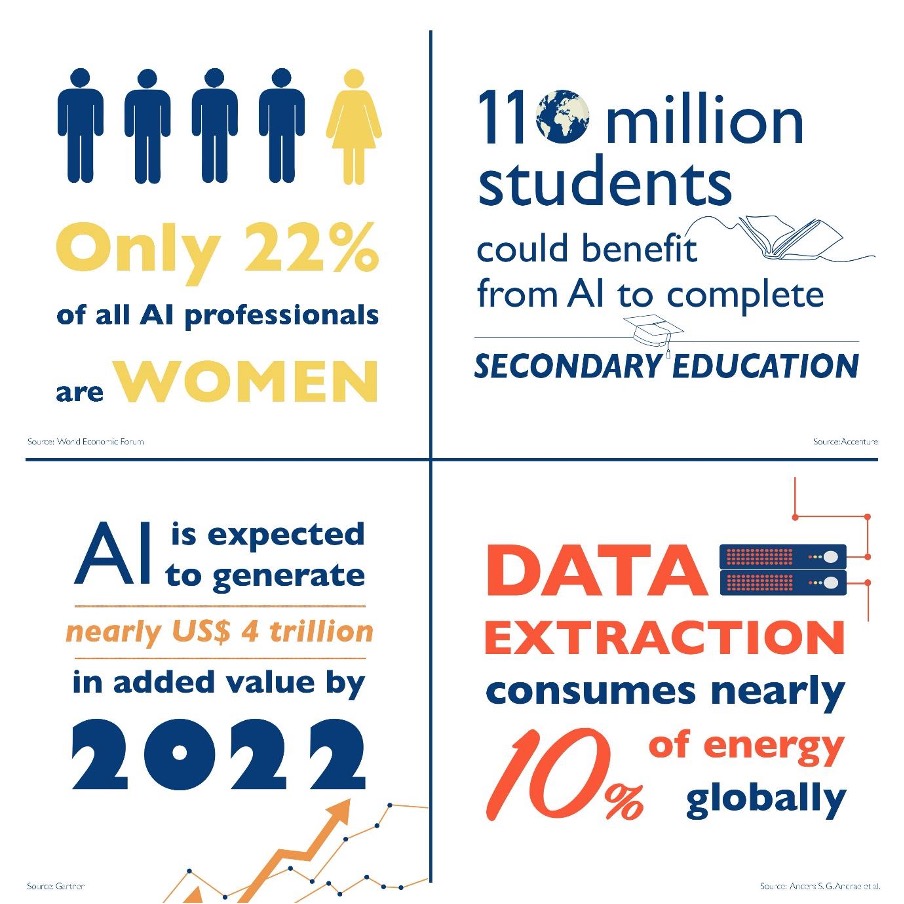 AI-driven growth is likely to be highly unequal
AI is expected to generate nearly US$ 4 trillion in added value by 2022. By 2030, economic gains are expected to be strongest in China and North America, representing 70 % of AI's global economic impact. AI has a "winner takes it all" dynamic that needs to be regulated: concentration of AI in the hands of few high-income countries will likely leave developing countries far behind. The latter will not benefit or very little from AI technologies and will lack ownership of such technologies.
AI contributes to widening existing gender gaps
Only 22 % of all AI professionals are women. Because they are underrepresented in the industry, gender biases and stereotyping are being reproduced in AI technologies. It is not a coincidence that virtual personal assistants such as Siri, Alexa or Cortana are "female" by default. The servility and sometimes submissiveness they express are an example of how AI can (continue to) reinforce and spread gender bias in our societies.
AI can be a powerful tool to address climate change and environmental issues
As the planet continues to warm, climate change impacts are worsening. By gathering and analysing data, AI-powered models could, for example, help to improve ecosystem management and habitat restoration, essential to diminish the decline of fish and wildlife populations. That said, data extraction consumes nearly 10 % of energy globally. So, it is also essential to address the high energy consumption of AI and the consequential impact on carbon emission.
AI cannot be a no law zone
AI is already in our lives, directing our choices, often in ways which can be harmful. There are some legislative vacuums around the industry which needs to be filled fast. The first step is to agree on exactly which values need to be enshrined, and which rules need to be enforced. Many frameworks and guidelines exist, but they are implemented unevenly, and none are truly global. AI is global, which is why we need a global instrument to regulate it.
1 https://en.unesco.org/artificial-intelligence/ethics
2 https://en.unesco.org/artificial-intelligence/ethics#recommendation
3 For the full text of the Recommendation, please see https://unesdoc.unesco.org/ark:/48223/pf0000379920.page=14
---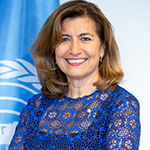 Gabriela Ramos is the Assistant Director-General for the Social and Human Sciences of UNESCO, where she oversees the contributions of the institution to build inclusive and peaceful societies. Her agenda includes the achievement of social inclusion and gender equality, advancing youth development; promotion of values through sports; anti-racism and anti- discriminatory agenda and ethics of artificial intelligence. Prior to this position, Ms. Ramos served as the Chief of Staff and Sherpa to the G20/G7/APEC in the OECD, contributing to the global agenda as well as leading the OECD's work on: 1) New Approaches to Economic Challenges; 2) Inclusive Growth Initiative; 3) Gender Strategy ; and 4) well-being and children. In 2019, she launched the Business for Inclusive Growth (B4IG) platform, bringing together 40 major multinational companies committed to reducing inequalities. Previously, she was Director of the OECD Office in Mexico and Latin America and a member of the Mexican foreign service. In 2013, Gabriela was decorated with the Ordre du Merit by the President of France.