Masooma Khawari, Former Minister of Communications and IT, Afghanistan
---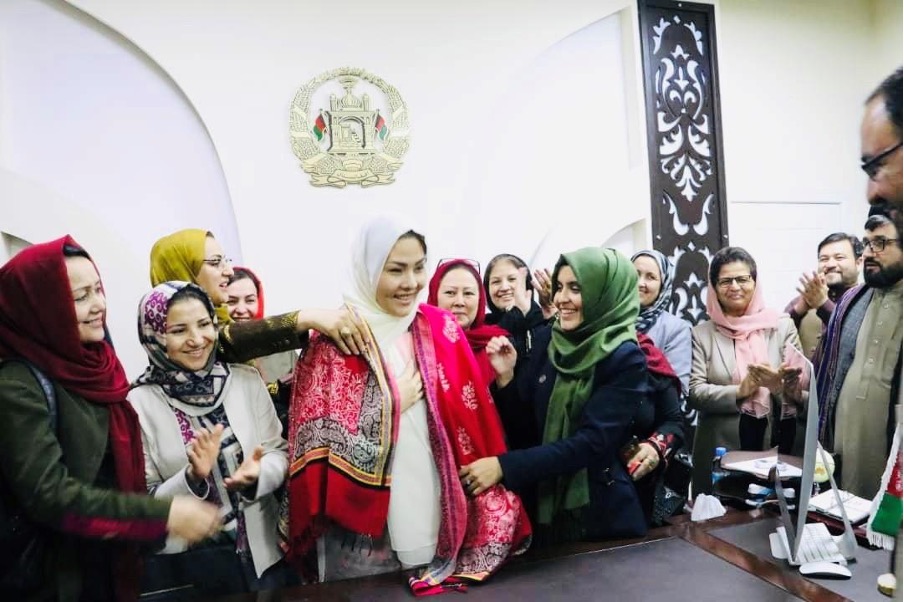 Information Technology is a rapidly evolving industry that plays a significant role in national development. Although there are many highly skilled women in the IT field, there is still a considerable gender gap in the leadership of the sector. This is also true in Afghanistan, where women make up 48.68% of the population. I am therefore passionate about advocating for and empowering Afghan women to become involved in technology.
Gender inequality has been recognised for the past two decades as one of the biggest challenges facing the Afghan government; however, an even more challenging issue is the underestimation of women and not enabling them to be involved in the IT industry.
Extensive research has confirmed that appointing women to leadership positions leads to significantly improved performance and business outcomes in the ICT industry; but despite this digital gender inequality persists. One of the main reasons is that fewer women obtain a higher degree in ICT. UNESCO research shows that worldwide women make up only 35% of STEM students. According to this research, as only a few female students study ICT, it is not enough to forge a path for other women to follow in these fields.
Despite considerable security, economic and cultural barriers for Afghan women, in 2020 31% of enrolled students in Afghan universities were female, which was a significant improvement on 2018 and 2019, particularly in science and technology. This was considered by the Afghan government of which I was a member as one of its achievements.
The efforts of the Ministry of Telecommunications, Science and Technology to empower women to become involved in ICT have resulted in a number of benefits including facilitation of internship, part time jobs, career counselling and many more opportunities for female students to help them establish their career after graduation.
Unfortunately, as I expected, the new Afghan Government has not paid much attention to these achievements. I believe that if the new regime cannot improve the involvement of women in ICT, they should at least strive to maintain what we have achieved over many years, as today's students will be Afghanistan's future workforce.
The charts below compare male and female students' enrolments in the faculty of science and of computer science over three consecutive years.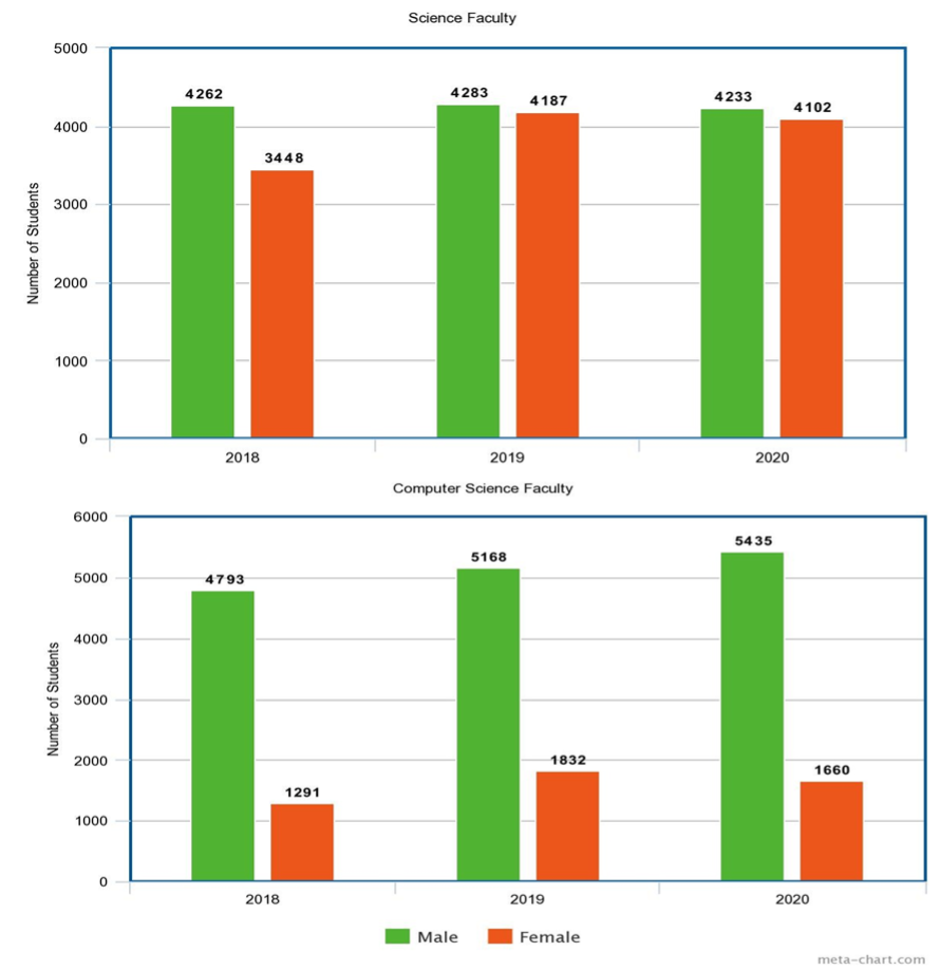 The transformation journey
When I was appointed in late 2020 as Afghanistan's first female Minister of Communications and IT (MCIT), I had a dream and a vision of the future development of the economy and society through digital technology, and the central role that women could play in realising that vision.
I recognised the significant task ahead of me in transforming the Ministry and its activities, and the many challenges that I would need to overcome to achieve these goals. Firstly, it will come as no surprise that many men in Afghanistan, including in the former Government, have a set view of what they see as the different roles of men and women in society. It was hard for me, as the first female Minister, to confront this type of prejudice in my work, but this just made me more determined to show that I, and many other women, could make a significant contribution for the benefit of all Afghanis.
I also faced a challenge in terms of the lack of confidence and experience of some of my staff members, who had not been provided with appropriate opportunities to grow and demonstrate their talents in a meaningful way in the past. I decided that my first priority was to choose and build up a team of trustworthy, reliable technical experts, who would form the backbone of the new organisation. I needed a team who could focus on co-ordinating their work with all relevant agencies. The Ministry required a reorganisation based on its new terms of reference and government priorities, as well as a new organisational structure to match.
Moreover, I started on this transformation journey with a detailed analysis of the current structure, the staff, their skills and abilities, and the roles that they would need to play to achieve our new goals. I knew it would be very important to set out clear performance objectives for the new teams, and for each individual, as well as clear deadlines and the results that I expect each one of them to achieve. For many this was an entirely new approach, with which they were unfamiliar, but within a few short months, I was able to bring into the Ministry many trusted and highly qualified new team members.
With such a major change to the organisation and its way of operating, I realised that it would be important for me to gain everyone's trust, and to remain available to all who needed to have their views and concerns heard.
To ensure a greater emphasis on cross agency co-ordination, I tasked specific staff members with bridging the gaps with relevant stakeholder agencies such as the Afghanistan Telecom Regulatory Authority (ATRA), the National Procurement Agency, the Ministry of Finance, donor agencies and the mobile network operators.
After 11 months, in August 2021, the new team were ready to launch some major projects, including:
the establishment of a National Data Center as per the international standards, which will be able to address the country's needs for the next 15 to 20 years;
a number of new projects to promote regional connectivity and data transfer;
enhancement of National Internet Exchange Points, the digitalization of Afghan Government offices and its activities, and many more.
We also developed a 3-year strategy, so that the vision and mission of the ministry would be clear for our staff and outside agencies as well.
Initiatives for women and girls in ICT
As well as achieving a fundamental transformation of the Ministry, I knew that one of our key objectives would have to be to encourage young girls and women to consider a career in ICT, and in so doing to overcome the lack of women in the ICT industry which limits innovation in Afghanistan's future.
We were supported in these aims by a range of international organisations, both government and industry, and I acknowledge the efforts of all of those who were involved. With their help we embarked on a range of initiatives.
With the support of the World Bank, we established a program to enable 80 young female graduates from ICT faculties to be hired and supported as interns in the Ministry for nine months.
We signed an MoU with several universities so that
students, especially female students, could participate in free seminars and workshops with our experienced technical staff members, who would also help the students in their research projects for the Bachelor's and Master's Program.
With the French Embassy in Kabul, we were planning to establish a coding school to help young girls learn coding in the most effective way.
We were also in the middle of a project to connect more than 400 schools to the internet, so that girls in remote areas can have access to online learning.
Along with the Ministry of Women and the Human Rights Commission, we established a call center to receive complaints from women who face violence or harassment at home or at work, with reports to be directed to the Ministry of Interior Affairs for priority action.
We established separate divisions to promote digital literacy and science & innovation, and I was working on plans to build a center of excellence, to become a home for various training programs and supporting activities furthering science and innovation.
Along with the Ministry of Education and Ministry of Higher Education we lobbied to establish a course on digital literacy and the basics of ICT, so that young students could attain basic knowledge on these vital subjects, which would also help to encourage their interest in working in the ICT sector.
We managed to get a new Cyber Security law approved by the Government's Judicial Committee, which was enacted, and we finalized a law aimed at assuring the security of women and their identity in cyberspace.
Finding a new way forward
Although I am no longer the Minister for ICT in Afghanistan, I plan to keep working through any means available to me to achieve the goals I set myself as Minister.My purpose and goals will remain, irrespective of whichever government is in power in Afghanistan. My mission is about serving the people of Afghanistan in any capacity that I can. I still have many colleagues who remain in Kabul and in the provinces of Afghanistan, with whom I remain connected. There are still many talented Afghans in the country who are totally dedicated to pursuing economic and social development through ICT.
Together we are committed to establishing an organisation which can support the agenda we set out for the Ministry, and we aim to complete those projects which can be implemented without the need for direct involvement or approval of the Government. For example, we plan to establish training centers to promote digital literacy amongst Afghan women.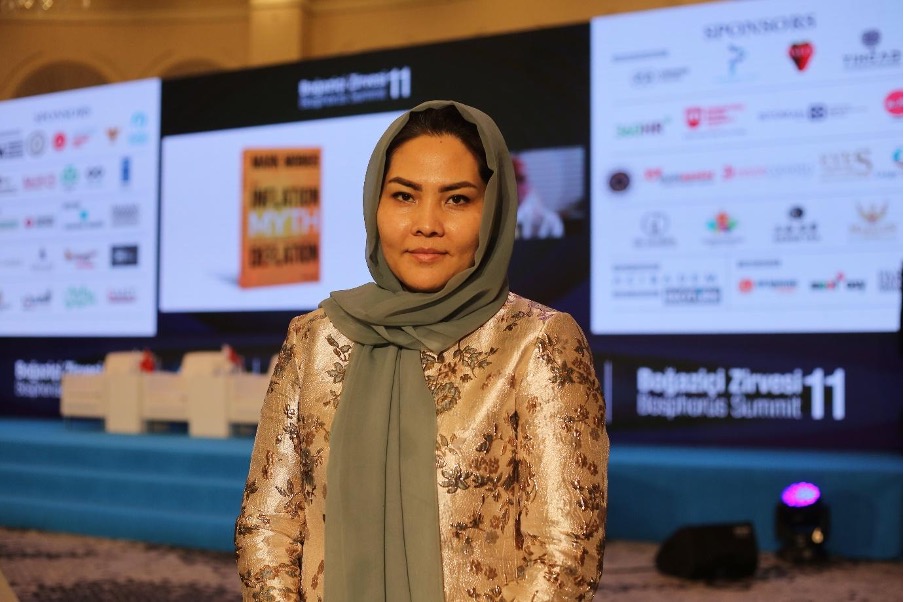 Since the change of Government and my move to Turkey, I have often been asked about the future of girls and women in Afghanistan. I must point out that Afghan women have overcome many limitations and restrictions placed on them in the past, and that we will find ways to overcome these new setbacks too. There are many women who remain committed to breaking their shackles once again and achieving the promise of a new future. They just need to have both the platform and the resources to help them continue on the path that we have begun.
ICT will play an important role in enabling our work to continue, as we are planning to connect Afghan girls and women who are no longer allowed to go to school or university to gain access to online education. We will also work with the private sector and entrepreneurs, supported by those outside the country, to help them develop their skills and their businesses, so they can provide services across Afghanistan.
I know there are many people of goodwill around the world, especially in the ICT and digital tech sectors, who want to know how they can continue to support the women and girls in Afghanistan. Above all we need technical assistance, as well as support in terms of human resources and finances, so that we can develop and implement targeted programs. We call on all in the international community to assist us in continuing this ambitious journey.
---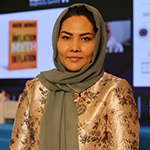 Masooma Khawari, the daughter of Mr. Juma Khan, was born in 1985 in an educated and religious family in the Dara-e-Suf upper district of Samangan province. She studied the Turkish language at Ghazi University in Turkey in 2005 and graduated from Ankara University, laboratory of Medical Sciences 2008. She received her Bachelor's degree in law and political science from Payame Noor University Kabul in 2019 and is currently continuing a master's degree in management. After completing her studies, she returned to the country and served as the elected representative of the people of Samangan province in the Afghan Parliament from 2010-2016. She also served as a member and secretary of the "Commission for Justice and Administrative Affairs, Administrative Reform and Combating Administrative and Moral Corruption" in the parliament. She has also been a member of the commission on human rights, civil society, and women's affairs. In 2013, Mrs. Khawari also worked as an advisor to the executive directorate of the National Unity Government of the Islamic Republic of Afghanistan. In 2019, she was a consultant to the office of the Executive Directorate of the National Unity Government. One of her long-standing aspirations, evidenced by her work, is to fight corruption, the campaign to fight for women's rights, and to use her creativity and determination to benefit the people of Afghanistan.