Dr Vanessa Lawrence CB
Accurate, reliable, up to date location information, known professionally as geospatial information, underpins some of the biggest decisions taken each day in many countries. Its use is vital to governments in supporting decision-making in many aspects of policy making and operational delivery from managing resources, administering services to tackling emergencies. In addition, most industries including the construction industry, the property market, utilities, insurance, defence and security, waste management, and logistics (among others), use location data and analytical tools to manage assets and risk and to support their activities, to enhance decision-making and to target customers.
Most people when thinking about location information, immediately think of Google Maps, Apple Maps and many other Apps on their phone without thinking about the origins and accuracy of the underlying data. Hence, in the early days of these Apps there were numerous stories of people driving into inappropriate places such as lakes and the sea because they were blindly following their 'Map App'.
Today, these Apps have come of age as not only do their owners licence the most authoritative datasets in a country, if they exist, but they also receive data passively from all our devices if we have our 'location services' turned on. From these sources, the underlying location data in these Apps is ever more authoritative and the direction algorithms working in the background are ever more effective; hence we have all learnt to be able to rely on our 'Map Apps'. However, building Map Apps to assist us to avoid traffic and arrive at our chosen destination is just one application of the use of accurate, reliable location information.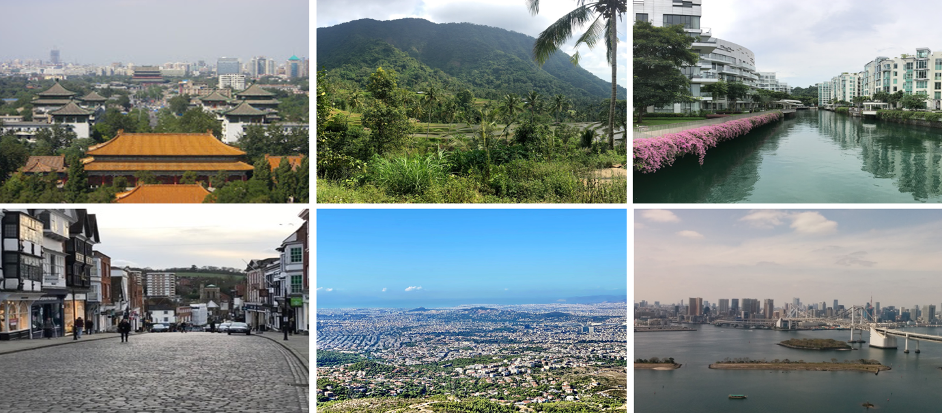 'Everything happens somewhere' (Figure 1) is a phrase I wrote 27 years ago in a magazine called GIS Europe to illustrate the importance of location information to society.
Today, geospatial information is seen as the 'vital glue' which joins all of the information environments whether they be in government or in the private sector as 'location connects' all information. It also plays an important role as part of a national or organizational information infrastructure. Despite this so many countries still have ineffective and under invested geospatial information infrastructures. Geospatial information is often duplicated, scattered among many providers and users, with different degrees of quality and consistency and even in some countries is still 'protected data only released for official government use'. Easy access, sharing and utilizing such information remains, in many places, a challenge.
Therefore, in an attempt to remedy this situation, international initiatives to govern geospatial information have emerged, supported by the geospatial industry which globally was valued at £300bn1 in 2018. International programs have been set up as guidance frameworks and these include the Infrastructure for Spatial Information in Europe (INSPIRE) in the European Union and the Integrated Geospatial Information Framework (IGIF) via the United Nations Committee of Experts for Global Geospatial Information Management (UN-GGIM) more globally (Figure 2).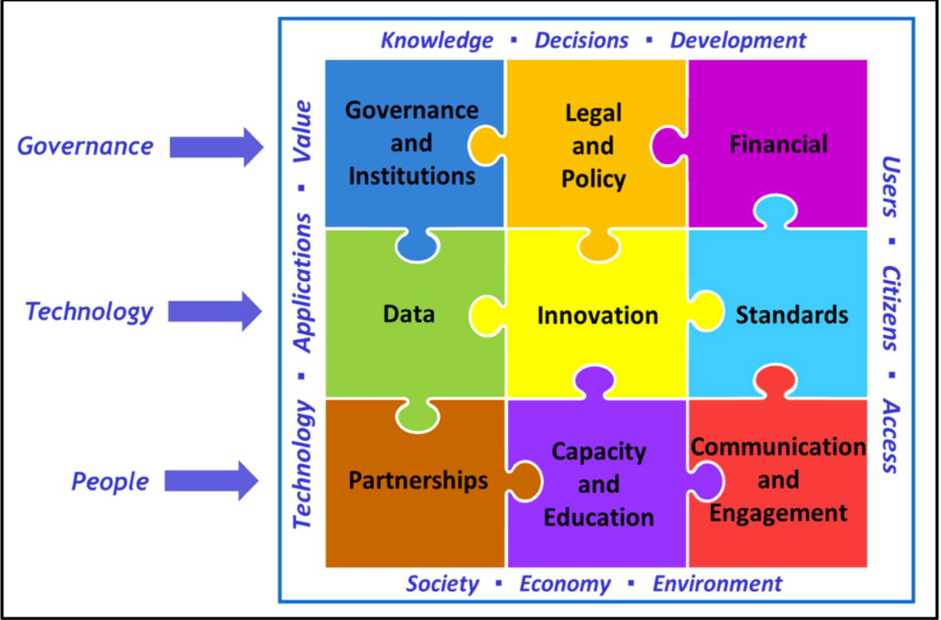 It is well understood that at a global scale geospatial information needs to be used to help understand and tackle some of the biggest issues facing the globe. This includes environmental issues such as climate change, disease control, food security, identifying poverty and inequality and underpinning the measuring and monitoring of United Nations Sustainable Development Goals (UN-SDGs). Hence accurate, reliable, up to date location information is a vital resource to assist the measuring and monitoring of the future health of the globe.
In a geospatial environment, data is normally organized into Foundation Themes. Many countries choose between 8 and 14 Foundation Themes to form their geospatial infrastructure (Figure 3) and these form the basis for their National Spatial Data Infrastructure (NSDI). The creation of the NSDI makes the efficient use of trustworthy data universally possible, by both the public and private sectors, including the Map App producers. The management of such data requires centralized governance mechanisms to ensure that Foundation Theme data is collected authoritatively for a country, shared as interoperable geospatial resources to be used by everyone and maintained to an agreed standard.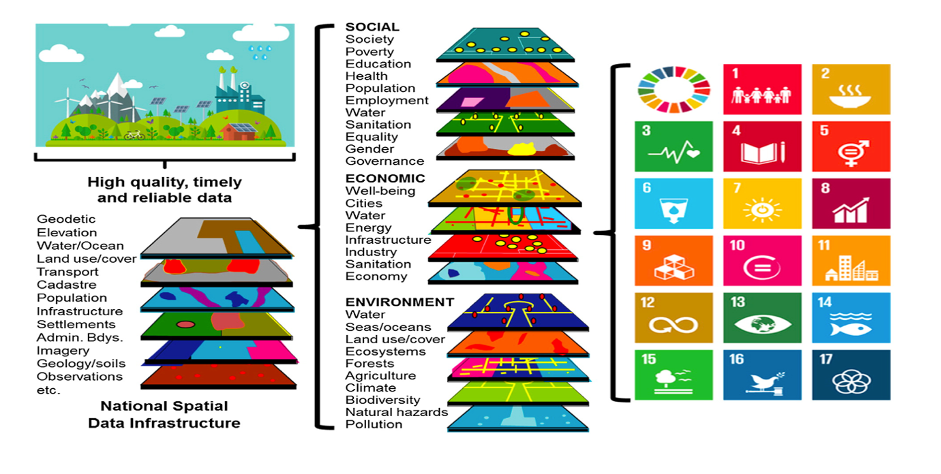 Taking the building of an NSDI to be an important role of a government, it is often welcomed that an NSDI is a significant contributor to the Gross Domestic Product (GDP) of a country. By organizing geospatial information within a NSDI an economic uplift can be expected to occur. In a study undertaken by the Boston Consulting Group (BCG) it was estimated that the fiscal uplift could total up to £14bn2 for the United Kingdom alone.
The perspective I bring to 're-imagining the future' of this subject area is taken from spending the last five years assisting governments from both developing and developed countries and also briefing senior members of board rooms of some of the largest organizations in the world. They all have wished to think through how the added dimension of location could make a difference to their decision-making. They are looking at either enhancing or building for the first time the information infrastructure of their country or their organization, or they are looking at the competitive advantage to be gained from using extra Information sources that other competing organizations have not yet discovered.
They soon understand that their investment in the geospatial infrastructure, working together with the many datasets that already exist within their organisations, enhanced by the use of location-aware algorithms, Data Science and AI, gives them an information advantage and assists decision-making.
With the addition of AI to geospatial decision-making processes, millions of calculations can be made per second assisting in the analysis of the terabytes of data within any locational data stack, – and the provision of consistent, timely results to the decision-maker.
It can therefore be concluded that the geospatial community and the AI community have a symbiotic mutually reinforcing relationship which assist statements such as 'By 2025, the UK will have a coherent national location data framework underpinning a flourishing digital society'.3 This highlights the importance of geospatial information to a country; many similar statements are referenced around the globe.
Drawing on the recognition of this importance and the fact that 'everything happens somewhere' is vital to solving some of the globe's biggest challenges, it is necessary to consider how this data-centric location-based world can be enabled for those countries without adequate NSDIs, often located in the Global South. It is often these same countries that are already experiencing real suffering from climate change impacts.
Over the past 10 years, the use of location information has been successful in being used to tackle serious decisions in many industries from manufacturing to the finance markets as well as assisting the measuring and monitoring of the UN-SDGs and of course, more recently, underpinning much of the analysis undertaken in the COVID-19 pandemic.
It took the success of 'Map Apps' to truly make everyone aware of the benefit of good location information. As Governments globally prepare for the 26th UN Climate Change Conference of the Parties (COP26) in Glasgow, Scotland in November 2021, as to how they will successfully move to net-zero, there is now an urgency for the benefit of accurate, reliable location information to be recognised – and, of course sustainably funded, to assist everyone to reach these targets.
As I close, I am imagining a world where every nation is underpinned by reliable, accurate, regularly maintained national location information held within an NSDI, assisting the disparity of nations to reduce and allowing everyone to measure and monitor, using a similar level playing field, our progress towards overcoming the many global challenges underpinning the future of our world.
---
1 GeoBuiz Report (2019) https://geobuiz.com/geobuiz-report-2019/
2 UK Geospatial Commission (2018) https://www.gov.uk/government/publications/geospatial-commission-annual-plan-2019-2020
3 Unlocking the power of location: the UK's geospatial strategy 2020 to 2025 – published June 2020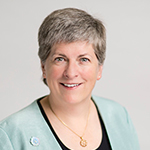 Dr Vanessa Lawrence CB FRICS is working internationally as a senior advisor to governments, inter-governmental organizations including the World Bank and large private sector organizations.
In addition, Vanessa is a Non-Executive Director of the Satellite Applications Catapult and a Non-Executive Director and Trustee of the Alan Turing Institute, the UK's national centre for Data Science and AI, on the Advisory Boards of Seraphim Space LLP, the Space venture capital fund backed by the British Business Bank, the Spatial Finance Initiative and the Urban Big Data Centre. She is the Honorary Colonel of 135 Geographic Squadron Royal Engineers, an Affiliate Member of 601 Squadron, Royal Auxiliary Air Force and also a Trustee of the Royal Geographical Society, an Adjunct Professor at the University of Southampton and Visiting Professor at Kingston University.
From 2000-2014, she was the Director General and CEO Ordnance Survey, Britain's National Mapping Authority and from 2011-2015, she was a founding co-chair of the United Nations Committee of Experts on Global Geospatial Information Management (UN-GGIM).