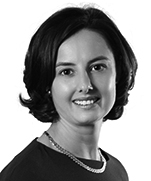 by Ingrid Silver, Partner, Dentons and GTWN President for Europe
Many commentators have dubbed the 21st Century as the Asian Century and it would be difficult to dispute this claim against the backdrop of strong and sustained economic growth in Asia over the last 30-plus years.
The truth of the rise of Asia, and in particular China, has also been brought home to me at Dentons on a more personal level in recent months. We recently announced our combination with leading Chinese law firm (pronounced 'da CHUNG'), which will establish the world's largest law firm. So what will this mean for how legal services are delivered in future, and more importantly, what does it say for the relative influence of Europe and the US compared to Asia, especially in the TMT sector?
Dentons was formed as a result of a combination of three large law firms with long histories in the West. But it became clear to us that we needed to respond to the increasing demands by our clients for a more globally inclusive perspective. Our strategy of building the law firm of the future aligns neatly with our telecoms, media and technology clients who are increasingly seeking growth through convergence across geographies and greater collaboration across technology and creative platforms.
Fundamentally, both legal services and the TMT sector must adopt the same approach to their customers as we enter a truly global economy: to keep innovating, provide creative content or solutions, and develop distinctive brands in their marketplace − building loyalty and deepening customer advocacy.
For both industries, customers are increasingly both local and global: local to particular markets, but with requirements for customer service that reflects an understanding of specific cultures and local traditions; and global in terms of outlook and the development of new product offerings and innovation that will resonate in each of the markets in which businesses operate.
When I spoke at the Global Telecom Women's Network event in 2014, I talked about the 'era of ubiquity' and the need to focus on the present to maximise the benefits of current technology in each of our lives. I still support this statement and am constantly delighted at the extent of the current functionality on our phones, PCs, mobile devices, TVs and wristwatches.
This innovation is often driven by the synergies generated by convergence and consolidation in the industry. 2014 saw a raft of TMT deals totalling approximately $150 billion. Some of the most high profile of these deals took place in the US – including Comcast's bid for Time Warner Cable, AT&T Inc's bid for DIRECTV, and Facebook's acquisition  of WhatsApp. Following these deals last year, market sentiment for 2015 is demonstrating an equal expectation and confidence that high-value and high-profile deals in global TMT will reach even greater heights. Major corporates are looking to spend their cash piles, while the ever-acquisitive private equity houses are positioning themselves for even greater strategic returns.
So what are the trends that we will see emerging, and consolidating, through 2015 and beyond? In terms of product innovation I'm confident we will see further development in advertising technology across mobile, online and video; in fintech, as financial services companies look to replace and update their legacy systems driven by customer demand for remote access; and a stronger push for cloud computing as many corporates look to move data to the cloud.
In mature markets, and for a wide variety of businesses, the mining of consumer data, and the will to engage customers via more effective and efficient marketing activity, herald a major growth opportunity for companies providing data analytics. We expect to see increased mergers and acquisitions activity in this space as 'business intelligence' becomes a valuable commodity. Other growth trends to watch this year are the increasing development of mobile payments, big data and security, along with interconnectivity forecast by the growth of the Internet of Things as users demand more alignment between mobile applications, the internet and e-commerce. Many of these trends are being showcased at Mobile World Congress.
On the other hand, we don't anticipate any lessening of regulation this year – in many cases quite the opposite! This continues to make our lives interesting, and we will continue to work closely with colleagues in competition, IP, employment and tax practices on these complex issues. 2015 is an exciting year for our industries, both legal and TMT. We will be working within the confines of various regulatory environments, seeking ways to navigate clients through the challenge of seemingly disparate legal requirements. This is a challenging but exciting opportunity for me personally, and for all my colleagues around the globe, to use our creativity to find the most suitable outcome for everyone.
I'm continually enthused and motivated by the brilliance of the creative industries we work in, and the leading role that women are playing. I look forward to being able to continue our discussion on these important issues of globalisation in Barcelona and beyond.
Ingrid Silver leads the Dentons UKMEA Media and Entertainment practice and has been involved in the TMT sector for more than 18 years. Ingrid has extensive experience of advising 'blue-chip' multinational clients and coordinating advice across multiple jurisdictions. She has extensive experience advising on services such as online advertising, convergence and interactive and mobile content. A key part of Ingrid's practice involves specialist advice on corporate transactions for key entertainment industries.