Jo Eckersley, CEO of Bubbl Tech and Liliana Reasor, CEO of SupraFin were interviewed by The Mobile Century
The CMS equIP Programme is dedicated to supporting start-ups who are intellectual property rich. Once selected for the programme, participants receive a number of benefits, including discounted legal advice on a range of issues key to the success of growing start-ups as well as access to a global network of industry leaders and mentors.
The Mobile Century (TMC) spoke to two participants in the equIP programme to understand how they started out on the path towards successful tech start-ups, and to discover how membership of equIP has helped them to succeed.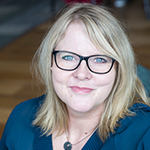 Jo Eckersley, CEO of Bubbl Tech.
Since running the school shop at 14, Jo has been a serial entrepreneur. Her passion for great customer service led to Bubbl, a new award winning mobile customer engagement tool that is disrupting the world of mobile advertising and marketing. This ground-breaking technology supercharges existing mobile apps with geolocation and rich media location-based content. Her business development and management credentials come from a long career as an innovation consultant to technology start ups, and as a PR and marketing expert across multiple brands. She is also passionate about leading with heart which reflects the company culture that emanates from Bubbl.
TMC: Can you tell us how and why you were attracted to a career in digital technology, and what sparked your interest in developing a service like Bubbl?
Jo Eckersley: I have always had a strong interest in the creative industries and began my career in media and advertising before moving to drive communications and marketing through my own PR agency in a diverse range of creative industry sectors. From my beginnings in PR with these businesses, it was a natural progression for me to set up an innovation consultancy, helping creative businesses to understand the potential application of digital marketing and technology to the creative arts, particularly in the fashion and jewellery sectors. When I started 15 years ago, not many people in these industries were making the connection between the creative process and digital tech: even today people are sometimes amazed when they realise the potential applications of 3D printing, body scanning, robotics and data analytics to their businesses and to their interaction with their customers.
TMC: So how did you progress from this beginning to a broader interest in developing and applying digital technology to PR and marketing?
Jo: I had the fortune to be selected to be one of the first monitoring officers for Innovate UK. My job was bit like the judges in the TV show, Dragons Den, in that I helped select projects for UK Government funding, and then monitored and accompanied them on their start-up journey. I also contributed to a UK Government White Paper on digitalisation of the creative industries, and the need for knowledge transfer between universities and business, to unlock the creative potential of the UK. This in turn fed my desire to help bring the advantages of digital technology to an industry that I love. For me, the creative industries now cover not just fashion, design, music, performing arts and jewellery, but also software design. All of these industries are able to benefit from the appropriate integration of digital technology to their production, marketing and consumer relations.
TMC: And so how did you go from there to creating your own technology start-up business?
Jo: I started to seriously question the direction that marketing was taking in the digital space. Businesses were not taking full advantage of the opportunities that digital technology presented to them, they were clinging to an old fashioned approach, on the one hand shying away from digital to improve process and service, but at the same time falling victim to a rapidly emerging world where advertising online was using third party data to dictate to the customer what they like and dislike, controlling interaction with a Brand, and frankly treating the customer as a commodity, rather than a real individual.
So to help change this I decided to start Bubbl– a simple plugin for any app, with API's and a cloud-based platform that let businesses serve high quality conversational content like video, podcasts or surveys, or deep links to articles or m-commerce, for mobile users. The content is contextual to time and place and is triggered by geolocation. Bubbl plugs into any existing Brand app and works without the app even being open, making it really easy to use.
In contrast to other digital marketing tools for mobile, Bubbl enables direct engagement with a mobile audience, where the consumer also retains control of their data and their privacy.
TMC: What has been the market and industry reaction to Bubbl?
Jo: We have a lot of traction with clients in the entertainment sector, who see the potential in particular in the geo-fencing capabilities of our product. Event organisers can trigger location relevant content and enable access to various value-added material to specific groups of users, which in turn allows them to more effectively engage with their audience. But the potential applications are in fact unlimited – from hospitality, to retail, to banks, to tourism. This potential for meaningful customer engagement is being recognised, in that we have already received a number of awards. We were named one of three finalists in AdTech Europe in 2018 and are one of Tech London Advocates Createch top 50 ones to watch in. the UK. I was also very flattered to be named by my peers as one of the five rising stars in Computer Weekly's Most Influential Women in Tech in 2019.
TMC: What technology advancements are you planning in the near future to further enhance Bubbl's value to its clients and customers?
Jo: Once 5G is more fully rolled out, we will be able to take advantage of geofencing down to about a 10cm radius, as opposed to current location-based services, which can only identify a location down to 5 meters on Android devices, and 50 meters on IoS devices. We will be able to target and engage with customers on an ever more precise and differentiated basis. Rather than having a broadcast type approach, where everyone receives marketing regardless of relevance, Bubbl will turn any app into a tool for brands to really build their own community turning their app into a communications hub. We believe this will enable a revolution in m-commerce and experiential events, bringing new revenue streams and opportunity to the growing mobile marketing sector.
TMC: What drew you to the CMS equIP programme, and how has it helped you in your start-up journey?
Jo: As a start-up in the creative sector, we were always crucially aware of the importance of legal protection for our intellectual property assets. We had been working with a solicitor from another firm from the beginning, but our growing needs led us to seek out a legal firm with much wider industry and geographic coverage. After all, as we plan to scale up the business, we want to be sure we are adequately protected in all jurisdictions that we operate. The equIP programme has enabled us to take advantage of legal advice where needed, at a much reduced price (very important for a small start-up); but importantly it has also provided us with a clear framework and pathway as we continue to grow the business. An unexpected benefit was the network of industry peers we have found through the programme, as well as supporters. It is a real bonus to be able to take advantage of the expertise and experience of others who are going through this journey with us and those who have gone through this journey before us.
TMC: What is the one piece of advice you would like to offer to other female entrepreneurs who may be starting out on their own journey in the digital tech space?
Jo: Simply to trust your own instincts, to keep your eyes on the goal of using digital technology for economic and social good, and to find a support group, like that of the equIP programme, that can help support you when the going gets tough.
---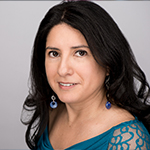 Liliana Reasor, CEO SupraFin
Liliana Reasor is a Blockchain & Fintech entrepreneur with 20+ years of experience in fintech and investment banking. She is the founder and CEO of SupraFin, the first wealthtech platform for cryptocurrencies. She is considered a fintech, blockchain, and cryptocurrencies thought leader. She was selected as one of the Top 100 Global FinTech Women Influencers and Leaders in 2015, 2016 and 2017 by Innovate Finance. Prior to becoming an entrepreneur, she worked in FinTech (portfolio & risk analytics) and investment banking at JP Morgan, Bank of America, Deutsche Bank, Morgan Stanley, and Moody's Analytics in the US and the UK. Liliana has a M.S. in Computational Finance from Carnegie Mellon University, an MBA from UCLA Anderson, and B.S. in Petroleum Engineering from UNI. She won the top finance award at UCLA Anderson, graduated top of her class at Carnegie Mellon University, and was valedictorian at UNI.
TMC: Liliana, can you tell us what brought you into digital tech in the first place, before you began work on your fintech start-up, SupraFin?
Liliana Reasor: It was a natural transition for me, as I have worked for more than 20 years in the financial services industry, including trading, corporate finance, investments, M&A and risk and investment management software. I recognised the trend to digitalisation of financial services very early on and decided that the future lies in the digital transformation of all aspects of finance. Once cryptocurrencies came on the scene, it was clear that they could transform the investments and capital markets industry, and that all areas would become reliant on fintech for future growth and innovation.
TMC: So what do you think were the internal drivers of your interest in creating a fintech start-up?
Liliana: I really believe in using technology for good – to benefit consumers and the general population, especially in an area such as finance, where the vast majority of people find it challenging because finance is a complex industry. For example, many high-net-worth individuals rely on investment advisers to help them manage their investments. On the other hand, the majority of people do not have the resources to hire financial advisors, and this is where technology has started to play a key role to allow the automation of financial advice for the benefit of the masses. Technology first allowed the creation of online brokers; however as time passed by and technology improved, then in 2008 it became possible to start automating some aspects of financial advisory for the benefit of the people. The use of technology to automate some of the investment advisory aspects became even more important with the arrival of cryptocurrencies, as they are quite complex to analyse. As people are drawn to investing in assets classes with large potential returns like cryptocurrencies, then I knew there was a huge need in automating the investment management process for cryptocurrencies for people that could otherwise invest in the worst cryptocurrencies or fall prey to scams.
TMC: How does SupraFin work, then, to achieve these aims?
Liliana: SupraFin is a smart wealthtech digital platform that helps people create customized and diversified portfolios of cryptocurrencies. Customers can use the platform either via an app, or online. The platform leverages proprietary investment and risk models exclusively built for cryptocurrencies to evaluate and select the best cryptocurrencies and to recommend diversified portfolios of cryptocurrencies. The platform asks a few questions to customers to figure out their cryptocurrency risk preferences and then based on that it recommends a diversified portfolio of cryptocurrencies. Then, they can modify the portfolio or buy the recommended portfolio at a push of a button. SupraFin is integrated with cryptocurrency exchanges that do the actual purchase of cryptocurrencies. Once the portfolio is created, the client can check the performance of his or her crypto investments through the platform and will get an automatic alert if the platform determines that, in order to stay within the target risk of the portfolio, it is necessary to rebalance their portfolio as the risks may have changed.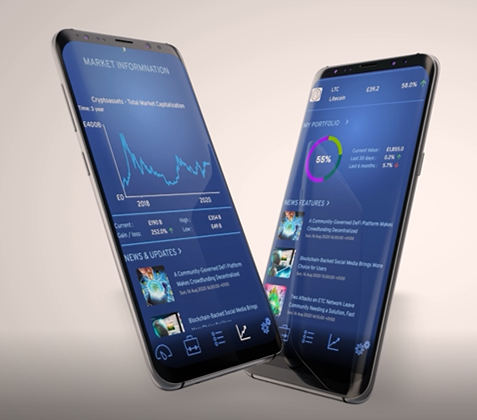 TMC: Can you give us some more detail about the range of crypto assets from which the SupraFin platform selects its proposed investments.
Liliana: There are thousands of cryptocurrencies and they are currently considered to fall within four broad classes. Firstly: exchange tokens which are based on public blockchains (e.g., Bitcoin, Litecoin, Ethereum); secondly: utility tokens, which are tokens issued by companies to customers in exchange for future products and services and that are put into some public blockchain like Ethereum; thirdly stable tokens, which are those tokens backed by relatively stable collateral like the US dollar and that are provided by some public blockchains like Ethereum; and finally security tokens, which are tokens backed by securities such as equity or bonds, again Ethereum has been the dominant blockchain for many of these tokens. We are focussing on exchange tokens and stable tokens for now. We have plans to add utility tokens and security tokens to our investment offering in the future.
TMC: What do you see as the major challenges that you have faced as a female led start-up in the fintech sector?
Liliana: As a UK based start-up, I think there are a number of challenges here and in Europe that are less prominent in the US market. In the US, especially California, there is an entrepreneurial mindset and culture and there are plenty of venture capitalists who are prepared to back new start-ups. Many people who want to establish a start-up in the US get friends and family to kick in some seed funding, and using this, they approach other investors through their networks. There are many investor networks in the US, but this is only just starting to become more usual here in the UK and Europe.
As a woman also, I think that the investor culture in Europe and the UK is not yet ready to support women as much as men, especially in a male led field such as fintech. This adds a further level of challenge to overcome, when people are not used to women entrepreneurs in fintech. I am lucky that now I have managed to engage with some leading finance professionals who enjoy working with strong women in fintech and who believe in SupraFin's vision and who are helping SupraFin broaden its investor network. Also, I am pleased to hear about the work of the Global Telecom Women's Network (GTWN), and how they and their allied networks are helping female entrepreneurs.
TMC: So how has the equIP programme helped you in addressing these challenges?
Liliana: I joined the CMS equIP programme in May 2020, during the UK coronavirus lockdown. I had got to know the CMS team earlier, as they held some cryptocurrency events that I attended. But then I was fortunate to be contacted by the program manager and invited to participate. This came at the right time for my business, as I knew that I would be facing many legal questions as my start-up grew, and I needed access to affordable legal advice. So far, the program has held some great virtual events, and has introduced me to a range of other entrepreneurs and advisers. I also have a monthly teleconference with my equIP contact, to see how I am getting on, and if there are any issues that I need help with. I look forward to seeing what will happen in the program from here.
TMC: What about the policy and regulatory framework that surrounds cryptocurrencies? Is it still the "wild west" of finance, or are governments and regulators starting to understand the need for more regulatory and policy oversight of this sector? Are there gaps that you believe need to be considered and acted upon?
Liliana: When you consider the financial services sector generally, the banking sector is heavily regulated and controlled by government licences, laws and regulations. Many governments are now starting to understand that cryptocurrencies are the future, and that they might underpin most if not all of the financial transactions and assets in the future. The UK Government, for example, now has a regulatory framework for cryptocurrencies. Based on the UK Government framework, security tokens are regulated, for example, because they are linked to securities, which are already regulated. Other types of cryptocurrencies like exchange tokens for example, are not regulated because the UK Government does not want to stop innovation, and it does not regulate technology. Also, in the UK, cryptocurrency companies like exchanges and custodians have to register with the FCA for anti-money-laundering compliance (AML).
TMC: What is your advice for people wanting to become entrepreneurs and establish a start-up?
Liliana: First and foremost, you need to have the right team in place. This can be a challenge in itself, and I am very lucky with the great team at SupraFin. Secondly, you need to identify who can provide you with the funding that you will need to set up and grow your business. The needs of the business will change over time, and therefore the funding you need will also change, in both volume and character. Thirdly, you need to have a vision, and be passionate about what you are doing, and you need to persevere, otherwise you will not make it. Passion is contagious – it infects everyone around you. And perseverance is very important – I remember Arnold Schwarzenegger, who is himself a great entrepreneur, said that you need to embrace failure. Not because you aim to fail, but because you need to face your worst fears of failure, and this will liberate you from those fears so that you can succeed. Then if things don't go exactly according to your plans, you can pick yourself up and try again, you will not give up.
Interview by Vicki MacLeod, Editor-in-Chief of TMC