Anna Borgström, CEO NetClean
---
The internet is rapidly becoming the predominant gateway to information but also a hub for many illegal activities. When traditional offline crimes become cybercrime, they increase in scale with the use of computers and networks, reaching and affecting far more people than previously possible.
One crime that has found a dark home online is child sexual abuse crime, which is disseminated through the many layers and services online.
My understanding is that most people know about the problem of child sexual abuse material in relation to the internet, but they are underestimating the risk to businesses. But there is hope, with technology, awareness, and the right actors in play, we can prevent online child sexual abuse and reduce the harm to victimized children.
Awareness is high, but risk to businesses is underestimated
In 2021 NetClean did a first of its kind survey targeting more than 1000 senior IT professionals globally assessing the threat that organizations and companies face from child sexual abuse material (CSAM). I must say that I was taken by the numbers that were revealed, but I'm not at all surprised. The survey showcases that most respondents have had an incident of CSAM over the past five years, and a large amount have had several repeat cases.
To add an extra level to it, the pandemic has accelerated remote-work and weakened human connections, which in turn have exposed companies to an even higher risk that their company devices are used to spread and consume child sexual abuse material.
Over the years when I have spoken to IT security directors and managers in medium to large companies, they often disclose that they have stumbled across suspected child sexual abuse material on company computers. The images or videos are often discovered when the computer has caught a virus and is taken to the IT department for a clean-up.
Child sexual abuse material is often accessed or downloaded from risky environments, and employees using their work computer to commit this crime often expose their computer or device to different types of security threats, such as malware, trojans and viruses. The employees can also leave traces that could lead back to the company.
Some of the IT professionals I have talked to have touched on the risk of blackmail. Accidental exposure to child sexual abuse material is another risk, particularly to the IT personnel who must cope with what he or she has seen. If you are exposed to child sexual abuse material and not trained for it, it can be very traumatizing.
Businesses must have a solid action plan
What surprises me the most, is that 64% of all organizations have experienced a case of child sexual abuse material in the past five years and 57% of the respondents have had repeat incidents in the same organization. That is a lot.
It is vital that businesses have an action plan in place to secure evidence correctly, ensure the welfare of employees who might have seen the content, and manage the offender who has downloaded child sexual abuse material to the IT environment. Next, notifying Law Enforcement is crucial. It is only when incidents are investigated that more material can be found, and children can be safeguarded.
Words are not enough
There are many business-critical reasons for companies to take clear actions on child sexual abuse material. Keeping their IT environment clean and secure will protect the company, the reputation, the brand, and the employees and ultimately reduce real-world harm to children. It's the companies that not only dare to take a stand, but also act according to their values that attract the brightest minds, something that I can see becoming increasingly important when recruiting the next gen of employees. And I think that most business leaders can agree with me, attracting and retaining the right people is key when driving a successful business.
I'm content to see that the awareness is rising around the issue and risk of child sexual abuse material. But it is not enough. Every business leader needs to step up, take ownership and realize that this is not someone else's issue. There are ways forward, where technology and collaboration are fundamental.
For me, 2022 is the year when we together turn awareness and words into actions and create a real impact – protecting what matters.
---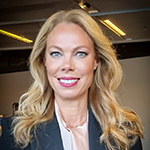 Anna Borgström is the CEO of NetClean, a fast-growing Swedish technology company. It creates software to detect and block child sexual abuse material (CSAM) in co rporate IT environments. Anna has worked with organisations and governments worldwide since 2009 to combat online child sexual exploitation through introducing and lobbying for the uptake of new and leading technical solutions, which work to save children from harm. Anna has studied Computer Science and Economics and has worked with innovative solutions within the Telco and IT industry for 20 years. She has throughout her career built her leadership skills with the aid of distinctive leadership programs, and she possesses extensive international experience from sales and business development within B2B. She has managed large cross-cultural customer projects with cross-border complexity, and secured quality and delivery to international telecom operators, multinational companies and government organisations. Anna has had a significant impact on NetClean's success and growth and is dedicated to growing the NetClean business in new markets, in order to maximise the impact the company's software can have around the world. In her leisure time, Anna enjoys spending time with her husband, two daughters and their dog Zoe. She loves training and like to spend time outdoors photographing nature.