Cultivating the highest value digital transformation
More and more companies view digital transformation as an opportunity to reinvent themselves. Smart data, the Internet of Things and Industry 4.0 all demonstrate how digital transformation has brought far-reaching changes to the global economy. CMS is helping our clients navigate this new reality by moving their focus from the value a company creates on its own, to the value it creates in the wider world, resulting in the highest value digital transformation.
Interdisciplinary collaboration is vital
Digital transformation impacts data protection, IT security, contract design, liability and regulation – it is all closely intertwined. New regulations such as the Digital Markets Act (DMA), the Digital Services Act (DSA), and the EU Data Package (European Data Governance Act and Data Act) are fundamentally changing the regulatory framework governing digital services. Innovative business models and the use of new technologies confront companies with completely novel legal challenges and many unresolved issues remain around the legally defensible implementation of digitisation strategies. We believe that interdisciplinary collaboration of our specialists is key to successfully managing these challenges.
Helping our clients orchestrate value
There are over 600 Technology, Media and Communications (TMC) sector specialist lawyers at CMS in over 40 countries. Here we highlight some of our partners' incredible work to help our clients gain the most value from digital transformation.
Data security and the threat to critical infrastructure is a high stakes current issue. Since the outbreak of war in Ukraine, Co-Head of TMC in Central Eastern Europe, Olga Belyakova, has supported a global technology company in negotiations with the Ukrainian government concerning the urgent migration of data to the client's cloud. She also helped shape cloud legislation to ensure increased efficiency in data transfers, while promoting communications between the Ministry of Energy of Ukraine and software developers in creating a nation-wide IT platform to secure energy infrastructure.
CMS partner and Global Co-Head of the TMC Sector Group, Dóra Petrányi believes that a strong ethical framework is key to establishing responsible AI governance, while maintaining a competitive approach across corporations and jurisdictions. As co-chair of the Hungarian AI Coalition's Regulatory & Ethics Committee, she has played an active role in preparing Hungary's official standpoint regarding draft AI regulations and contributes to the initiatives of the Coalition on a pro bono basis. The Coalition benefits from a truly global approach and comprises over 2,000 members from state agencies, leading IT businesses and universities. They are tasked balancing the development of AI in an ethical manner while maintaining a competitive market. To further promote inclusivity and knowledge sharing around the impacts and utility of AI, Dóra has also been instrumental in establishing the Women in AI Initiative, which provides a regular forum, hosted by CMS, for women and men to discuss topics around AI, and raise awareness about its potential on a global scale.
UK-based patents partner Rachel Free advises clients on intellectual property (IP), and especially patents, which provide a safe haven for innovators from which new advances can be explored, and inspiration garnered. IP and patents provide a commercial incentive for knowledge sharing, and they also lead to improvements in the lives of individuals due to advances in fields such as life sciences and healthcare. Through the research, development and ultimately the protection of new technologies, it is possible to address critical issues such as global warming. Rachel's work is focussed on helping to democratise awareness and ensure that new technologies are used in human-centric ways. In the life sciences sector, she has been advising, among others: Skin Analytics, an early- stage tech business which uses AI technology to help more people to survive skin cancer; and Microsoft on a huge range of computer related and AI technologies that improve people's lives, in fields such as information retrieval, computer security and others.
Victoria Gaskell, our Global Co-Head of Media, leads a team focussed on the complex digital media landscape. Content producers and distributors are having to pivot to a streaming-first model, creating content that cuts through in an incredibly demanding consumer landscape. Victoria's team has been advising on the launch of Paramount+, including a ground-breaking deal with Sky to bundle Paramount+ with Sky Cinema in the UK, Germany, Austria and Italy. Foresight provided by some of the most prominent content producers in the market, coupled with the expertise and creativity of passionate media lawyers, ensure the team can deliver results across social, cultural, economic and geographic boundaries.
Swiss-based Tina Balzli, Global Co-Head of Fintech, Crypto & Digital Assets, works at the forefront of financial services innovation for a number of international clients. There is a new, more consumer-centric and cost-efficient focus developing in fintech in start-ups and scale-ups as well as established financial services providers. Fintech solutions are revolutionising our understanding of banking and asset management while also furthering financial inclusion in the broadest possible sense. Tina's work focusses on ensuring accessibility and transparency of new regulation while remaining aware of the potential broader impacts of over regulation.
Carolina Veas, Head of Competition, Crypto and Blockchain at CMS Chile, works with both regulatory bodies and early-stage crypto businesses. She emphasises the importance of transparency in banking processes, and relevant public policies when determining factors around the closure or refusal to open bank accounts. This practice, known as de-banking or de-risking can seriously limit the economic opportunities for certain sectors of the community. This issue came to the fore in recent advice to Latin American crypto exchange platform Buda. com. Particularly in scenarios where there are low levels of regulatory certainty, agencies can tend to take the most conservative approach possible. This is not always the most reasonable solution within the scope of their faculties and could ultimately force financial services businesses to operate outside the formal economy. This has serious consequences for innovation, financial inclusion, and sustainability which are key for digital transformation globally.
Helping the GTWN create value
At CMS, it excites us to ask ourselves not only "How do we create value?" but also "How do we help others create value?" We continue to be honoured to support the GTWN and its flagship magazine The Mobile Century, which, once again, is dense with thought-provoking articles from inspiring leaders. We hope the articles motivate you, as they do us, to think about our responsibilities and the wider impact of our companies on the world around us.
For more information about CMS, visit www.cms.law or contact [email protected].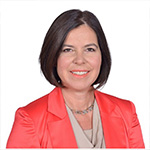 Dóra Petranyi is a partner and CEE Managing Director at CMS and Global Co- Head of the Technology, Media and Communications Group (TMC). She also heads the TMC, Data Protection and Intellectual property (IP) practices, and is a partner in the Competition practice in the Budapest office.
She is expert in all three sectors of TMC (Technology, Media and Communications), with a special focus on communications, media and all types of regulatory matters, having been general counsel for the largest telecommunications provider in the region.
Her major clients are TMT and pharma companies, foreign-owned commercial banks, and major joint ventures. Her areas of specialisation include AI, digital infrastructure, cybersecurity, data protection, GDPR, competition law, IP law, general commercial contracts, corporate restructuring and M&A.
She has established and leads a managed services delivery centre from Budapest. As part of this project, a team including UK, German, US, and PRC lawyers provided support to a company, undertaking and managing its procurement support on a global scale. In addition, she has in-depth experience managing and coordinating multi-jurisdictional projects in over 20 countries.
Dóra is the Co-Chairman of the Regulatory & Ethics Committee of the Hungarian AI Coalition. She is also a member of the Digital Civil Code Review Working Group, being the only outside counsel in the team. She is the first and only lawyer to be a member of the co-regulatory committee between the local telecommunications' regulatory authority and the Association of Hungarian Content Providers. Dóra is a member of the International Board at Global Telecom Women's Network (GTWN). She is also a member of the Board of Directors of UNICEF Hungary.
Dóra is the co-author of several sector-specific publications and is a regular speaker at key international conferences, including the World Economic Forum (Davos), the Mobile World Congress and ECTA.