Karine Dussert-Sarthe, EVP Global Product, Marketing, Design (UX) and Open Innovation, Orange Group
At Orange we know that the metaverse will be a next transformative step for our industry and we are increasingly invested in exploring the potential of the metaverse. We have established a dedicated team to explore how we can develop immersive experiences (Web 3D & AR/VR) that can unlock and enable a better and richer digital life.
To stimulate the uptake of new experiences, notably through Augmented Reality and Virtual Reality technologies, we pay particular attention to UX design and interoperability. We are obsessed to understand our user' needs, including the user's personal experience and environment, and how these new technologies will fit into those parameters.
We have asked consumers about their attitude to Virtual Reality. Our research shows that 40% of consumers already see themselves as being somehow involved in immersive spaces and applications by 2025. So it is clear that Virtual Reality, Augmented Reality and the metaverse are no longer viewed, especially by the young, as a niche interest of a few tech nerds. Gen Z will show us the way. (Gen Z are those born from 1997 to 2010).
While it may require some imagination for the older
generation to appreciate the potential uses of Virtual Reality and Augmented Reality, for the younger generation this is already quite normal. We mustn't forget that Gen Z will be 1/3 of the workforce in 2030, and they are already in a virtual gamified world, using cryptocurrencies, and doing in-game purchases. So it is not a big step for them to visit virtual immersive spaces like Rec Room and VR Chat and to participate in group virtual experiences with others from around the world.1 To illustrate the possibilities of immersive experiences, and learn on the go, Orange have developed the "Eternal Notre-Dame" immersive experience. In the context of the Notre-Dame de Paris restoration, visitors can experience a 45-minute virtual reality tour of the cathedral through the ages as it was before the fire, and to see how their contribution is being used to recreate this magnificent monument. Visitors can access a very high-quality immersive experience.
Exploring the opportunities
At Orange we are keen on exploring the future with partners – which is why we have invested into "The Virtual Reality Fund"2 in the US. From their portfolio, we have selected two start-ups to test a few solutions in 2023 and understand consumers' feedback.
One is Mona3 which enables you to build and own your own space in the metaverse. Mona spaces are beautiful social worlds that you can collect, where you can show your art, and where you can gather with others.
Another one is Obsess4, a virtual store platform which allows retailers to build virtual shops in the metaverse and to show their brands to a new type of customer. Obsess-powered virtual stores are fully integrated with the brand's e-commerce website, so that the product prices and availability are current. This enables brands to rethink their online presence away from the purely function into the realms of fantasy and delight.
Many areas of the Orange Group are also exploring the opportunities of the metaverse. Our Luxembourg subsidiary, for example, has opened an Orange Digital Centre (ODC) in cyberspace5, where users have access to various types of content, such as conferences related to technological innovation, options to develop their digital skills and ways to learn about the essence of the metaverse, alongside education about this new virtual environment.
User education and social responsibility
Orange will only participate in a "responsible metaverse". It is important for us to take actions for user awareness about good practice and how to manage the risks in these virtual-based settings. Immersive technologies such as gaming platforms and virtual reality offer an exciting new user experience, but they still lack certain controls.
Several innovative projects are underway on that front.
For instance – we have designed a dedicated "Orange Safe Zone" for the younger audience, accessible on popular online games and virtual worlds. Integrated into each platform's gameplay, the Safe Zone6 offers a series of questions and answers that address the risks associated with immersive technologies in a gamified way. A second feature enables victims of cyberbullying or witnesses of harassment to access support. On Fortnite, there are now Safe Zone cabins on six islands which can be accessed by several million users. On Roblox, The Impossible Obby minigame incorporates cyberbullying awareness and protection booths.
When playing the game, it's easy to spot an Orange Safe Zone. Once inside, you're greeted by a bot – the Orange Droid – who will guide you to the Experience
space. Correctly answering questions on cyberbullying unlocks "surprises" to help you earn rewards on the platform. You're therefore continually informed of how to use immersive and online platforms responsibly. You can press a 'jump to talk' button that can stay active. This keeps communications open with the Orange Droid so you can alert it to any case of cyberbullying and, whether you are the victim or a witness, receive advice about how to tackle it. You can also contact a support service via a QR code or a message that displays the number to call.7
1 https://dreamlandxr.com/
2 https://www.crunchbase.com/organization/venture-reality-fund
3 Mona (monaverse.com)
4  Obsess – Virtual Store Platform (obsessar.com)
5 https://www.orange.lu/en/metaverse/
6 https://www.orange.com/en/newsroom/news/2022/safe-zone-how- orange-innovating-creating-trusted-spaces-gaming-platforms
7 https://www.youtube.com/watch?v=sXEuafWlvQw
---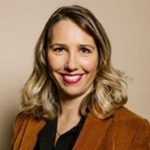 Karine Dussert-Sarthe was appointed in September 2019 to her role at Orange, having previously served as an executive accountable for marketing, customer experience, customer relationships or chief of staff to a CEO, for various companies including Telstra, SFR, Match Group, and Orange France. A 20 year international telecom veteran, Karine brings to the role a proven track record of building and leading diverse teams, developing revenue in new growth territories, accelerating digital transformation, leading communications and marketing activations.
Karine has a passion for what technology and digital can do for citizens and consumers in general. She is actively focused with her team on 5G, AR/ VR, next generation home experience and super apps as the next growth drivers for Orange. She is also in charge of global start-ups scouting and incubation to the benefits of Orange top line.