Dr Mike Short CBE FREng, Chief Scientific Adviser Department of International Trade, UK
---
15 years ago this month (January 2022) the iPhone was launched at Apple MacWorld in San Francisco, and has since gone on to sell globally over 2.5 Billion iPhones based on 33 models to date.1 The comparisons often look at the price, shape and size of these rectangular devices. But so much more has gone into this modern-day phenomenon offering huge pies or ecosystems that have been created. Taking lessons from the past can offer predictions for the future so what breakthroughs can we still expect? Much of the original Project Purple started in Apple in 2004 but it took a huge collaborative effort with key industry players and close to 1000 Engineers to bring this concept to reality. And then to deliver the first Apple cellphones to the US market in June 2007 and into Europe in Q4 2007.
Apple had the talent and vision, but they may not have had the courage to bring together Multimedia, Internet browsing and Mobile telephony into a single device without a few key ingredients. They had the computing and music industry knowledge and could see the early success of the iPod and PDA markets. But they knew little of the telephony market or mobile wireless in particular, and yet they could see it was changing from Business to Consumer markets. New business models and competition were emerging for connectivity and distribution, such as MVNO Virgin Mobile (launched in UK / USA – 1999/2001 respectively) which were showing good progress. They could also see the Electronics industry developments opening up new opportunities for memory, processing, and displays, some of which may have been seen as competition to their iPOD business (launched in 2001). The prospect of working with higher speed networks such as 3G and future Wifi, and lower power RISC based ARM processors added to their confidence. They naturally integrated other technologies when available such as early Camera lenses, GNSS and key sensors.
So with good timing and vision they became known as the pioneer of smartphones but went on to enlarge the Mobile market pie through many key initiatives:
Design was always at the heart of every iPhone, fully controlled through system software, with key components and accessories designed through build, all the way through to delivery, brand and presentation. The components preferred were all part of a strong systems design which addressed everything associated with functionality and the look, feel and usability of the device. Multitouch screen was not completely new but was a key replacement to the buttons and styluses used in smartphones at the time. Accessories and Colour were all added over time, including new battery charging techniques and airpods. The higher levels of functionality were also added in gradually with subsequent models, strengthening user experience and accessibility features along the way.
Distribution – originally this was a tailored distribution programme to address markets which were ready and could match Apple's ambition and investment through new partnerships. These changed the economics of the market to ensure devices could be well supported, handle managed market growth and had networks that were ready. This has continued to change with online distribution. The strong push towards SIM card evolution (including E Sim) was to add new business models, reducing impact on hardware design, and improved provisioning controls and levels of security.
Connectivity – the very first iPhone model was really advanced 2G. Even though 3G had been around for a few years, international 3G coverage was still limited and Apple had plans for this with a later launch in 2008, coupled into their 1st Apps store. They saw Internet browsing and Apps downloads as a major feature. Later generations of iPhones have not always led with the first 4G or 5G launches, or Wifi functionality, but have generally timed it well for the (later) Consumer volume market. The first 5G phone was launched in Oct 2020.
Cameras really started in Mobiles around 21 years ago but have been included since the first iPhone. They have evolved rapidly from stills to video, from 2.0 to 12.0 Mega pixels, from single to multiple lenses (front and back), from "nice to have" to key differentiators. They have coupled in sensors and accelerometers from the beginning. Storage options have increased from 4/6/16GB to a much as 128/256/512 GB or 1TB with the latest iPhone 13 Pro Max models, and RAM increased from 128MB to 6GB .
Data traffic has been booming in recent years and capitalising on this trend has seen the shift to higher G cellular networks and Wifi usage for broadband, including browsing, downloads and streaming. Unlimited pricing plans have helped as well as the growing range of content and apps available for downloads. Data traffic growth continues to be a major driver for the mobile industry as a whole as seen in the recent Ericsson Mobility report for Smartphone average usage 9.1/11.4 GB per month respectively end 2020/2021 and expected to rise 24% CAGR to 41GB by 2027. Higher rates of usage in, for example, Taiwan have already seen on some networks average usage levels of 60GB/ month. Perhaps aware of this growth, it can be seen that concerns over customers' data privacy and trust are regularly voiced by Apple as part of their public statements.
Internet developments and social media continue to be major drivers of data usage, and this has become much more interactive with ecommerce, multimedia, games and video streaming. Not all these services were foreseen with the original iPhone, but designs have changed network access choice, processing, storage and battery models all to help cope with these mega trends. When seeing that the US Word of the Year in 2010 was "App" it is perhaps useful to remind ourselves of some of the App hits in the following years were for Mobile: – 2010 Angry Bird; 2012 Google maps / WhatsApp; 2013 Uber/ Candy Crush; 2015 Periscope; 2016 Snapchat/ Pokemon Go; 2017 Musical.ly/ Mario Run; 2018 Fortnite.
Looking forward there is a still a lot more to do with barely 50 % of the world's population connected to the Internet, but smartphones are expected to lead the way along with connected things or the Internet of Things (IoT). Business models may continue to change but access to content and services will still be required. With COVID we have seen increased work and education from home, and the widening use of consumer-friendly devices. It is expected that new form factors will augment our various senses for communications, whether through head-worn wearables or other body-worn sensors such as the iWatch. Our environments such as homes, offices and cars will all become smarter and better connected. Digital Health and Wellness also offer huge potential for breakthroughs. Connected clouds continue to displace, store and share data that will need to be accessed. But as yet there is no singular view of what the future will bring.
So as global competition and innovation increases, it will be fascinating to reach the Silver Jubilee of the iPhone in 10 years, and a lot more interesting to see an even bigger pie of ingredients, delivering a more inclusive Digital future. But feel free to look back at the MacWorld Launch 15 years ago on January 9th2007. https://www.youtube.com/ watch?v=x7qPAY9JqE4
1 This article is reproduced with the author's kind permission. It first appeared on LinkedIn in shortened form in early January 2022. https://www.linkedin.com/feed/update/urn:li:activity:6883379422485913600/
---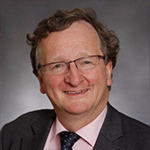 Dr Mike Short CBE, after 30 years in telecommunications with Telefonica, joined the Department for International Trade as the Department's first Chief Scientific Adviser in December 2017. Mike leads the science and engineering profession in the department and ensures its policy is informed by the best science, engineering and technical advice. He advises on the technical aspects of future trade deals as DIT looks to create new arrangements following Brexit, and works with the UK's research, development and academic communities to boost scientific and engineering exports. Mike has over 40 years' experience in electronics and telecommunications and served as Vice President of Telefonica, the parent company of the 02 mobile phone network, for 17 years to December 2016. In this post, he managed the launch of 2G (GSM) and 3G mobile technologies in the UK and led research and development for Telefonica Europe. His career also includes the promotion of international technical standards in mobile technology, and he is also a former Chairman of the Global GSM Association, the UK Mobile Data Association, and President of the Institution of Engineering and Technology (IET). He was honoured with a CBE in 2012 for his services to the mobile industry.