Professor Gabriele Suder1 Dean, New Business Accelerator Federation University Australia
---
Covid-19 has brought much human loss and tragedy, physically and mentally. The pandemic has caused significant changes to life and work encompassing new ways of working, teaching and learning with urgent needs for skilling, up-skilling and re- skilling.
Whilst entire industries were down-spinning, others gained unexpected momentum. With this, a 'war on talent' on local level has emerged as barely ever before and that is predicted to continue. Talent could not and will not move as freely any longer as globalisation had made us believe, and we saw the consequences of it in real time – whether in supply chain issues, in a lack of workers in hospitality, overload of work in the medical sector or a huge surge in tech talent needs and upskilling as we all went digital.
When the term 'war for talent' was coined in the late 1990s, competition was becoming global and job-hopping was increasing with an ageing population leaving more jobs. Today, with borders repetitively closed and concurrent phases of lockdowns worldwide, migration, travel and expatriation opportunity are limited. Also, many people have changed their priorities towards living closer to their loved ones and have become less mobile.
A great number of previously 'comfortably employed' people have also taken the opportunity (or have had to, due to redundancies) to reconsider their career path and aspirations and turned their back to some sectors. For example, the hospitality sector continues to struggle finding and retaining staff. And others have used the monotony of lockdown to take up an early hobby, long forgotten, or passion – most often through digital channels. They have turned to the power of technology, to digitalised learning opportunities, that are accessible, engaging, impactful and often – when leading to more than a punctual distraction – into more formal learning courses, programs, diplomas and certificates.
Covid-19 has also offered a unique, maybe once-in-a-lifetime opportunity to consider and re-consider what one's future will hold – i.e., a drive to consider what we can control in life whilst the virus was raging, apparently out of control: What could my life and my work, or yours, or theirs, look like if we keep learning? What if we embrace for real that idea of lifelong learning where we can translate our curiosity into a meaningful, purpose-driven mission for ourselves? And if we can do so through personalised learning paths, whilst our adaptability drives personal, social and economic recovery.
Evidence of these developments is the "great resignation", a phenomenon which was first identified in the US2. People have begun to rethink their ambitions and resign or re-focus their careers. This has been accompanied by a severe skill shortage which enables job seekers to be more selective and demand greater perks including tailored personal and professional development.
Digital enablement
Lifelong learning and its pathways into resilience (of employment and mental wellbeing) and purpose (serving personal content and social contribution) have become remedies and are here to stay. The acceleration of digital learning and working has brought even the most reluctant on the journey of digital enablement – during the pandemic in many sectors not a choice but a necessity, removing other options. People of all ages and in all sectors have ascertained that fulfilment, productivity and engagement are not a space- bound paradigm as previously assumed. In the post-pandemic world, we (1) learn, recruit, manage and lead in a hybrid world, in which flexibility and agility have become the new normal and (2) in which digitalisation best practice is an expectation, where the user will not accept a poor digital experience. This is combined with 'hybrid' work – life expectation of physical and digital presence, and the individual's desire to customise and personalise what that combination looks like and what development it entails.
In the workplace, digitalisation best practice is also being pushed by both employees as well as employers, who aim to (1) attract and retain talent, and (2) are in dire need of staff that is adaptable and agile. Employers are recognising the value of re- and upskilling accessed through channels that do not require staff to leave their job for a year or more. Skills can be attained through bite-sized learning, available when needed, stackable, inclusive, accessible and impactful for the purpose and context required rather than standardised and static.3
As we reflect on and chart the evolution of the digital tech industry and its impact on society, we recognise that learning and teaching is a key component of what has changed and why, especially during the coronavirus pandemic. Digitalisation has brought the ability to adapt to a comprehensive range of sectors and communities, often as the only model allowing them to sustain livelihoods. Learning (whether through traditional formal or innovative informal teaching and training) has helped society adapt to the fast-tracked digital world faster than anyone could have expected. This is why in the future, we will expect to see an equally unprecedented blend of human interaction, driven by learning, combined with technology. This is a future that spurs enhancement and augmentation of capabilities, rather than the replacement of direct interaction.
We have learnt so much through the pandemic. One of the key learnings though has been brought about by the agility that life and work have assumed in a digitally enhanced world in which we imagine, shape, build, and inspire connectivity in a different way. A world in which we humanise a hybrid future of learning for a productive future of work – a new normal.
1 g.suder@federation.edu.au
2 https://hbr.org/2021/09/who-is-driving-the-great-resignation
3 https://theconversation.com/what-to-look-for-when-choosing-a- university-as-the-digital-competition-grows-162766?utm_source=linkedin&utm_ medium=bylinelinkedinbutton.
---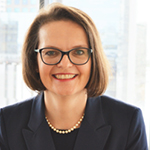 Professor Gabriele Suder is Dean at Federation University Australia, leading its New Business Accelerator as part of Global & Engagement, providing new and innovative educational products with industry-focus and regional impact. Prior to this role, she developed Pearson's new Custom Learning product supporting universities, industry and government with leading digital and hybrid learning solutions, across APAC, for Pearson's MD APAC: As Director at Gartner, she led the transformation of its International CEO Forum to bring learning and advisory solutions to the most senior executives and CEOs of subsidiaries of multinationals operating in Australia, New Zealand and across APAC. Prior, Gabriele worked for the University of Melbourne, leading the whole-of-university International Relations portfolio worldwide. She also served as Professor at the Faculty of Business and Economics and Business School, at Melbourne University, as Honorary Professor at RMIT University, and as guest researcher for the Australian National University, University of Delhi, Aalto University, ESCP and others. She serves as expert on state and federal government level, at UNCTAD (Geneva), OECD (Paris) and JETRO/IDE (Tokyo).