by Heather E. Hudson, Ph.D., J.D. 1
The pandemic which began in 2020 will be remembered for decades to come. What did we learn from it about the future of connectivity? Among its major impacts were acceleration of adoption and innovation by both users and providers. But significant gaps remain.
Acceleration of adoption has taken many forms. Older people who had never used a smart device or computer have learned how to interact with children and grandchildren. Teachers scrambled to learn how to use videoconferencing platforms when their schools closed down to prevent transmission of the virus. Doctors who had shunned technology figured out how to consult with their patients via telehealth systems when patients could not visit clinics. Employers have realized that their workforce should be allowed, and encouraged, to work from home wherever possible. Consumers who had rarely shopped online order everything from food to face masks to avoid visits to grocery stores and pharmacies.
Pandemic-forced lockdowns have also created incentives to innovate. Families have used video chats to communicate with sick relatives quarantined in hospital rooms and nursing homes. Educational institutions from kindergartens to graduate schools have developed online curricula for students forced to stay home, and hybrid distance learning with in-class labs and seminars for those who can safely meet together. In-person conferences have moved to virtual sessions; community organizations and local governments now meet online rather than in person.
Restaurateurs have pivoted to online ordering for take-out services where they could not stay open to serve their clientele. Small and local businesses have learned to market their products online to survive. Instructors offer online yoga and music lessons. Musicians play in virtual concerts, compensating for latency in linking musicians in several countries and even continents.
Residents of remote Indigenous communities have also turned to online services while isolated during the pandemic. In an Alaskan Yupik village, a woman described her 86 year-old grandmother's suffering from COVID-19: "I have never known anything to be too much for my grandmother. She was a fighter. We teleconferenced with immediate family to pray that God come take her sooner than later, so that her suffering may end." When she died, only the immediate family could take her coffin to the graveyard. "The pastor did the burial on speaker phone."2
In northern Canada, nurses in remote communities have requested more bandwidth to support telehealth consultations while travel has been difficult or impossible. Telecom providers in these regions have also reported increased demand for high reliability for emergency communications and first responders.
The pandemic has also exposed disparities in access to communications technologies and services. Some households in the US and Canada do not have broadband or have insufficient bandwidth for students to participate in online courses. Some cable and mobile companies have offered discounted connections for low income families, but it is unclear whether these discounts or relief from penalties for data overages will be continued after the pandemic.
In cities, students without broadband at home cluster around fast food outlets to share Wi-Fi. Others spend hours in parking lots to use Wi-Fi from town halls or libraries. Schools have scrambled to obtain tablets or Chrome books for their students; many have requested donations from tech companies. And the school bus has taken on new roles while students are stuck at home. In Anchorage, Alaska, the school bus driver delivered donated computers to grateful students. But where students lack broadband, as a community activist in Washington, DC, pointed out "a free laptop becomes about as useful as a 1940 Smith Corona typewriter." Urging national leaders to take action, he emphasized that without real access to broadband, kids across the country are effectively "logged out of school."3
School buses equipped with Wi-Fi have also become stationary hotspots. Students gather around the parked buses or sit in cars to participate in online classes. Some download assignments and return to upload their homework. The school district in Austin, Texas, has been deploying 261 Wi-Fi-equipped buses across 40 neighborhoods with little or no home Internet access. While innovative, this stopgap solution demonstrates the ongoing urban digital divide in a city that is also the state capital and home to the University of Texas at Austin.4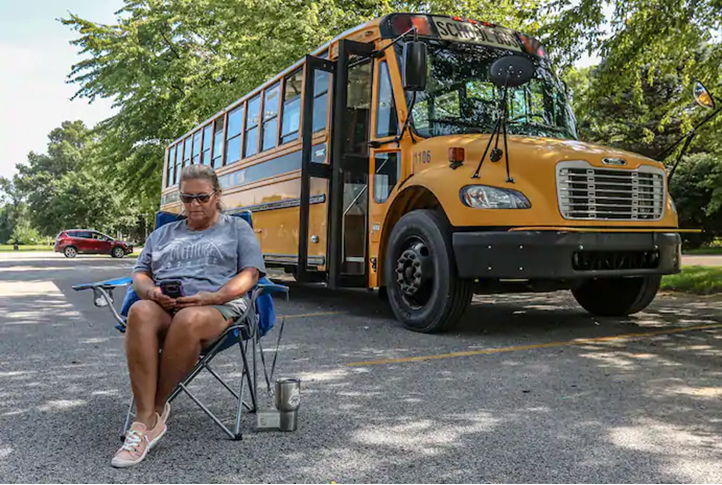 Students in remote and Indigenous communities face even greater challenges to continue schooling online. The Yupik region of Alaska includes 29 schools in remote communities, in which only about 15 percent of households have Internet access. Some teachers put lessons on USB sticks, but find that lack of interaction with students can make learning difficult.5 One provider is setting up local intranets in villages so that students and teachers can share online lessons and coursework without connecting to distant Internet hosts. In other communities, residents have basic broadband access but cannot afford to stay online for classes and assignments that exceeded their data caps. In crowded Arctic households, several children and adults try to share a single connection.
In the developing world, many students lack broadband access or the tools to take advantage of it. In rural India, three young sisters share one 2G phone with no Wi-Fi. The girls ration their class time, selecting only lessons they think are most important. The phone doesn't allow streaming video, so they just listen to audio. The signal is erratic, forcing them to run around the house to get the best reception, which is usually on the roof. "It's going to be really cold," said the oldest. "But do I have a choice?" 6
In the future, we hope she will have a choice! The pandemic has demonstrated dramatically that broadband is not a luxury but an essential service for all. In the US, Canada, and other countries, governments are making more funds available for extending broadband infrastructure in unserved and underserved regions. But there is less attention to affordability for low income families who cannot pay for broadband plans with sufficient bandwidth or with unlimited data caps. However, prices should decline as more bandwidth becomes available, and competition among technologies such as fiber, terrestrial wireless and satellite, as well as among providers, creates incentives to lower prices. Yet should does not mean will. Regulators will need to be vigilant to ensure that bandwidth, quality of service and affordability targets are achieved and maintained.
Broadband as defined today will eventually be ubiquitous, connecting almost everyone, including those living and working in isolated and developing regions. Children will take connectivity for granted. But gaps will remain, as new generations of mobile and fixed services and smarter devices are introduced.
Connectivity is always likely to be a moving target. When I first worked in remote regions, our goal was to get two-way high frequency radios into isolated communities. Then the goal became reliable telephone service, then Internet access, and now broadband, but the goal will continue to evolve.
In the 1990s, national governments and the ITU were calling for "information superhighways." At a conference about information infrastructure in Washington, DC, a young woman reporting on the meeting asked me when I thought the goal of universal broadband would be achieved, and the effort would be finished.
"It will never be finished!" I replied. The connectivity target has moved enormously in the 25 years since that conference. It hasn't stopped now.
---
1 Professor Emerita, University of San Francisco, and Affiliate Professor and former Director, Institute of Social and Economic Research, University of Alaska Anchorage. Contact: [email protected]. The author is also a Board member of the Pacific Telecommunications Council (PTC).
2 Cynthia Ivan. "The death and burial of our dearest mother and grandmother." Anchorage Daily News, November 19, 2020.
3 Petula Dvorak. "When 'back to school' means a parking lot and the hunt for a WiFi signal." Washington Post, August 27, 2020.
4 Stacy Fernandez. "Wi-Fi buses were a quick solution for student internet access, but as schools reopen they need their buses back." Texas Tribune, Oct. 8, 2020.
5 "For Alaska's rural children, distance learning exposes gaps in internet equity." See https://www.youtube.com/watchv=L_Z4Hm3JRX4&feature=youtu.be
6 Vibhuti Agarwal and Eric Bellman. "In the Himalayan foothills, Mehak Bisht and her sisters have to go to the roof of their house to get mobile phone reception." Wall Street Journal, Nov. 24, 2020.
---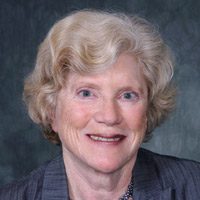 Dr. Heather E. Hudson is Professor Emerita at the University of San Francisco where she was founding Director of the Telecommunications Management and Policy Program in the Business School.  She is also Affiliate Professor of Communication Policy and former Director of the Institute of Social and Economic Research (ISER) at the University of Alaska Anchorage. Her work focuses on applications of information and communication technologies (ICTs) for socio-economic development, impacts of access to ICTs, and policies and strategies to extend affordable access to broadband, particularly in rural, remote and Indigenous regions. She was awarded the 2021 Richard J. Barber PTC Distinguished Service Award for her forty years of dedicated service to the Pacific Telecommunications Council community. 
 Professor Hudson has planned and evaluated communication projects in Alaska and the Canadian North and more than 50 developing countries and emerging economies in Africa, Asia, the Middle East, the Caribbean, and the Pacific. She has also been an expert witness for consumer and Indigenous organizations in regulatory proceedings. She is the author of many articles and several books.