Interviews with Keri Gilder, CEO Colt Technologies and Kate Johnson, CEO Lumen Technologies
---
Drivers for change
When the GTWN was founded over thirty years ago, there were very few women in senior roles in the communications industry. GTWN founding members were so few in number that they were able to meet in a small room. These meetings took place entirely separately from the mainstream of industry conferences, such as the ITU congress in Geneva or the PTC in Hawaii. (The GSMA was only established as a mobile industry standards body in 1995). GTWN founding members dreamed of a day when women would lead major communications companies, and the culture of the industry would evolve to become much more diverse and inclusive of all peoples and all talents.
Change makers of today
Fast forward to today, when we see an increasing number of women leaders at the helm of major digital tech companies. The Mobile Century spoke to two of these leaders – both passionate change makers. GTWN Global President Keri Gilder, CEO of Colt Technologies and Kate Johnson, CEO of Lumen Technologies share their insights into how they are leading change in the industry, and where they see the challenges for the future.
Keri Gilder, CEO Colt
TMC: Looking back over the time you have been in the CEO role, what do you think are the highlights, or the major turning points, which brought about the most significant developments and achievements?
Keri: When I was appointed to the role of CEO in May 2020, it was during the first year of COVID and during lockdown. It was a very challenging time for everyone, and made me realise, even more than ever, that we as human beings need and crave connectivity above all else. And of course, I was now responsible for executing Colt's strategy which centres around transforming the way the world works through the power of connectivity.
TMC: What are you most passionate about in your job as CEO of Colt?
Keri: I am passionate about promoting diversity and inclusion to ensure Colt is a business where everyone feels they can bring their true selves to work. I also bring this passion to the wider industry as the Chair of the TM Forum's Diversity & Inclusion Council and President of the Global Telecom Women's Network. I am an engineer, having worked prior to Colt at Ciena, Lucent Technologies, and before that for Hughes Aircraft as a Network Engineer. But I also value my family life, being the mother of two children, and believe in flexible working conditions for both women and men.
TMC: What are the major changes that you have seen since joining the industry?
Keri: What stands out for me, when comparing the way the telecom industry is today compared to when the GTWN was founded, is that the industry is becoming much more demand driven and customer focused.
When I first came into this role, I thought that the telecoms industry had not really changed much over the past decades. The industry used to have a culture of being supply driven, without much concern for the needs of the customer. But the industry has surprised me. We are undergoing enormous change as digital transformation impacts every area of life and work, and as AI, 5G, cloud and many other innovations create new opportunities as well as challenges.
As CEO, I've changed the way that we approach our businesses cases. We at Colt only "Build it, and they will come" proactively into major data centers where we know the consumption of bandwidth and traffic is going to be high. We always have an anchor tenant for our digital infrastructure, or intelligence to say that demand is coming that will provide the return on investment needed. Being customer driven means that we must have a more complex sales proposition and a more complex product proposition that not only includes our portfolio – the connectivity piece – but the portfolio of others, which could span the cloud, the compute, the mobility, and the access side. As such, we have been bringing on board a series of partners that have specific capabilities which integrate with ours.
TMC: What does the telecom industry need to do in future to stay ahead of the game?
Keri: We are an industry that is aging and because of that, it is exceedingly difficult to change mentalities to do things differently. However, with the new era of software and software-defined networks, as well as the current economic climate that has triggered many mergers and acquisitions (M&A) in the telecoms industry, things are starting to change rapidly. All of this is creating an environment that is rife for disruption.
Companies may be large, but they must think about data differently. We must look at the digital infrastructure, and see how everything within it can be monetized, almost like how a real estate agency appraises property. We have not done that as an industry but now is the time to start. We need to be more curious. Curiosity is what is required for us to fulfill some of the next generation customer needs and requirements.
TMC: What initiatives have been put in place to ensure that the culture in the industry becomes more diverse and inclusive?
Keri: I have worked for the last two and a half years with Nik Willets and Vicky Sleight at the TM Forum to produce the inclusion and diversity score (D&I score)1. The reason we did that was because as a female executive – one of the very few female CEOs in the industry – I have held the flag for diversity for a long time. I do not know why that flag is always given to the woman, but it is. And so, when Nik approached me, we talked about the importance of doing something that would actually manifest change.
For me, as a business executive, what we measure is what matters. So, we produced the measurement system. It is half inclusion and half diversity. It uses machine learning to understand what are the five or six themes that are coming out of the responses on employee sentiment on inclusion.
TMC: Do you have an example of where Colt has successfully changed its culture?
Keri: Building on our work with the D&I score, we have been able to build interventions that truly make a difference. At one point within Colt, I found that most of my employees felt they were disadvantaged because they had English as a second language and felt that they would not be promoted unless English was their first language. This is clearly a perception because in actual fact, my CMO is Japanese and my head of sales has Chinese heritage. But it is a perception and perceptions become reality.
To address this, we immediately changed our communication style and started communicating in multiple languages. That slight change made an enormous difference and helped to create an inclusive environment within the company. While the results were encouraging, we still have a long way to go.
TMC: What is the one thing we should all be doing to encourage more women to make their careers in this industry?
Keri: While we have made tremendous progress since the GTWN was founded more than 30 years ago it is clear that there is still a lot to do. One study found just 14% of telecoms firms have majority female ownership. We can do a lot more if we can get men in male executive roles to start looking at this as more of a strategic imperative and measuring it like one, instead of looking at it as a moral obligation. It is a business imperative, and if we do not take it seriously, then we will not be able to attract more talent into this industry. We need more 'outside- in thinking', more collaboration and more investigation into other industries.
Kate JohnsoN, CEO Lumen
TMC: You have been in your current leadership role at Lumen for only a few months now. What has surprised you most about the telecom industry since you joined Lumen, and how does the industry compare to your previous experiences in the tech sector?
Kate: I took this job because the people are great, the assets are great, and there is a lot of room to make a positive difference. I am naturally a change-maker – I have been driving change for a couple of decades. I thrive leading people through change and am excited about driving transformation and growth at Lumen.
I learned a lot about the industry and Lumen's place in it already during the selection process. And since then, I have been learning about the many opportunities, but also challenges that we in the telecom industry are facing because of digital transformation. There is a lot of work we need to do.
TMC: As a change maker, taking on the CEO role at Lumen, what are the main drivers of change that you are using to reshape Lumen and its culture?
Kate: It all starts with clarity – articulating a clear vision of who we are, who we serve and what our strengths are compared to our competitors. This is the foundation of our "North Star" which will provide the guidance to lead our journey. The second part is our economic model. Combining the two leads us to a short list of core priorities for the business. As some telecom businesses are in decline, due to commoditisation and legacy technologies, we need to create a path forward for growth based on an obsession with our customers and their needs.
TMC: What do you mean about 'customer obsession' and how does this approach differ from the way the telecom sector has operated in the past?
Kate: I have a different perspective on the industry as I have come from a more traditional technology, not a telecom background. In telecoms, the company developed an offering, brought it to market, and collected the return from those assets. In technology, you shape things to solve problems, and you need to understand your customer's business and challenges to provide solutions that will solve these problems.
TMC: How are you changing the internal culture of the company to meet this new economic environment and drive growth?
Kate: In the past, like most telecom companies, Lumen was internally focused, taking costs out of the business to drive operational efficiency. Now, we are thinking from the outside in – understanding our customers' key needs so we know where we innovate and invest for growth. We are changing our focus to be growth-oriented, led by our mission to digitally connect people, data, and applications – quickly, securely, and effortlessly. This is a massive shift in mindset, which requires shifting the culture internally. As we look ahead, we will be doing fewer things, but we will be doing them really well.
TMC: What other approaches are you using in order to change the mindset and culture of the company?
Kate: A key to our future growth will be building great partnerships that are deeply strategic. I believe in a large partner ecosystem, with partners who can help you build out the complete portfolio of products and services that customers need. In the past, telecom companies wanted to be a 'one stop shop' and a gateway provider for their customers. Customers these days don't want to have just one vendor because this entails too much risk to their business. We also need 'feet on the street' – partners who can service our customers at the local level.
TMC: Are you seeing change in customer behaviour since the start of the pandemic, and what does this mean for telecom businesses?
Kate: There are two main changes that I see. Firstly, customers are focusing on their core challenges, and what meets their changing needs for their data and applications. Secondly, with the shift to hybrid work – with part of the week spent at home and part in the office – our customers are wanting edge technology, to bring low latency, secure, and reliable connectivity to their workers wherever they happen to be.
TMC: As a change maker, what do you see as the remaining challenges that the industry needs to address to continue to grow and meet the needs of its customers?
Kate: We need to continue the transformation of the telecom industry's culture, to make it more inclusive, more customer focused, and more innovative. There are enormous opportunities for the industry to solve technology challenges for business across sectors including retailers, healthcare providers, manufacturers, and government agencies. We can all contribute to delivering outcomes which will ensure economic growth and prosperity into the future, but we need to focus on understanding the human element and our customers first.
1 https://www.tmforum.org/diversity-and-inclusion/
---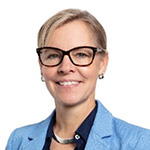 Keri Gilder is the Chief Executive Officer (CEO) at Colt Technology Services since May 2020. She is responsible for executing Colt's strategy which centres around transforming the way the world works through the power of the digital universe.
Before becoming CEO, Keri was Colt's Chief Commercial Officer (CCO), leading global teams across sales, presales and marketing, as well as working closely with the wider organisation to ensure Colt delivered for its customers.
Before joining Colt, Keri held several leadership roles at Ciena but was most recently its Vice President and General Manager EMEA, responsible for guiding Ciena's EMEA service provider and enterprise customers, as well as partners.
Keri is passionate about promoting Inclusion and Diversity to ensure Colt is a business where everyone feels they can bring their true selves to work. In addition, Keri brings this passion to the wider industry as the Chair of the TM Forum's Diversity & Inclusion Council and President of the Global Telecom Women's Network.
---
Kate Johnson is the President and CEO of Lumen and a member of its board of directors. A seasoned business technology leader, Kate has a proven track record of driving business and digital transformation success at the world's top Fortune 100 technology companies. Hyper-focused on moving innovation and shareholder value forward, Kate leads with the strategic and go-to-market skills developed over 20 years as a growth-oriented B2B enterprise technology disruptor. Kate champions digital innovations that create the best customer experience and solutions. This starts with unlearning old success models and creating an environment that spurs advancement and sets Lumen apart. Kate joined the company in 2022. Prior to Lumen, Kate held executive leadership roles at Microsoft, GE Digital, and Oracle, as well as various commercial and technology leadership roles at Red Hat, UBS Investment Bank, and Deloitte Consulting.
Kate earned her bachelor's degree in electrical engineering from Lehigh University, and her MBA from the University of Pennsylvania's Wharton School. She lives in Denver with her family and serves on the board of directors for UPS since 2020.