Mirko Voltolini, Vice President, Strategy and Innovation, Colt Technology Services
---
The metaverse will generate exciting new opportunities for business and society. 71% of business executives in a recent Accenture survey said the metaverse would be good for the enterprise. 42% believe it will be 'breakthrough' or 'transformational'. JP Morgan identified a market opportunity worth more than $1 trillion in its report "Opportunities in the metaverse", while a year ago, Bloomberg Intelligence suggested it could be worth $800 billion by 2024. Meta heralds the metaverse as 'the biggest opportunity for modern business since the creation of the Internet.'
But you would be forgiven for feeling – excuse the pun – a little 'meh' about it. Chances are we've all seen social posts from metaverse evangelists met with comments which range from sceptical sarcasm to unrepeatable criticism. What does it really mean for businesses and their customers – isn't it just for gamers? And is it time to invest in those AR goggles?
What's real, what's virtual – and does it matter?
The metaverse extends human interactions into various digital worlds. It's not just about a virtual utopia, accessible only to a few people with pockets deep enough to afford the latest smart glasses. We need to think beyond VR goggles and quirky avatars, to a place where digital and physical worlds interact and generate extraordinary, meaningful connections.
The metaverse (or multiverse as some prefer to call it) represents a multitude of potential applications and guises. It's less Second Life 2003 (more on that later), and more ABBA Voyage, a seamless experience which blurs the boundaries of physical and digital as concert- goers interact in person with astonishingly-lifelike ABBA-tars – holograms worked on by 1000 visual effects artists. By the end of the show, fans are left questioning what's real and what's virtual. But here's the important bit: it genuinely doesn't matter. Concertgoers, just like users of digital technology everywhere, want the very best experience – an enriching, memorable, joyful one that makes them feel part of something special, relevant and ground-breaking. They don't need to know the behind-the-scenes detail, or be consciously aware of what's 'real' and what's virtual. It's about generating interactions and transactions. And – just as it has always been – the onus is on network operators and service providers to understand and optimise the technology available, to improve your customer experience and generate new sources of revenue.
A short history of the metaverse
Previous commercial interactions with the metaverse began around a decade ago. Second Life, launched in 2003, was one of the earliest incarnations of an alternative metaverse-type world to present commercial opportunities. Banks, entertainment companies and sports brands jostled for attention and sponsorship. By 2013, Second Life exceeded 36 million accounts (for context, Twitter has 450 million active users). Then things went a bit quiet. In 2017, Second Life's makers – Linden Labs – released Sansar, a kind of connected group of virtual reality spaces, which sold to Wookey Projects in 2020 at a point when the world was in lockdown and much of our lives was spent online. Second Life enjoyed a resurgence around that time, driven by pandemic- related restrictions and by advancements in hyper-real game play, as well as the rise in the number of gamers (now reaching over 3 billion) and – of course – mobile access.
Growing pressure on digital infrastructure
But there's another influence that has been – and will continue to be – critical in bringing the metaverse to life: the rise in networking technologies, and resulting access to fast, secure, affordable digital infrastructure. If you think about the metaverse as layers of technologies built on top of one another, core infrastructure is the foundation.
In 2003 – when Second Life was released – BT launched a 1Mbps ADSL service for homes. Now, more than 90% of homes with broadband in the UK, for example, take a super-fast package. Average speeds are 59.4Mbps. Interacting with the metaverse places incredible pressure on digital infrastructure, requiring Gigabit speeds; infrastructure with low latency and loss tolerance; and high levels of Distributed Edge cloud compute. Some of the applications requiring the highest Bitrate according to Credit Suisse, include Holograms (300 Mbps); VR (200 Mbps); AR (80 Mbps) and 4K video (20 Mbps).
The good news is that the infrastructure capabilities are already there to meet the increasing demands of the metaverse. In the early 2000s, first came the content, then the infrastructure: the cart before the horse, effectively. Now, the digital infrastructure is in place, it's metaverse-ready and it's better than ever.
Business opportunities in the metaverse
We're already seeing business use cases for the metaverse across a number of sectors: manufacturing, healthcare and agriculture, for example. This is extending to education – interactive video classrooms and teleportation to museums, galleries and historic events; to retail, adding another level to ecommerce; to workforce development, creating a better sense of presence, shared physical spaces and improved collaboration; and to media, generating new forms of entertainment, with the ability to teleport into a remote concert or party, for example. Beyond these sectors, businesses are likely to extend to the metaverse to drive innovation; for digitally enhanced training and testing environments and to generate an enhanced customer experience.
Implications for businesses and customers
Thinking of the metaverse as a virtual testing environment – a channel for trialling new opportunity and creativity – makes it feel more relevant. There are a number of fundamentals that can help businesses and their clients prepare for the new AR/VR environment. For example, it's time to start rethinking your:
Customer experience. The metaverse brings new opportunities to create meaningful engagement with your customers and communities. Start thinking now about your customers' journey and end-to-end experience. How can you connect with customers and prospects in the metaverse in a creative, memorable way that drives loyalty and deepens engagement? Could you invite them to events, trials, briefings or tours?
Employee experience. New hiring practices, opportunities for employee engagement and collaborative working will be generated within the metaverse. 66% of businesses see the metaverse as the next stage of hybrid working, according to one study.
Data. The metaverse will accelerate an exponential growth of machine-generated data. By 2025, more than 180 zettabytes of data is expected to be generated, consumed, copied and stored. That's double the figure generated in 2021. If your business is already using or considering big data storage such as data lakes, you're on the right lines.
Digital infrastructure. Rigid contracts and physical connectivity have given way to powerful, consumption-based digital infrastructure over the past few years. The metaverse will demand the ability to scale up quickly and easily, with the flexibility to self-serve via a portal to add services, extend your network and adjust your bandwidth
Access to smart analytics. Visibility into network performance will be critical, as the metaverse generates exponential bandwidth requirements. Smart analytics generate insights into the impact of different events on the network and can include intelligent alerts and recommendations for network changes.
Security. One study found 91% of security experts are worried about data security in the metaverse. The vast amounts of highly sensitive data collected in the metaverse – such as biometric and facial recognition data – means robust, watertight infrastructure security is absolutely critical. Ensure you have protection, detection and response strategies in place – or work with a partner who does.
While the enormous potential of business in the metaverse is still to be discovered, one thing is or certain: the metaverse will help us all generate extraordinary connections.
---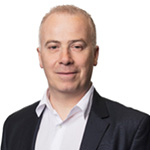 Mirko Voltolini is VP of Strategy and Innovation at Colt. In this role, Mirko seeks to underpin Colt's product capabilities with innovation and the latest emerging technologies in order to ensure Colt remains an industry leader. He works closely with the wider Strategy and Transformation team to help develop and implement Colt's long term strategy. Formerly Head of Network On Demand, Mirko was responsible for the strategy, architecture and development of the network technologies enabling Colt software defined on demand network, the IT orchestration and monitoring capabilities and the management of the on demand product portfolio. He joined Colt in 2002 and has held several senior roles in the technical development and engineering areas. Prior to joining Colt Mirko worked at GTS/Ebone, Italtel and ICT Consulting, an independent telecom consultancy company. Mirko holds an MSc in Telecommunications Engineering from Politecnico of Milan.