Madeleine Hillyer, US Media Relations Specialist World Economic Forum
Isabelle Mauro, Head Digital Communications Industry World Economic Forum
---
Just under 30 years ago, the internet became public.1 Since then, we've seen most aspects of our lives move online. As internet use expanded throughout the 1990s and in the early 2000s both internet and mobile phone use began to expand exponentially.
Many more people are online today than they were at the start of the millennium. Looking at broadband access, in 2000, just half2 of Americans had broadband access at home. Today, that number sits at more than 90%3.
This broadband expansion was certainly not just an American phenomenon. This growth can also be seen on a global scale; while less than 7%4 of the world was online in 2000, today almost two-thirds of the world's population5 have used the internet.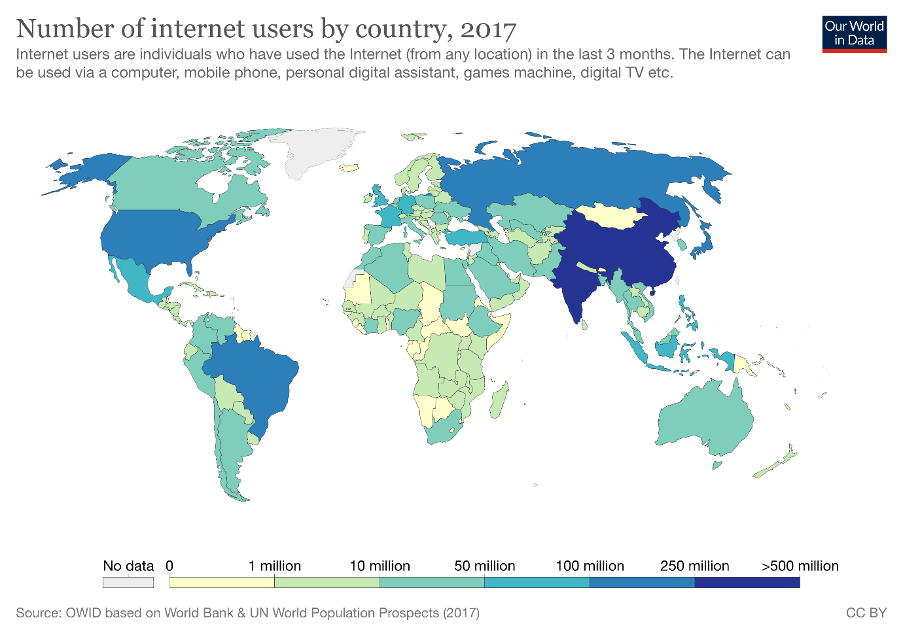 While the first cell phone came out a few years before the internet went public, similar trends can be seen there. At the start of the 2000s, there were 740 million6 cell phone subscriptions worldwide. Two decades later, that number has surpassed 8 billion, meaning there are now more cellphones7 in the world than people.
Despite these decades of growth, the global growth in the percentage of households connected to the internet has slowed8. As past methods of internet expansion are falling behind, we need to look for new solutions to get the next half of the global population online.
Although 85% of the world's population lives in areas covered by 4G, only half are online. Cost, not coverage, has become the critical barrier to connectivity. In low-income countries, home to 650 million people, mobile broadband is 18 times more expensive9 than in developed countries, as a proportion of average income.
The EDISON Alliance
The World Economic Forum and its partners are responding to this challenge, with The EDISON Alliance10, a global movement of public-private leaders whose mission is to improve 1 billion lives11 through affordable and accessible digital solutions across the world by 2025, in three sectors that are key for socio-economic recovery: education, financial inclusion and healthcare. We will do this by Building a network of networks to identify and scale cross-sector relationships to drive change and deliver impact.
Education
While investment in online education options had been growing before the pandemic12, Covid-19 closures emphasized the importance of digital access to education. When closures started in 2020, up to 1.6 billion students were out of school. While those in areas with higher internet access were able to continue schooling online, reaching students without internet access at home became more difficult.
This has increased inequalities in education, as there's a large gap between poor and rich countries when it comes to children without internet access at home. Currently, 87 percent of people13 under 25 in high-income countries have internet access at home, in low-income countries this number drops to just 6 percent.
This variance in access to online education during the pandemic has been one of the main factors driving increased14 education inequality during the pandemic.
Even high-income countries with high rates of internet access, noticeable gaps in internet access exist. The richest households15 have access levels 97 per cent, in the poorest households only 74 percent have access. These gaps have also been shown to lead to education achievement16 gap.
Most governments around the world have made digital access to education a priority in order to build a more resilient education system, able to respond to future crises. Several partners of The EDISON Alliance have made commitments to increase access to education via digital solutions, including the GIGA initiative, led by UNICEF and ITU, which hopes to connect 2.8 million schools and over 500 million children by 2030.
Financial inclusion
Financial inclusion is another issue that has been greatly shaped by the expanding internet access.
Fortunately, the number of adults with access to formal financial services, has been steadily increasing17 over the past decade. Between 2011 and 2017, the percent of adults who had access to a financial account rose from 51 to 69 percent.
Digital access, and in particular mobile access to financial services, have been important drivers of this increasing financial access. This expanded mobile access and financial inclusion is bringing great benefits, with research18 pointing to its ability to significantly reduce the chances a household falls into poverty.
While financial services accessed through mobile services have greatly enhanced financial inclusion, gaps in mobile network access are hurting groups who need it most.
Currently, women are 15% less likely19 to have mobile internet access than men globally and this gap only grows in regions where mobile internet access is a main driver of financial inclusion. For example, in sub-Saharan Africa women are 37% less likely to have mobile internet access while in Europe and central Asia that gap falls to 4%.
An important factor in continuing to increase women's financial inclusion globally will be closing the mobile internet access gap around the world.
In support of this, The EDISON Alliance has developed a common vision in a set of Shared Principles for an Inclusive Financial System20, which outline the foundations for the inclusive digital marketplaces of the future. These Principles can help us bring together new technologies – like open banking, fintechs, blockchain, artificial intelligence and more – to work for the banked and unbanked alike.
Healthcare
Digital technology and digital connection have also played a growing role in healthcare in the past decades. The early 2000s saw the culmination of a biotech boom21 that had started in the mid-1990s. In recent years, innovations have been increasingly focused on delivering healthcare to patients as well.
The pandemic further accelerated the use of digital technology in healthcare around the world, particularly through the use of Teleheath services.
Telehealth has offered good opportunities to continue patient care during the pandemic, but there are lasting benefits to this offering as well. For example, telehealth has great potential to provide expanded access to specialists, monitor chronic health conditions and many other benefits to health care.
These benefits are particularly important to those living in rural areas who tend to struggle more with health care access than urban ones. In fact, the health benefits of digital access are so strong that some researchers have found that it is a 'super- determinent'22 of health.
Unfortunately, those who would benefit most from expanded telehealth use are less likely to have broadband access than others. Looking at the United States, seniors are over two times less likely to have internet access at home than their younger age groups. In 2019, 95% of Americans23 under 40 had internet access at home. For those over 65, that number drops to 82%.
Similar disparities are seen with those living in rural areas, a group who already have less healthcare access. Rural areas are also less likely to have quality internet access than their urban counterparts as well.
Considering at least half of the people24 in the world do not receive the health services they need, we must continue to prioritize bridging divides to ensure that everyone can equally benefit from digital tools. The work of initiatives such as the EDISON Alliance and its partners are key in accelerating access and adoption, two areas that will frame the future of digital health. To this aim, the Shared Guiding Principles for Digital Health Inclusion25 define a framework that will help ensure a responsible, sustainable and inclusive adoption of digital health services by professionals and individuals.
Conclusion
Over the past 30 years, the internet has grown to be a major presence in most aspects of our lives. It has also brought with it the opportunity to decrease inequalities- or create them.
In particularly important areas of our lives, such as finance, education and health, expanded digital access has offered great benefits but also created new inequalities. It's important that as we start to reach the third of the globe that's not yet connected, we develop approaches that increase equity and benefit the most people's lives.
Finding commercially viable solutions to these issues can help us ensure that the next 30 years of the internet brings benefits to all people. The Edison Alliance and its partners will continue working towards this objective by bringing together private sector and government partners in pursuit of this goal.
1 https://www.popularmechanics.com/culture/web/a20104417/www-public- domain/
2 https://www.washingtonpost.com/graphics/2017/entertainment/tech- generations/
3 https://www.pewresearch.org/internet/fact-sheet/internet-broadband/ 4 https://ourworldindata.org/internet
4 https://ourworldindata.org/internet
5 https://www.itu.int/en/ITU-D/Statistics/Documents/facts/FactsFigures2021.pdf
6  https://www.statista.com/statistics/262950/global-mobile-subscriptions-since-1993/
7 https://qz.com/1608103/there-are-now-more-cellphones-than-people-in-the- world/
8 https://en.unesco.org/news/new-report-global-broadband-access-underscores- urgent-need-reach-half-world-still-unconnected
9 https://www.itu.int/en/ITU-D/Statistics/Documents/publications/prices2020/ ITU_A4AI_Price_Briefing_2020.pdf
10 https://www.weforum.org/the-edison-alliance
11 https://www.weforum.org/the-edison-alliance/1-billion-lives
12 https://www.globenewswire.com/news-release/2019/12/17/1961785/0/en/ Online-Education-Market-Study-2019-World-Market-Projected-to-Reach-350-Billion-by- 2025-Dominated-by-the-United-States-and-China.html
13 https://www.unicef.org/media/88381/file/How-many-children-and-young- people-have-internet-access-at-home-2020.pdf
14 https://news.un.org/en/story/2020/10/1076422
15 https://www.unicef.org/media/88381/file/How-many-children-and-young- people-have-internet-access-at-home-2020.pdf
16 https://www.pewtrusts.org/en/research-and-analysis/articles/2020/12/08/what- covid-19-underscores-about-how-broadband-connectivity-affects-educational-attainment 17 https://globalfindex.worldbank.org/basic-page-overview
17 https://globalfindex.worldbank.org/basic-page-overview
18  https://www.tandfonline.com/doi/abs/10.1080/15228916.2017.1419332
19  https://wefcloud-my.sharepoint.com/personal/madeleine_hillyer_weforum_org/Documents/-%09https:/www.gsma.com/mobilefordevelopment/blog/the-mobile-gender- gap-report-2021/
20 https://www.weforum.org/whitepapers/shared-principles-for-an-inclusive- financial-system
21  https://money.cnn.com/2000/02/22/companies/biotech/
22  https://journals.sagepub.com/doi/full/10.1177/1073110519857314
23  https://www.healthsystemtracker.org/chart-collection/how-might-internet-connectivity-affect-health-care-access/
24  https://www.who.int/health-topics/universal-health-coverage#tab=tab_1
25  https://www.weforum.org/reports/shared-guiding-principles-for-digital-health-inclusion
---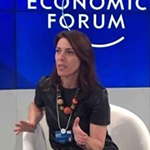 Isabelle Mauro is Director, Head Digital Communications Industry at the World Economic Forum. She is responsible for leading the agenda of the Digital Communications industry at the World Economic Forum. As part of her role, Isabelle manages the portfolio for the ICT industry and leads initiatives on digital inclusion and transformation, designed to accelerate positive impact on society, the environment and the economy. Prior to this role, Isabelle was Head of International Affairs at the GSMA, where she was responsible for government and institutional Affairs at global level. Isabelle is passionate about inclusion and sustainability. She is Chair of the High-Level Advisory Board of the DigitalGoes.Green Foundation. She is also a member of the Advisory Board of Women in Tech, a member of the UNESCO Advisory Group for the Declaration on Connectivity for Education. Isabelle holds an MSc in European Politics and Policy from the London School of Economics. She is fluent in French, English, Italian and Spanish.
---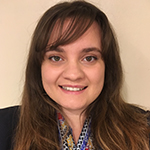 Madeleine Hillyer is a Media Relations and Public Affairs Specialist at the World Economic Forum. As a Public Affairs specialist, Madeleine focuses on the global economy, technology and ESG. She leads strategic communications campaigns for ESG, financial services and mobility platforms at the World Economic Forum. Madeleine has a masters' degree in Diplomacy and International Relations.