Isabelle Paradis, President and Founder HOT TELECOM; Member of the Board, GTWN and PTC
---
While attending the Pacific Telecommunications Council (PTC) from 15 to 18 January 2023 in Hawaii, I was pleased to meet up with a number of younger professionals who have chosen to make their career in our digital tech industry. I am very fortunate to have been working with the PTC as Chair of the PTC Beyond1 Committee. This is an incredible initiative to get more young minds and more young professionals to attend PTC and to ensure that we pass on our knowledge and enthusiasm about our industry to the next generation.
I am passionate about involving the 'Zellenials' in our industry – by this I mean Gen Z plus the millennials2. Together these two groups make up almost 55% of the world's population, so for this industry not to include them increasingly in the future would be a big mistake, in my view.
PTC Beyond is a program to empower companies to bring their young professionals to the PTC. We have also created a range of activities for them so once they are here, they can learn, they can network with their peers, and they can meet incredible and inspiring leaders so they can start making a difference. It is truly a win-win situation for everyone – a win for the young professionals, a win for the companies, and it's a win for the PTC as well.
During PTC'23, I met up with two young professionals who have been working with the PTC Beyond Committee, giving the benefit of their perspectives and experience and offering valuable insights into how we can attract more young people to the industry.3
Felix Seda is General Manager of NJFX. He believes that involving the younger generation is so important as it is about representation, participation and empowerment. According to Felix, it is about helping them to develop as leaders so they can take a seat at the table. Having young people as part of the conversation about the future of our industry allows them to have a voice. It is important for senior managers to mentor and involve younger minds in conferences and meetings, such as the PTC, so that they gain valuable experience in how the industry works and they can make a contribution from an early stage in their career.
Maxie Reynolds is Founder and CEO of Subsea Cloud. She believes in taking the long view and that we first and foremost need to create the talent pipeline for the future of the industry. According to Maxie, as the younger generation has grown up as digital natives, they have taken the technology and its benefits for granted. They don't really understand it, and don't realise that there are great careers to be made in ways that they don't even recognise.
The industry is not good at breaking out the constituent parts of what makes the digital tech sector function as it does. We need to do this better, and then allow younger people to get excited about a rewarding career path that they can build. As an industry we have a lot of PR work to do and it all starts with conferences such as the PTC, where younger and older generations can mix.
I agree with Maxie and Felix that we need to listen to each other and learn from each other. This is a really important point. It is a two-way street – we need their insights, and they need our knowledge and skillset.
In summary, I believe that it is all about creating the future together. The older generation and the younger generations have their roles to play. We have to come together and build the future together.
1 https://www.ptc.org/ptc-beyond/
2 Gen Z is the generation born between 1997 and 2012, with current ages between 11 and 26. The Millennials are those born between 1981 and 1996, current ages between 27 and 42.
3 You can watch the video interview here https://youtu.be/BLR8i-RirlY
---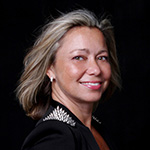 Isabelle is President and Founder of HOT TELECOM, one of the most innovative and creative telecom research and consulting companies in the industry. HOT TELECOM has been supporting operators and vendors on a global basis for over 19 years, more particularly on the subjects of International and wholesale. More recently, Isabelle has been working with many of the world's telecom service providers to help them define their transformation strategy and has written multiple articles and speaks at conferences on this topic. She is also passionate about encouraging the involvement of women in technology and science and conducts multiple panels and interview with leading women globally. She is a member of the Youth and Women Entrepreneurship ESBN taskforce, which is a working group created by the United Nations Economic and Social Commission for the Asia Pacific (ESCAP) to promote the active engagement of the business sector in addressing the issues of sustainable and social inclusiveness in business. She is also the founder of the Inclusion Hub, which aims to encourage the participation of young people in the telecom industry. Isabelle holds a Bachelor degree in Engineering, an MBA in Finance and has over 29 years' experience working globally.