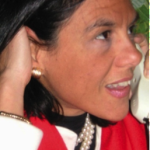 by Maria Pia Rossignaud
Editor of Media Duemila
The inaugural meeting of the GTWN's Italian Chapter took place in Rome on 2 October 2015. Generously hosted by Telecom Italia, and chaired by Lucy Lombardi (pictured), the one-day workshop drew senior delegates from government, industry and academia.
Lucy Lombardi praised the work of the GTWN in supporting women in tech. "What I found in GTWN are people of great talent and great depth. A network for discussing technology, innovation, digital transformation. A place where we can not only discuss new trends that affect our work, but also a place where talented women achieve great things.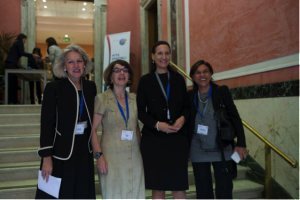 (L to R): Candace Johnson, Founding President of the GTWN; Carla Cico, Board Member, Alcatel-Lucent and GTWN; Lucy Lombardi, SVP Telecom Italia and Maria Pia Rossignaud, Editor, Media DueMila at the first GTWN meeting in Rome.
Women who, despite the commitments of career and family, with a smile devote their valuable time to this network." She explained the progress made by Italy in terms of gender equality over recent years. "In Italy, implementation of the EU gender equality directive of 2013 , made it mandatory for companies to work towards equitable gender representation on their boards. Italy should be very proud of the fact that it took up this challenge seriously." The number of women managers with board positions in Italian companies increased from 88 in 2013 to 119 in one year.
GTWN Founding President, Candace Johnson, called on everyone to use their knowledge and understanding of mobile technology to address the many problems facing the world, including poverty, unemployment, disease and lack of education. "We've got the whole world in our hands".
Many speakers highlighted the challenges facing women in ICT, and the need for companies to be more flexible in terms of enabling both women and men to combine their work and life responsibilities. Several speakers also referred to the growing amount of data that clearly shows how women executives and managers increase the performance of a company, compared to those companies with fewer women at top levels. There is therefore both a moral as well as a business imperative behind these issues.
Special guest and host of the meeting, CEO of Telecom Italia, Marco Patuano, then set out his perspective on how the ICT sector, and mobiles in particular, can be used to address many of the world's problems. For example, 15 years ago more than 50% of the population in Brazil were at or below the poverty line, living on one dollar per day. In 15 years 30% of the population have been lifted out of poverty.
"Those who think big like this are often accused of being dreamers, but it is very important to set out a vision to work towards. No one person is enough to change the world, but one person must start. Change is possible. Change has no gender; it needs skills and talent, so we must use all the skills of all of the population. "
Marco highlighted that the biggest challenge facing the ICT sector is not ideas, it is lack of skills, especially in terms of big data analytics. We need to work together with our government and academic partners to identify and address the reasons for this. So while we acknowledge the challenges still facing many women, it is important to look beyond gender and other differences and to find those who can contribute their talents to growing the business in these new areas so we can make the world a better and more inclusive place.
Lucy Lombardi asked participants to identify areas where they can work together to make a difference to the industry and to the lives of women in the industry and in society in general.
MARIA PIA ROSSIGNAUD
She is Editor of Media Duemila, a magazine which deals with ICT and informatics culture. She has also been editor in chief of the on line version www.media2000. it, since 1995. Vice President of Osservatorio TuttiMedia (www. osservatoriotuttimedia.com), Franco Siddi CDA Rai, has been President since July 2014.