Data Centers: A Critical Infrastructure
The growth of the Internet has been on an exponential trajectory since its inception in the late 1960s. Even today, some 60 years later, more people and their devices are connected, more data is stored, processed, and exchanged at an accelerated pace. Communications, media and computing have converged.
The data hunger of mankind seems inexhaustible – with all the new technologies, and the prospect of ever-growing data demands due to 5G and IoT – the demand for more and more computing power is growing rapidly. The demand for data centers is also growing exponentially. Data centers are increasingly being recognised as critical infrastructure for economic growth. However, they also come with challenges: they are energy hungry,[1] put pressure on local energy grids and do not provide much local employment, at least after the initial design and build stages.
We must all work hard together to deliver the UN's Sustainable Development Goals, for the sake of the future of mankind. It would be fatal if the exponential growth in information and communications technology, computing power and the cloud, so essential to our modern way of life and to innovation, were to continue to lead to such growth in energy and resource consumption at the present rate.
This does not have to be the case in the future, however. New designs allow significant energy and resource savings and subsequently much better environmental performance. Whole System Design provides the potential to integrate with a City, creating centers for data, power, heat and local community. Data Centers can turn into true drivers for innovation and economic growth.
The expansion of the Internet and cloud computing is being driven by an ever-increasing demand for more and more data. This in turn is being driven by an exponential growth in a range of new bandwidth hungry services and applications, including:
Enterprise cloud services (Software as a service, e.g. Salesforce, SAP)
Social networking (Facebook, Instagram, Weibo)
Entertainment: movie streaming (Netflix, Amazon, Apple) and video sharing (YouTube)
Mobile connectivity and the Internet of Things, 5G, Industry 4.0
Artificial Intelligence (AI): deep learning, pattern recognition, smart assistance
Smart Cities and Smart Living
Autonomous Driving
Voice over the Internet (VOIP) and video conferencing
Games and entertainment
Money-over-IP (MoIP): blockchain technologies, payment systems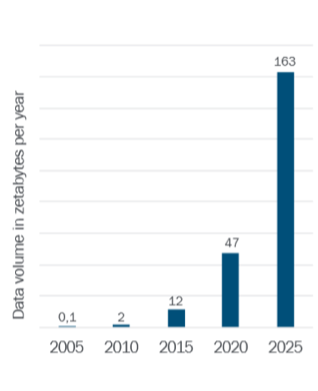 Cloud providers, internet service providers and other global players are facing an ever increasing demand for more capacity and faster speeds. Each day, the world creates new data that would fill 10 million Blu-ray discs, the height of which stacked would measure the height of 4 Eiffel Towers on top of one another
This enormous amount of data is not only skyrocketing but needs to be processed at top speed. More data to process means more servers, and more servers mean more data centers. This continued drive for increased data requires ever more resources to keep pace.
According to Peter Diamandis, Founder of Singularity University: "In 2010, 1.8 billion people were connected. In 2015 about 2.8 billion are connected…In other words, on a planet with a 7+ billion population, 4+ billion people still don't have access to the Internet. But by 2020, I expect the entire world will be connected."
Understanding the energy demands of data centers and what we can do about it
In order to develop ways to make data centers more sustainable, we need first to understand how they work and what drives the increase in energy and resource usage as they expand.
By 2016, data centers had consumed 2% of the world's electricity production. Billions of Internet-connected devices could produce 3.5% of global emissions within 10 years and 14% by 2040. The amount of power used to store and transmit the world's data is equivalent to the power needs of the world's sixth largest country – about as much as Russia or Canada. That figure is expected to rise to the third biggest by 2028.  According to the International Energy Agency: "Sustained efforts by the ICT industry to improve energy efficiency, as well as government policies to promote best practices, will be critical to keep energy demand in check over the coming decades."[2]
Densities in the rack are continuously increasing, while the size of data centers is also increasing. As a result, heat loads are increasing, and with thousands of racks this turns into a furnace-like situation.
With the significance, as well as the total amount of energy consumed, energy management becomes a central aspect of data center management, including the dimensions of:
Renewable energy mix
Flexibility
Understanding of local energy markets.

Each of these dimensions has the ability to make or break a data center business case.
Cooling the racks instead of rooms
The traditional way to cool data centers is to use standard air conditioning, i.e. blowing cool air around the servers. However, with the increased heat loads, this is nearing the limits of its effectiveness. The closer the cooling is to the heat source, the more efficient it gets. Therefore, there are various approaches that may be more efficient, including: cooling the aisles instead of the entire room; splitting the cooler front side of the racks from the hotter back end; and differentiating the higher loaded racks from the lower loaded ones, and spot cooling those.
A step change is moving away from using air cooling, to using water instead, which is 3,500 times more efficient than air cooling. Water can be brought much closer to the heat source very easily. While cooling of the servers this way is the most effective, it is also the costliest approach, and is most appropriate for high performance applications. For standard applications, so cooling of the racks is an effective compromise.
Changing the building design
Standardized construction techniques and optimized project schedules reduce risks and investment costs when building a data center. Conscious use of recycled and recyclable building materials also reduces the overall carbon footprint, helping firms meet their sustainability goals. Simple steel construction, inspired by the design of high bay warehouses in Germany, can reduce the environmental impact by 50% over the entire lifecycle of the building (20-30 years).
Smart City Integration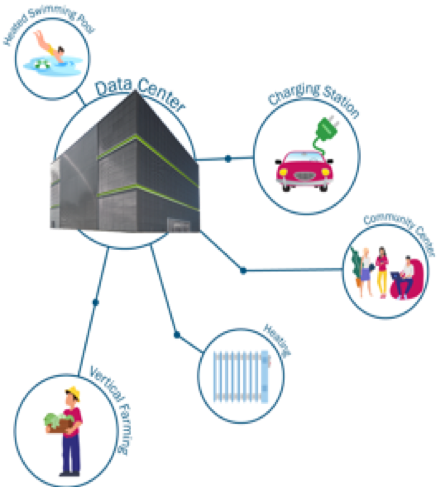 Taking a whole system approach and integrating data center buildings with other city infrastructure opens up additional synergy potential: heating buildings, vertical farms and gardens; pools etc. Data centers require significant infrastructure for power. With the current move towards electric power trains, especially in the automotive industry, the power infrastructure of data centers can be easily expanded, e.g. for electric charging nodes for cars. Further, having electric charging facilities offers new business opportunities to provide service for electric car owners, as well as for a range of retail applications, including cafes, shops and entertainment venues. Thus, the infrastructure could be expanded towards community centers, which in turn could be heated through excess heat. Looking at data centers in the wider city context offers potential for synergies with the broader economy, with the potential of turning them into heat venters, power centers, or community centers
Policy and regulatory action
Today's modern world exists in an apparent conflict of objectives: on the one hand, we want continued social and economic progress, but on the other hand, we need to address climate change and other ecological imperatives. The report to the Club of Rome "Transformation is Feasible" calls this balancing act "Addressing the UN SDG within Planetary Boundaries". National and regional policy makers and regulators need to be proactive, applying cross-sectional principles like the circular economy, applying sustainable business practices such as cradle-to-cradle design, as well as energy and resource efficiency.
Conclusions
Data centers are key infrastructure of the future. The challenge in sustainability can – and must- be managed through innovation in: energy efficiency (e.g. cooling technology); resource efficiency; waste heat usage; renewable energy generation and procurement, as well as flexibility management. Applying this approach, it is already possible today to increase agility, reduce both CapEx and OpEx, reduce risk, increase energy and resource efficiency and ensure sustainability. Whole System Design Thinking is providing additional potential, especially when integrated with Smart City thinking.
---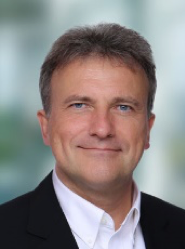 Thomas Schulz has over 25 years of experience as a serial entrepreneur and early stage investor, in Munich and Palo Alto. As the cofounder of AQAL Capital, Tom invests in exponential tech and energy efficiency, following an Integral Investing approach: "parity of people, planet, and profit – with passion and purpose".  Currently, AQAL Capital is invested in NDC Data Centers, the "factory for energy and resource efficient data centers".  Tom had founded Germany's first nationwide Internet Service provider, Cybernet AG, and Germany's first demand response aggregator, Entelios AG. In Palo Alto, Tom was member of the investment group The Angels' Forum, member of the management team of The Halo Funds, and he co-founded the Cleantech Circle. Tom holds an MBA from Stanford University, and he studied computer science at the ETH Zurich, Stanford, and the University of Karlsruhe (Dipl.-Informatiker).
---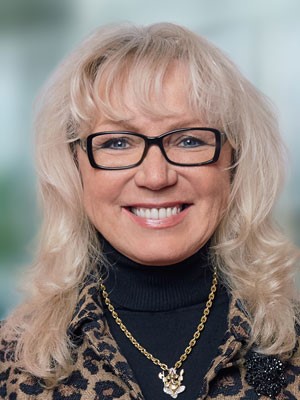 Dr. Mariana Bozesan is an investor, serial entrepreneur, philanthropist, author, and researcher. She is a full member in the international Club of Rome, a fellow in the World Academy of Art and Science, European's Female Angel Investor of 2019 (BEA), and EBAN Entrepreneur of the Year 2017. Educated at Stanford University and KIT Dr. Bozesan earned an in AI and Ph.D. in Psychology.
---
[1] https://www.iea.org/reports/tracking-buildings/data-centres-and-data-transmission-networks
[2] https://www.bloomberg.com/opinion/newsletters/2019-12-13/energy-efficiency-a-hot-problem-for-big-tech-data-centers-k44f6m1h