Vicky Sleight, Vice President, Human Factor and Diversity and Inclusion TM Forum
I believe diversity and inclusion are essential and business critical to a healthy, happy, creative and effective business. They boost innovation, empathy and empower employees from under-represented or marginalised communities. Importantly, with today's business focus on ESG, (environmental, social and governance), diversity and inclusion are actually the most important 'S' in ESG. Shareholders and investors are increasingly using ESG criteria as their benchmark for assessing future success, and this includes how companies are ensuring a diverse and inclusive workplace and workforce.
Of course, looking back over my more than twenty-year career in the communications industry, I am proud that I have always been striving towards the achievement of cultural change and inclusivity. Now, as I lead the TM Forum's global industry Inclusion and Diversity Council, as well as the Digital Organization Transformation and Culture (DOT) program, I have found a welcoming environment to not only promote and drive an inclusive cultural model throughout the industry, but to collaboratively build the tools to make real change happen.
Being the change you want to see
When I joined the mobile industry at Motorola in the early 2000s, I was immediately struck by the male and engineering-based culture of the industry. At that time, it was still unusual to find a senior woman executive leading discussion at meetings, in Board rooms, or on conference platforms. It was clear to me that the lack of a diverse and inclusive culture was reflective of a mindset and also a business perspective that was restricting innovation at a time when tech companies needed to take full advantage of the rapid changes that were happening, and all of the minds and ideas of their workforce.
As a Senior Director in the GSMA in 2007, I took advantage of every opportunity to lead, influence and drive change at the international level in terms of what we would now call ESG – culture, equality, diversity and inclusion. I created the GSMA's first program to advance the role of senior women in the mobile industry, (then known as Connected Women) which was developed with the support and help of my colleagues at the GSMA as well as the GTWN, and others dedicated to increasing diversity in the digital tech sector.
I remember well the inaugural meeting of Connected Women in Brussels in October 2010 https://www.gsma.com/ gsmaeurope/positions-and-publications/gsma-calls-for- more-women-in-mobile-communications-industry/ and the palpable feeling of inclusion and acceptance amongst the group of women present. It was clear that there was a strong appetite amongst women in the tech sector to find a voice and a means of supporting other women colleagues to progress in their careers and to represent the rarely heard voice of women as users of technology.
There followed many meetings of Connected Women around the world – in Hong Kong, London, New York, Barcelona, Atlanta, Shanghai and South Africa. With each of these meetings, the depth of the discussion and engagement by attendees including male allies, grew, as did the realization that a focus on inclusion and diversity – not just for women, but for all – was not just nice to have but was fundamental to every successful business.
Taking diversity mainstream
The biggest areas where things have changed is in our understanding of bias and discrimination and the way people are thinking about diversity, equality and inclusion, and the very reasons organizations are doing DE&I work in the first place. A decade ago, most organizations were approaching DE&I from a compliance-driven approach that focused on ensuring the company was meeting all requirements it was legally obligated to. It was about attaining a minimum, not adding value. As social consciousness around DE&I increased, many organizations recognized that consumer markets look very different than they might have even 10 years ago, and that consumers and prospective employees want to respect the values of the organizations they buy from and work with.
It is clear that a focus on inclusive and equitable employment policies is a much higher priority in the majority of tech companies today, thanks to growing awareness worldwide about the devastating negative effects of systemic racism, bias, and inequality. Companies are now often required to comply with regulatory ESG obligations, which has given renewed focus and attention to this vital business area. They are seeking expert insights and knowledge about how to translate these obligations into real world, sustainable solutions.
When in 2019 I began working with the TM Forum and its members, I was looking to drive a deeper understanding of diversity in the tech industry – to take it from a peripheral issue to a central focus of leadership. This led to the establishment of the global industry Inclusion and Diversity Council, alongside the existing Digital Organization Transformation and Culture program. The mission of both initiatives is to accelerate digital transformation and drive success in the digital economy through ensuring tech communications is the most diverse industry in the world.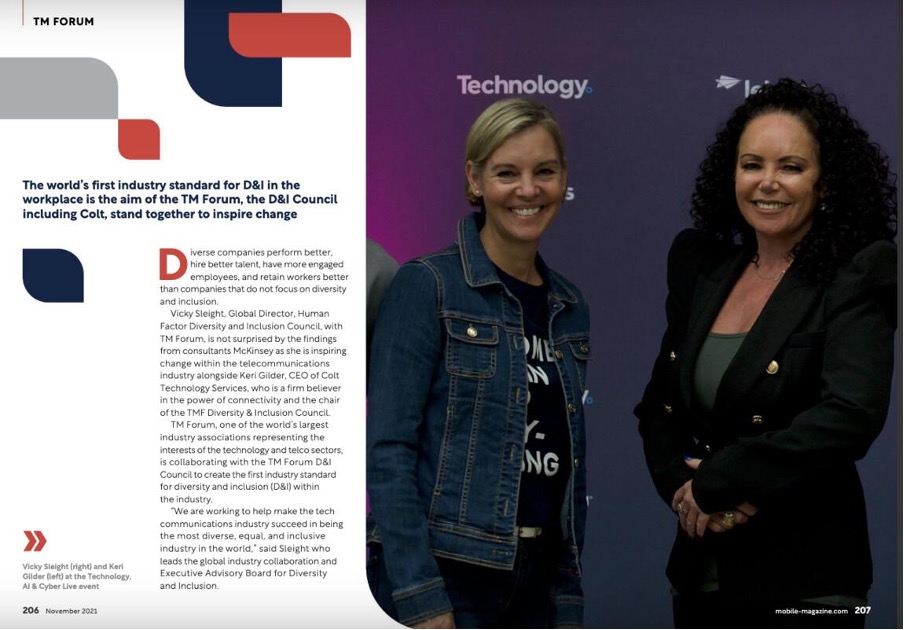 The TM Forum's Diversity & Inclusion Council is chaired by Keri Gilder, CEO, Colt and our Council members are working to provide a safe space for industry leaders to explore diversity and inclusion issues, understand best practices and obtain practical guidance as a connected community to help optimize performance, drive business transformation and build the workforce for the future.
Our founding members1 consist of thought leaders within the industry who are joining forces to drive impact and change. Working collaboratively, council members are delivering tools, frameworks, knowledge and research aimed at not just improving awareness of the business critical, strategic imperative of diversity and inclusion but the difference is that we are focused on making real change happen. Together these initiatives ensure that all industry players can advance on their inclusion journey together.
In addition to conducting a survey, we also interviewed survey respondents and executives from the member companies that are leading this effort. It is clear that a company- wide approach to attracting, recruiting, retaining, retraining, and developing the best talent must be coupled with strategic initiatives to create an inclusive, innovative culture where diverse skills and viewpoints are combined for maximum impact on business results.
We released an in-depth report2 in which we take a closer look at the state of diversity and inclusion in the industry and the discussion around how focusing on a diverse culture can help fuel innovation and attract the best talent. The report is designed for senior members in the tech sector to understand:
What we mean by diversity
An objective view of the skills shortage within the ICT industry
The state of diversity and inclusion in the industry
How focusing on a diverse culture can help attract the best talent
How diversity fuels innovation
How partnering with higher education can raise a company's profile as a top employer.
Winning the War on Talent
Despite the fact more women graduate from tertiary studies each year compared to men, the technology and telco sector is losing the war on talent into more traditional industries such as pharmaceutical and health, as they are now asking for the same skill sets such as software developers and data scientists.
When we talk to CEOs and telcos, they will say to us, I want to benchmark against not just my own industry and my own competitors, but I want to benchmark where I'm losing this war on talent. They recognize that the brand is not enough nowadays to attract the best talent. . The culture has got to be right. But it's not just about attracting staff, it is also about retaining them. You may have a diverse board but if your employees don't feel it's an inclusive culture, then you're not retaining that diverse talent. The war for talent is one thing we want to win.
At the center of all this transformation is human centered design, which is what we have also focused on. The pandemic has highlighted that even more. 80% of Millennials see inclusion as a very important factor when choosing an employer and 39% of them will leave if it is not inclusive.3 We also recognize that diversity and inclusion is a business critical and strategic imperative and is not just a gender issue, societal or CSR. And diversity exists beyond gender, LGBTQ, and ethnicity, it should be equal for all including accessibility neurodiversity and can all be a key differentiator. Figures from the Office of National Statistics show people with disabilities are suffering more during the round of redundancies during the pandemic, a total of 22.1 in every 1000 people that have been made redundant have a disability, as opposed to 13 people per 1000 without a disability. That's a real challenge we're having to face.
Many initiatives focus on visible diversity, yet we believe inclusion is more important in order to attract and retain diverse talent. There are only six women CEOs leading 31 companies within the top global telco space, and only 60 of the 330 top management positions are held by women. What we need is to get these diverse employees in leadership positions where they own the technology direction and own a very strategic part of the business.
The reality is, if we don't start paying attention to this, then we won't be able to attract the talent that we need to drive the innovation that's required in order to build resilience in a post COVID world. We're going to lose out to other industries because they're now asking for the same skills.
Measuring and benchmarking success: the IDS (Inclusion and Diversity Score)
Working with the inspiring and committed members of the Diversity and Inclusion Council of TM Forum has reinforced to me how essential this work is. We believe diversity, equality and inclusion is now a strategic imperative our industry must address to remain competitive, relevant and sustainable over the next decade. We are coming together to make real change happen and as a key part of this, and to convince others in the industry of its importance to their business, we are creating a standard industry metric to measure diversity and inclusion – the Inclusion and Diversity Score (IDS).
In 2021 along with Bain & Co, we launched an alpha trial to deliver an industry-adopted global benchmark, much like NPS for customer experience, but this time for our people. We want to achieve the bold ambition of how we make real change happen. At TM Forum, we believe Diversity, Equality and Inclusion is now a business-critical issue that the Telecoms industry must address. Today the net promoter score (NPS) is the benchmark against which many communications service providers (CSPs) measure customer experience. Yet no similar gauge exists for DE&I, despite its importance in helping the communications industry attract the talent it needs for future growth.
Launching the IDS, Keri Gilder, CEO of Colt and Chair of TM Forum's Diversity and Inclusion Council, said: "If we're going to build the foundation for the digital economy and drive Industry 4.0 the only way to do this is to put DE&I, at the center of our strategy. We must include it in our operational reviews; we must start measuring what matters."
IDS is designed to be a simple measurement that is equally weighted between inclusion and diversity giving CSPs the tools they need to assess the maturity of their DE&I across intersectional characteristics, compare their maturity score with others, make innervations and set baselines to monitor growth and evaluate the effectiveness of their current D&I initiatives.
The second stage of the IDS trial, launching early 2022, will provide enough data for a final validation of the scoring questions, as well as the pain points and the categorization of those. In addition to benefiting employees, data suggests successful DE&I programs increase profitability and innovation. I encourage leaders to support and participate in this trial as a commitment to making this change happen. If we don't measure how inclusive our organizations are, we can't change. Recent McKinsey data reveals that diverse organizations achieve 83% more engagement from employees, experience 20% more innovation, perform 35% better on financial return and generate 38% more revenue on average.
As an industry we can do this, but not alone. We must collaborate to make this real change happen.
1 They include Accenture, Accedian, Amdocs, Bain & Co., BT, Colt, Ciena, Deutsche Telekom, Nokia, Rostelecom and Verizon, CSG and Salesforce https://www.tmforum.org/diversity-inclusion-council/
2 https://inform.tmforum.org/research-reports/inspiring-innovative-teams- through-diversity-and-inclusion/
3 https://www2.deloitte.com/content/dam/Deloitte/us/Documents/about-deloitte/ us-about-deloitte-unleashing-power-of-inclusion.pdf
---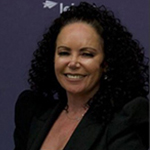 A cultural diversity and inclusion executive with 20 years' experience in the global tech communication's industry, Vicky is leading, influencing and driving change at the international level in all social aspects of ESG, including culture change, equality, diversity and inclusion. With many years' experience in framing and executing change management initiatives, Vicky is a recognised expert in meeting ESG compliance requirements. At TM Forum, as VP, Human Factor and Diversity and Inclusion, Vicky has built and is leading the global industry collaboration and Executive Advisory Board for Diversity and Inclusion along with the Digital Organization Transformation & Culture program – the mission to accelerate digital transformation and succeed in the digital economy through ensuring tech communications is the most diverse industry in the world. A sought-after speaker, and an active participant in many international networks for promoting inclusion, she has authored and published articles, is a social media commentator on topical D&I issues in the tech sector. A true cultural change expert applying a range of tools and approaches to deliver business transformation – helping organizations radically re-think of how they will identify and nurture key talent in the future using The GC Index®.