Nicki Palmer, Verizon Tech Ambassador
---
5G is here and everything seems to be moving faster and with more intensity than ever. From the speed of networks, to deployment timelines, to the fight for talent. It is worth taking a step back to understand the scope of the promise of 5G and what it will take from all of us to realize that promise. The tech industry has come a long way since I was one of a small handful of female engineering students at Penn State University and the only way to make calls on the go was to find a payphone on campus. So much has changed, and yet, there is so much still ahead of us.
Since the first deployments of 5G networks in 2019, 5G has been on a super acceleration track. According to data from Omdia1 and Chetan Sharma Consulting, 5G adoption is outpacing 4G at a breakneck pace. The total number of 5G subscribers leapt from 15.4 million to 401 million between 2019 and 2020. It took 4G LTE five years to reach the same level of adoption that 5G had attained in its first 12-18 months. This data is consistent with what we are seeing inside Verizon, where 25% of the handsets on our network today are 5G capable and customers are enjoying the faster speeds and lower latency of this new generation of technology.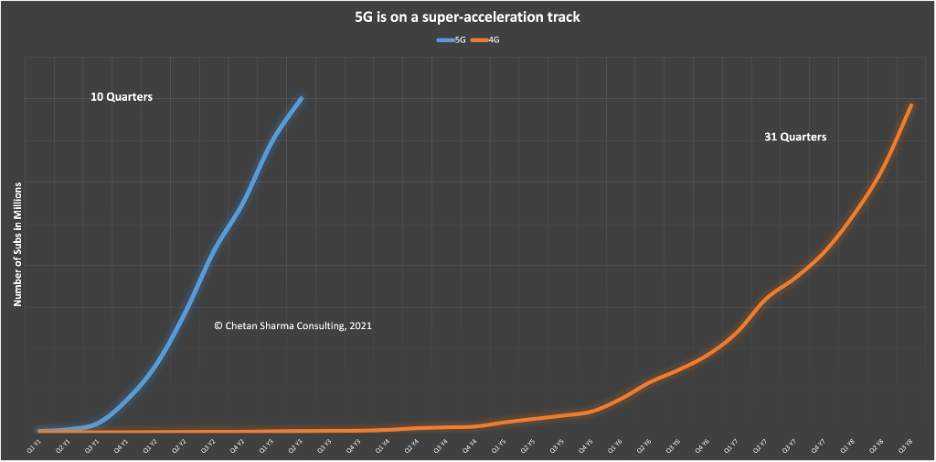 Now that 5G has been widely deployed, the challenge before our industry is to push the innovations that take advantage of the massive capacity, super-fast speeds and ultra-low latency that 5G enables and prove the business case for this rapid adoption.
This is occurring at the same time that we are experiencing an accelerated pace of innovation globally. The COVID-19 pandemic has advanced digital transformation by 5 to 7 years, fueling the need for technologies to enable remote learning, digital collaboration and telemedicine. Innovation in connected intelligence technologies like 5G, artificial intelligence, AR/ VR, blockchain and quantum computing, to name a few, is redefining what we thought was possible. But it's tough for anyone to predict how these technologies will change society in the years to come.
In the 1980's, a McKinsey2 study predicted that the total addressable market for cell phones by the year 2000 would be 900,000. As it happened, by the turn of the century there were close to 110 million cell phones in the US market. This begs the question as to our capacity to predict exactly how 5G will be the truly transformational, disruptor technology that will serve as the foundation for 21st century innovation.
It is worthwhile to look back at what each generation of mobile technology offered and just how far we have come from both a technological aspect as well as how the tech is impacting how we live, learn, work and play. The role of women in developing these technologies is an important part of the tech evolution story.
In the 1940s, Hedy Lamarr, an Austrian-American actress and inventor pioneered the technology that would one day form the basis for today's WiFi, GPS, and Bluetooth communication systems. While cellular networks didn't come to fruition until the launch of 1G introduced in the U.S. in 1983, her work was foundational.
During the 1980's for the first time consumers could carry a phone disconnected from wires and stay in touch, close business deals, and call for help on the road. 1G offered voice calling from heavy phones that often needed an accompanying bag. It was expensive, there was not a whole lot of security protecting your calls. During this time, female telecom trailblazers included Arlene Harris who founded the company Cellular Pay Phone where she invented the first unique application of cellular services via a patented custom designed cellular phone and management system. She later led the development and market introduction of the SOS phone, helped create the first prepaid cellular service, and was the first female inductee of the Wireless Hall of Fame in 2007.
In the 90s, 2G networks and devices launched offering significant advances. Voice quality was improved and calls began to be encrypted. The ability to transfer bits of data from the phone enabled SMS and MMS messages. This was our first look at the mobile data capabilities that would go on to revolutionize mobile devices. 2G represented the beginning of mass adoption of cell phones by regular people due in great part to the first generation with affordable handsets. During this time, I began my career in telecom at Bell Atlantic and while there were female executives in leadership positions, many of them were in the wireline business.
In 2001, 3G was born and represented the blossoming of the mobile internet. With data speeds taking off, email was the communication platform of choice, often on a Blackberry, and you could stream music, surf the internet and get limited video content anywhere. International roaming also became widely available. Around this same time, I started my career at Verizon which was created by Bell Atlantic Corp. and GTE Corp., in one of the largest mergers in U.S. business history. At this time in the industry, female engineers were still few and far between.
The advent of 4G offered fast mobile browsing, online gaming and HD video. The speed capabilities of 4G networks are what allowed for the building of the app economy we all embrace today. From ride hail and grocery/restaurant deliveries to the massive social media networks, it was 4G networks that began our digital lives. It was during this era that women began to climb the corporate ladder in roles that impacted how networks were being built. In 2014, we saw Lucy Quist break barriers in the telecom world becoming the industry's first-ever female at Airtel Ghana. At this same time, I was among the first female technical executives at Verizon overseeing the design and deployment of our 4G network in the US.
Now we've entered the 5G era which represents a huge step change compared to 4G. It will eventually be able to support up to 1 million connected devices per square kilometer and handle 10 to 100 times more connected devices than 4G. It will also eventually allow 10 to 100 times better throughput, 10 times lower latency, and 1,000 times larger data volumes than any previous mobile technology. Women in the industry are now a force to be reckoned with. At Verizon, women now make up 50 percent of the leadership team. As an industry, we finally have enough women in top leadership roles that FierceWireless launched its "Fiercest Women in Telecom3" contest highlighting 24 trailblazing leaders in the industry.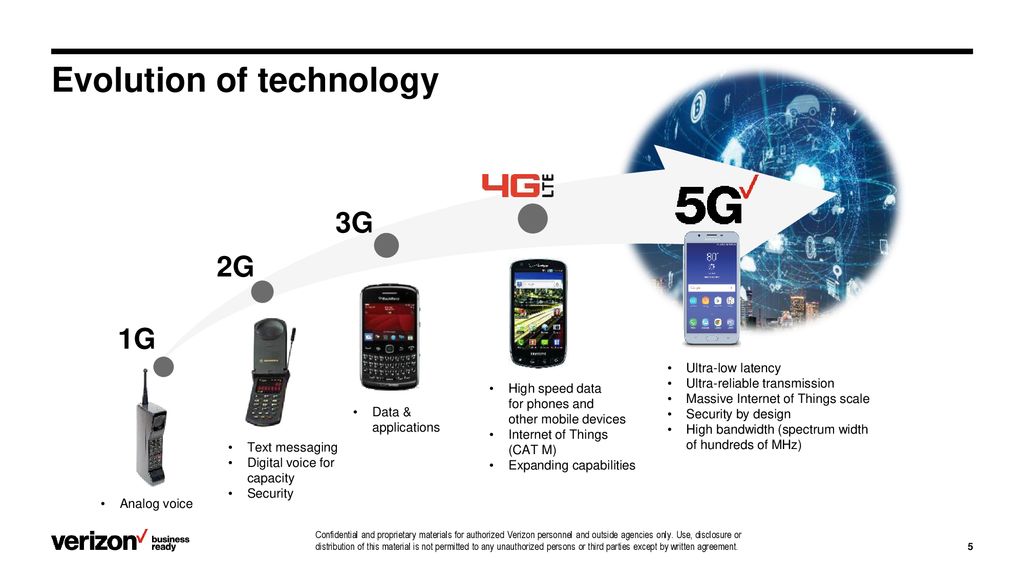 While the 4G cycle created 160+ new billion-dollar revenue streams, 5G has been hailed as the network cycle that will create over $13 trillion in new growth by 2035, according to Chetan Sharma Consulting. Handset sales alone won't usher in all of the positive change that we anticipate will come with 5G network ubiquity. We're seeing enterprise revenue opportunities in fields like healthcare, manufacturing, public safety, and media and entertainment, to name a few. Consider applications that leverage machine learning inference such as smart factories, smart cars, smart cities, IoT, and Augmented and Virtual Reality, they often can't afford the latency that's associated with the round trip from a device to the cloud and back. 5G and mobile edge compute (MEC) will take those applications to the next level.
5G will transform everything from the way you play video games to the way you watch sports. And in conjunction with MEC, it provides a platform to run applications that support real-time decision-making control allowing businesses to get things done more quickly and easily.
For the true promise of 5G to be realized, it will take collaboration across all sectors as well as embracing innovative ideas from all those that have something to contribute. Without our active engagement to include women and others that have traditionally been left out in the development of technologies, we will fall short in realizing the potential of the technology.
Talent shortages in the tech sector are a hot topic. It is also a self-inflicted wound caused by years of excluding women and people of color from the education and employment pipeline that provides employees to our sector. The percentage of employed women, for example, across all jobs sectors in the United States, has grown to about 47%, but the five largest tech companies only have a workforce of less than 35% women. This isn't a problem that will be solved overnight, because it isn't simply about changing hiring practices. We need to zoom out and look at the entire talent pipeline.
Sometimes it's not about the job itself, but it's about supporting women and other individuals from underrepresented groups in accessing opportunities for upward economic mobility. It is providing the training necessary to enter the fields and supporting them during their career in terms of their advancement and being able to thrive. The pandemic has set us back with women being impacted 20% more than their male counterparts. Suddenly, we had to take on homeschooling responsibilities in addition to our full-time jobs. 68% of women that left the workforce in the last 18 months cite burnout as a driving factor. Even as we've seen jobs bounce back since the beginning of the pandemic, recovery for black and hispanic women is happening far slower4 than for other groups.
We as an industry need to embrace diversity and personal development not only because it's the right thing to do, but also because it's smart business. Gender diversity in firms increases innovation by 6Xs more than non-diverse firms. Further, our customer base is diverse, so we have to reflect that diversity in order for our businesses to succeed. Diversity of thought is an important component in the ideation and realization of big network advances. I've seen it from my seat at the table over the last 30 years, and we can't let the fourth industrial revolution occur without having the whole population take part in its development.
I've never been more excited about the opportunity that lies ahead. When you hear that 5G will "Change Everything," what we're really talking about is being active catalysts of change – not passive bystanders. It's about knowing that we human beings of the 21st century have the ability and the responsibility to build a better future.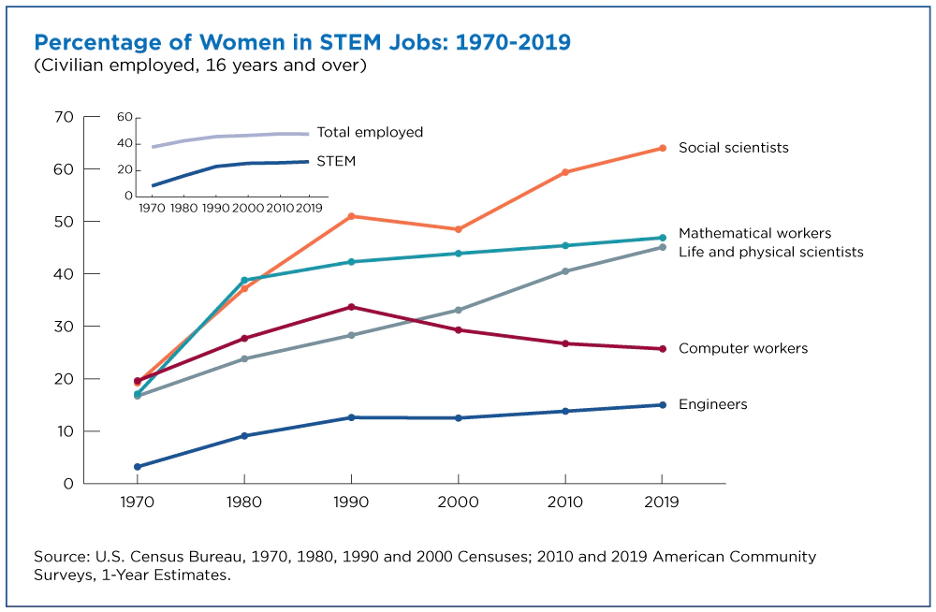 That ability – and that responsibility – has never been more critical, because 5G WILL have a massive impact on our lives and pave the way for unprecedented innovations. It will enable applications like connected cars, smart communities, the industrial Internet of Things (IoT), immersive entertainment, and education. We are the stewards of that progress and it is our collective work throughout the tech ecosystem that will deliver the promise of 5G.
1 https://www.telecompetitor.com/report-5g-sees-much-faster-adoption-than-4g- lte/
2 https://www.economist.com/special-report/1999/10/07/cutting-the-cord
3 https://www.fiercewireless.com/wireless/fiercewireless-2021-fiercest-women- telecom
4 https://www.cnbc.com/2021/03/05/black-and-hispanic-women-arent-sharing- in-the-job-market-recovery.html
---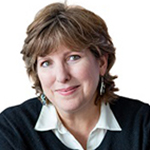 Nicola (Nicki) Palmer is Chief Product Development Officer for Verizon. Nicki oversees the exploration of new technologies and creation of products and platforms that can scale across our various business units to solve problems for individuals, enterprises, and society. Nicki began her career at Bell Atlantic in 1990 and has held a number of leadership positions in engineering, operations, and technology supporting advanced data and wireless products. She was Chief Engineering Officer and Head of Wireless Networks and also served as Chief Technology Officer of Verizon Wireless. She is a passionate advocate for promoting education and careers in Science, Technology, Engineering and Math (STEM), especially for young women. Nicki serves on the board of directors for the National Academy Foundation and chairs its STEM Advisory Committee where she helps provide more opportunities for high school students to be college, career, and future ready. She also serves on the advisory board of Break Through Tech, an initiative of Cornell Tech that supports curriculum innovation in higher education, career opportunities, and community support for women and other underrepresented groups in tech.