Jennifer L. Schenker, Editor-in-Chief, The Innovator1
---
Millions of people in Africa, Asia and Latin America make a living collecting, sorting and selling materials foraged from landfills, along streets and waterways or dumpsters. In some counties these waste pickers provide the only form of solid waste collection, helping to achieve high recycling rates. Yet, they often face low social status, deplorable living and working conditions, and get little support from local governments. The same holds true for women who grow crops like cassava on smallholder farms. Both groups are among the invisible hands serving the global economy. Despite advances in technology over the past 30 years they have no way to prove how much revenue they earn, making it difficult, if not impossible, for them to open bank accounts, obtain working capital at reasonable rates and lift themselves out of poverty.
That's starting to change. BanQu is using blockchain technology and partnerships with mobile phone companies like MTN and Airtel, governments, and large corporates such as Coca-Cola, Anheuser-Busch InBev, Solvay, Raia Drogasil, and Islamic Development Bank, to help break the cycle. It is just one example of how large corporates and young tech companies can team to create solutions to some of the world's biggest problems.
CEO and co-founder Ashish Gadnis set up BanQu after witnessing a woman farmer in the Democratic Republic of Congo who had been selling cassava and maize crops to global brands for decades being denied a bank account because the only proof she had of her role in the supply chain was a paper receipt. "I can't bank her," the banker said to Gadnis. "But I can bank you." This prompted him to create BanQu – "bank you" – to ensure that everyone along the supply chain is visible in the global economy by recording them on a digital ledger, or blockchain. "People in our supply chains are unbankable because they can't prove they exist," says Gadnis. The company's slogan is "dignity through identity." Its stated aim is to eradicate cyclical poverty and create a circular economy that gives economic equality to all participants. "By putting a human lens on the circular economy, we can solve both inequality and climate change," he says.
BanQu is one of 17 start-ups that participated in the World Economic Forum's The Circulars Accelerator Cohort 2021. The accelerator is a collaboration with UpLink, the Forum's innovation crowdsourcing platform, and is led by professional services company Accenture in partnership with Anglo American, Ecolab and Schneider Electric.
BanQu's blockchain technology ensures that everyone in the supply chain who participates in a transaction gets a fixed, reliable, transparent, and secure copy. The software-as-a- serve app is live in more than 50 countries and some 2.5 million household members, including waste pickers, small landholder farmers, workers and refugees, are active on the platform. "It is an ecosystem play," says Gadnis. The system helps corporates with their sustainability goals. Mobile phone companies can integrate with supply chains to offer mobile money payments in local currencies, expanding their customer base. Independent waste pickers and small landholder farmers can prove their income, allowing them to open banking accounts, obtain loans and pay bills via their mobile phones, giving families the needed stability to keep their kids in school. "My dream is to get 100 million people on the platform and help lift them out of poverty," he says.
Blockchain is a Game-Changer
Gadnis has a deep understanding of what it takes to break the cycle of poverty. He grew up poor in India and found a way out by learning to code. When he came to the U.S. in 1994, he was able to get a bank account for the time "and the heavens parted for me," he says. He created several startups, selling one to a large consulting firm. Wanting to give back he got involved with a Haiti earthquake relief effort and later did volunteer work with the United States Agency For International Development (USAid) in the Democratic Republic of Congo. He quickly realized that charity did not solve fundamental deep- rooted issues that keep people trapped in poverty. "It made me realize these people were invisible," he says. Gadnis quit his volunteer role and started investigating how he could use his knowledge of supply chains to help people at the bottom of the pyramid and came up with a solution based on blockchain, an immutable digital ledger.
"Blockchain is a game-changer for people at the bottom of the pyramid," says David Drew, Coca-Cola's Sustainability Director, Africa. Coca-Cola started working with BanQu in January 2021 and "we are innovating as we go," he says. More than 1,000,000 kilos of recyclables have been recorded since the partnership began.
BanQu's approach gives Coca-Cola a solution to a tough problem. "Informal collectors are the backbone of collection and recycling in many economies, but their contribution is generally misunderstood and under-appreciated." says Drew. As part of its global World Without Waste strategy, Coca-Cola is looking to step change the rates of collection of the bottles and cans it sells and, in particular in developing markets that don't have the benefit of formal waste management systems. "Our goal was not only to understand the informal collection environment better and in doing so help to increase collection and recycling, but also to empower both collectors and small businesses trading in recyclables," he says. It has proved challenging because in many cases transactions between waste pickers and buy-back recycling centers are not recorded or are being recorded by hand. The BanQu system offered a simple solution to securely record these transactions, not only giving waste pickers proof of income, but also serving as a kind of simple enterprise resource planning (ERP) system for buy-back centers. "Bringing transactions into a cloud-based system that provides small business owners with a new level of understanding of their businesses is incredibly powerful.," says Drew. "Ultimately to achieve our goals we need these small businesses to be successful".
The BanQu system will also assist Producer Responsibility Organizations like PETCO, a project partner, better understand and support the buy-back centers. For example, during the COVID lockdown, South Africa placed a ban on alcohol. The absence of aluminum beer cans, a valuable recycling commodity, caused an enormous drop in liquidity in the informal trade. To address this, Coca-Cola ultimately contributed $200,000 in working capital to support to buy-back centers through PETCO. Without funds to trade, buy-back centers had insufficient funds to pay waste pickers and were turning them away, significantly reducing recycling rates. "We knew COVID was causing a massive interruption in the recycling value chain," says Drew, but it took months to fully understand the impact. "What we realized is that if we had been using BanQu at scale we would have been able to see within a matter of days that something was going incredibly wrong and reacted more quickly." he says. "Ultimately, through BanQu, we should be able to support the value chain financially both in times of crisis and even incentivize collection of certain materials in certain areas to improve collection rates."
PETCO/Coca-Cola are currently using BanQu's system in 30 buy-back centers in South Africa, with the goal of operating 100 by the end of 2022 and getting 10,000 waste pickers online. Coca-Cola is now entering the second phase of the project, piloting the use of safe cashless payment systems. This will not only enable cashless payment between waste pickers and buy-back centers but provide waste pickers with the equivalent of a bank account. Coca-Cola is also investigating how BanQu might integrate with a South African government program to develop and maintain a national register of active waste pickers, in order to recognize their contribution in a more formal manner.
If the South Africa experiment to integrate BanQu into the informal collection and recycling sector is successful, Coca- Cola may consider rolling it out in other developing markets within Africa as well as potentially in Southeast Asia and Latin America, says Drew.
Giving Farmers a Fair Shake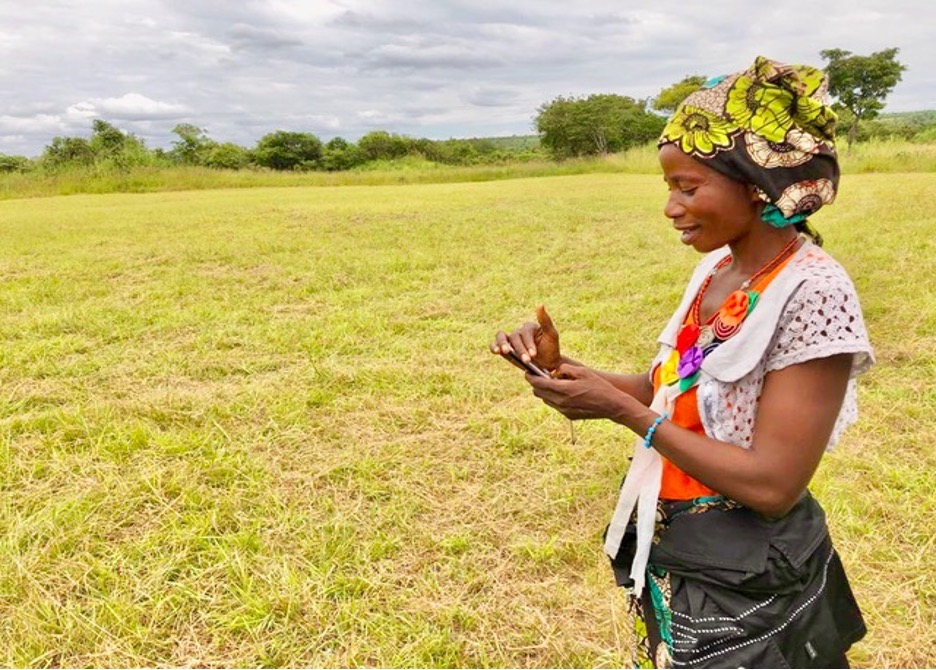 Like Coca-Cola, AB InBev has started using BanQu's technology to integrate waste pickers into the global supply chain. (It is using the system in Colombia and Zambia). AB InBev is also using the system to work with small landholder farmers. The company, which operates in over 50 countries, has agricultural development programs in 13 countries, working with large commercial farmers in countries like the U.S. and Argentina and small landholder farmers in countries such as Zambia, Uganda and India. "We have set an ambition to skill, connect and financially empower 100% of the direct farmers in our supply chain by 2025, and BanQu is a key enabler to achieving financial empowerment with smallholder farmers," says Katie Hoard, AB InBev's Global Director of Agricultural Innovation and Sustainability. The company first tested BanQu's technology in Zambia in 2018 and "we were really impressed with BanQu's ability to scale and the level of adoption," she says
In Zambia AB InBev agreed on a crop price for farmers with aggregators only to find out from farmers that this was not what they were being paid. "BanQu helped us ensure the price the farmers were being paid and also allowed us visibility into when they were being paid," says Hoard. It also helped the company better manage the quality and volume of crop inventory. In 2019 mobile money services operated by Airtel and MTN were added into the mix. The first woman to use the system, a cassava farmer, received a text message saying that she had been paid in mobile money for her crop and a few moments later got a second message telling her she could now pay her solar energy bill using her mobile money account. While there are clear advantages of no longer stashing money under mattresses and having to use cash to pay bills there are still barriers to digital economies in some African countries, says Hoard. Challenges include cash out fees, network access, phone ownership and availability of banks and agents in rural communities. "We need to look at how we address these challenges collaboratively, but BanQu has proven the benefits of this model," she says. The company has rolled out the technology to other agricultural supply chains in Uganda, Tanzania and Brazil and is looking to expand globally.
With the help of BanQu's technology and mobile services operated by M-Pesa and Vodacom in Tanzania, some 5000 small landholder farmers – about 50% of them women – have identities and are now officially part of the global supply chain. BanQu just rolled out its first service in India in partnership with international chemical company Solvay: a transactional platform based on blockchain for guar supply. The aim is to ensure full transparency for 2000 farmers on the prices and volumes of guar. The platform will soon enable direct payment and also record program actions such as training in sustainable farming practices, school attendance for children, and programs dedicated to empowerment of women farmers.
Serving small landholder farms and waste pickers is just the start, says Gadnis. He is hoping to convince more mobile phone companies and multinationals to use BanQu's technology. The system can be applied to any kind of sourcing in emerging markets. By expanding supply chain information to include everyone who contributes raw materials – whether it be crops or mined resources – companies can not only ensure everyone is being paid equitably, they can prove no child labor is involved. "Some CEOs may be afraid to find out," says Gadnis, "but we need companies to step up and make their supply chains more transparent, more equitable and more humane."
The Need for Systems Transformation
Lifting people out of poverty requires systems transformation. A low pain user interface is nice but is not enough. Using mobile service to establish identity is essential but that too is not enough. If people at the bottom of the pyramid are to be truly integrated into the global economy they need more than just mobile money. They need to establish their identity and they must be able to access their own data so they can prove their income. "Mobile money without transaction data is useless," says Gadnis. "You need to pair the mobile money to the supply chain transaction. There is a blind spot in the supply chain that needs fixing."
Another thing that needs fixing is giving people the ability to spend the digital money they are paid without having to cash out. It is great if people can pay school fees and energy bills but they should also be able to buy food or single packets of shampoo digitally, says Gadnis. This is possible in many African countries but not necessarily in other parts of the world, like India, where ecosystems for accepting mobile money do not yet exist.
No one company can fix these problems but the impact of collaborations that use tech for good is huge. In mid- December 2021 BanQu partnered with Raia Drogasil, the largest drugstore company in Latin America by revenue and market capitalization, to help combat "period poverty" in Brazil. "No girl anywhere ever should have to miss school just because her family cannot afford basic menstrual hygiene," says Gadnis. "Girls staying in school transforms communities, countries and the world." BanQu gave not-for-profit organizations access to excess inventory of tampons and sanitary napkins that would otherwise be incinerated after 30, 60 or 90 days, via a secured reverse logistics supply chain that is 100% traceable and transparent.
Turning Waste into Wealth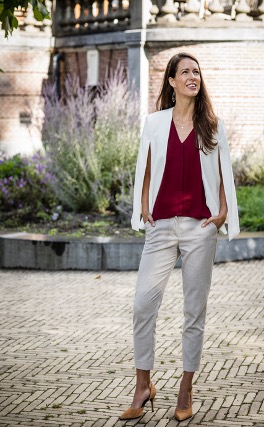 It is just one example of what could be done if our current economy was designed to be circular. The way we create and dispose of our products is not set up that way nor is our legislation, financial system, and the current accounting framework. Luckily, startups and large corporates are working to change this. For example, Excess Materials Exchange, a Dutch startup, has created a marketplace where companies can buy and sell any type of excess material and/or product. The EME works to reduce waste by actively matching supply and demand of materials that would otherwise be considered waste and create continuous material loops. Maayke-Aimée Damen, (pictured) EME's founder, won various prizes and awards for her work with the EME, including making the MIT Innovator under 35 list and being named an Emerging Innovator by the Ellen MacArthur Foundation CE100 network. Her notable accomplishments include inventing the Resources Passport which works almost like a regular passport. It gives resources an identity and it provides a location where data of a product can be collected through every step of its life cycle.
"The business case for all of this is just incredible and much bigger than one might think," says Damen. "In EME's pilot we investigated 17 waste streams from 10 companies in the Netherlands, including things like sludge and plastic, and found that by finding a higher value reuse option we created an additional value of €64 million. Companies' waste is an actual goldmine. One way to start mining this is writing down what products and materials companies have (in the resources passport), rather than writing them off. The moment they realize that there is wealth in waste they can start taking steps to log it, digitize it, trace it and actualize it."
To help scale this approach Damen recently left EME to take on the role of Director, Circular Economy, at The World Business Council for Sustainable Development, a global CEO- led community of over 200 businesses working collectively to accelerate the system transformations needed for a net zero, nature positive, and more equitable future.
Under pressure to cut their carbon footprint, large companies are increasingly taking concrete actions, including teaming with startups and scale-ups, to meet sustainability goals. That trend is likely to become even more prevalent in 2022. For example, in December 2021 Zara launched a limited line of black dresses made from carbon emissions, with the help of LanzaTech, a U.S.-based scale-up creating a circular economy system that turns pollution from steel mills and other greenhouse gases into textiles, household cleaners, laundry detergent, sustainable aviation fuel, perfume and more. Other large corporates working with LanzaTech include Migros, L'Oreal, Total, British Airways, Shell, Unilever, Coty and ArcelorMittal.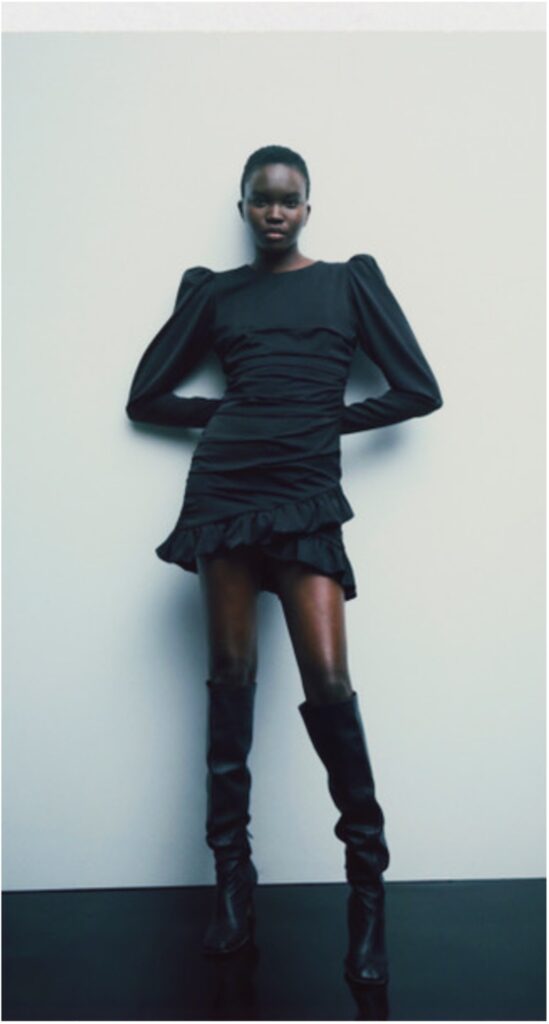 The fashion industry is responsible for four to ten percent of global emissions and is the second biggest industry consumer of water, but LanzaTech's innovations go well beyond apparel and footwear. On December 9 steelmaker ArcelorMittal announced it had made a $30 million investment in LanzaTech. The steelmaker's relationship with LanzaTech began in 2015 when the company first announced plans to utilize LanzaTech's carbon capture and re-use technology at its plant in Ghent, Belgium. The €180 million Carbalyst plant – ArcelorMittal's flagship carbon capture and re-use technology project – is currently under construction, with commissioning expected before the end of 2022. Using LanzaTech's gas fermentation technology, which captures carbon-rich waste gases from the steel making process and converts them into sustainable fuels and chemicals, the plant is expected to reduce ArcelorMittal Ghent's CO2 emissions by 125,000 tons a year. It will also produce 80 million liters of bio-ethanol annually, which can be blended with traditional gasoline and used as a low-carbon alternative fuel for the transport sector.
LanzaTech's technology is already touching many other industries. LanzaJet, a subsidiary of LanzaTech launched in 2020, is building a commercial scale plant in the U.S. state of Georgia to produce sustainable aviation fuel (SAF), attracting investments from Shell and British Airways. The plant will convert sustainable ethanol (a chemical compound widely blended with petrol to reduce its carbon intensity) into sustainable aviation fuel using a patented chemical process.
Fuel produced at the plant promises to deliver a reduction of more than 70% in greenhouse gas emissions compared to conventional fossil jet fuel, the equivalent to taking almost 27,000 petrol or diesel cars off the road each year.
Meanwhile, earlier in 2021 L'Oréal produced the first cosmetics bottle made from industrial emission; the result of a collaboration between the French cosmetics giant, LanzaTech, and energy company TotalEnergies that began in 2016. Coty, a multinational beauty care company, is turning to LanzaTech as a new source of ethanol for its fragrances.
LanzaTech is also partnering with Unilever and green chemical maker India Glycols to produce a surfactant made from industrial carbon emissions instead of from fossil fuels. The shift in production uses biotechnologies and a newly configured supply chain between the three partners, who are working together for the first time. LanzaTech captures waste emissions and turns them into ethanol; India Glycols takes that ethanol and turn it into ethylene oxide, a feedstock to make surfactants. which Unilever then uses in a laundry detergent called OMO.
Changing the World
Technology has evolved so much since I started writing about it in the 1980s. I chronicled the introduction of new means of communications from SMS to Skype, Facebook, WhatsApp and Zoom. I wrote stories about phone companies putting mobile devices into the hands of billions of people, the entrepreneurs that came up with technologies that have reduced the cost of phone and video calls to zero, and the introduction of mobile money, a technology that allows people without bank accounts to receive, store and spend money using a mobile phone.
As amazing as these developments are, there is still so much to be done. The World Bank estimates that 1.7 billion people, or 31% of all adults, are "unbanked," and in some developing economies, it's as high as 61%. Women are at an even further disadvantage, making up 55 % of the unbanked. Despite all of our advances, people are still shut out of the global economy, suffer from inequality and are invisible.
Every time a new technology is introduced it promises to change the world. Many have, but not everyone has benefited, and our planet is in peril. Let's commit to using cutting-edge technology to eradicate poverty, reduce inequality and fight climate change. Startups like BanQu, EME and LanzaTech are giving us the tools to get there. Now we just need to collectively move to scale their use.
---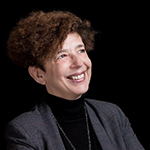 Jennifer L. Schenker, an award-winning journalist, has been covering the global tech industry from Europe since 1985, working full-time, at various points in her career for Communications Week International, Wall Street Journal Europe, Time Magazine, International Herald Tribune, Red Herring and BusinessWeek. She is currently the editor-in- chief of The Innovator, a global business publication about digital transformation and sustainability (www.theinnovator. com). Jennifer was voted one of the 50 most inspiring women in technology in Europe in 2015 and 2016 and was named by Forbes Magazine in 2018 as one of the 30 women leaders disrupting tech in France. She was a World Economic Forum Tech Pioneers judge for 20 years. She lives in Paris and has dual U.S. and French citizenship.