Shally Jannif, CEO Digicel Pacific
---
The Mobile Century (TMC) met with CEO of Digicel Pacific, Shally Jannif, to explore how the industry can help connect the island nations of the Pacific to economic and social opportunity through digital technology.
TMC: What do you see as the main challenges facing the Pacific in terms of promoting meaningful connectivity and bridging the digital divide, to enable everyone in these countries to benefit equally from the global digital community and economy?
Shally: At Digicel Pacific, our goal is to connect the unconnected and to leave no one behind, but this is not without significant challenges. The core challenges facing the Pacific in terms of promoting meaningful connectivity and bridging the digital divide are:
a) High infrastructure costs, accessibility and remoteness. As a geographically large region, that is prone to natural disasters, the cost of building and maintaining appropriate infrastructure is high.
Network infrastructure needs to be built to withstand major weather events, which are frequent in the region. ADB and the UN both agree that the Pacific Islands are among the most vulnerable when it comes to natural disasters, such as cyclones, earthquakes, tsunamis and volcanic eruptions.
Accessibility to sites and locations is difficult and expensive. In some cases access to a site can only be gained on foot, crossing rivers and traversing incredibly rugged terrain.
Remote island infrastructure development and maintenance create logistical challenges and increased costs. Often, in remote locations, the costs outweigh commercial gains, but connectivity means so much to the local communities in such locations.
Furthermore, recovery after a natural disaster poses additional logistical challenges and costs for those living remotely.
b) Poor grid power connectivity in remote islands and locations around the Pacific severely impacts connectivity. To overcome this, our team has a solution that includes providing power for remote greenfield sites.
c) Education is required to help increase digital literacy and participation. While providing infrastructure and enabling access is core to increasing connectivity, to be meaningful, education is also required to help people understand and use technology correctly, safely and responsibly.
d) Single point of failure of internet connectivity due to submarine cables and landing stations. In most of the Pacific Islands, there is only one submarine cable which means impacts to the cable or landing station can totally cut a nation's connectivity. In Tonga, the Hunga- Tonga-Hunga-Ha'apai volcano on 15 January 2022 cut most connectivity to the island nation, in this instance it took 5 days for us to restore voice connectivity and almost 5 weeks to restore data connectivity as this required the submarine cable to be repaired. Microwave links and satellite links are helpful but cannot fully cater for the level of capacity required to service the country.
e) Capacity building is challenging. With the increased migration of skilled Pacific Island workers, the ability to build capacity with human capital is becoming harder, and more costly.
TMC: What potential benefits in economic and social terms (such as an increase in GDP) would result from advances in digital connectivity in the region? Would the impact vary depending on the country, or would the benefits be equally important overall?
Shally: The potential benefits of advances in digital connectivity in the region would be substantial. During COVID lockdowns we witnessed how important connectivity was to ensuring that education continued, that businesses could operate with remote workers and that the economy could continue to trade. Looking forward, increased connectivity could open up new opportunities for education and employment.
For education, we want to live in a world where children in any classroom on any Pacific Island are afforded access to the same educational tools, content and opportunities as their counterparts in larger cities around the world.
For business and commercial opportunities, we dream of one day seeing someone on a small island in Vanuatu, remotely working for a business in New York.
For the region, we could become the next tech hub, imagine what economic impacts would flow from having a global tech company build a presence right here in the Pacific.
Increased connectivity could enable so much for so many people in the Pacific.
TMC: What technological developments are being planned or deployed in the region – cable, satellite, 4G/ 5G, cloud, and how will each of these contribute to improvements in social and economic connectivity?
Shally: Digicel Pacific is working on many initiatives in the markets where we operate:
4G/LTE: 4 out of our 5 Pacific hub countries have networks that run 100% LTE. Furthermore, we are currently expanding our capacity and coverage of 4G/LTE across these countries.
5G: No regulator has finalised a 5G strategy as yet as most of the countries are still working on connecting the unconnected before a 5G push. That said, Digicel Pacific is always planning ahead.
Cloud: Internally the cloud is used to run our platforms and services, and we offer cloud services to business customers. The appetite for cloud services is rapidly increasing, particularly among corporates and those looking to improve disaster resilience and cyber security.
Fibre: We have been working on domestic Fibre projects in multiple markets and also working with Telstra to see how we can improve international and regional connectivity and resiliency.
TMC: What do you see as the role of mobile operators in terms of promoting ESG and what can the industry do to ensure greater sustainability, both socially and environmentally?
Shally: Mobile operators can play an important role in promoting ESG by developing and implementing corporate sustainability plans that focus on energy efficiency, waste reduction, and other initiatives that reduce their carbon footprint.
While there are many initiatives in progress at present, a bigger ESG plan is being developed. Currently, we are working to measure outputs and develop an ESG framework that is relevant to the Pacific.
To truly be impactful though, ESG initiatives should be done in partnership and collaboration with governments and larger organisations. We would also welcome input and collaboration from our colleagues in other regions, so we can learn from their experience in this field.
TMC: How is digital communication contributing to education and health outcomes in the region? What changes has improved communication brought about, and what are the success stories? What more needs to be done?
Shally: Digital communication has had a very positive impact on education and health outcomes in the region.
Education: A great example comes from 2020 when COVID lockdowns first occurred, Digicel was quick to provide free internet, free access to education sites and Telehealth initiatives across most countries. In most countries, Digicel Pacific also provides additional value for the student segment with tailored plans and solutions to suit their needs and budgets.
Health: Generally, improved communication has allowed for better access to information, resources, and services across the region, allowing for more efficient communication between healthcare professionals and educators. In Fiji, Digicel set up a new teleconference system at the main hospital in Suva. This now makes it possible for doctors to diagnose and make crucial health decisions for patients from outer areas of Suva. This has enabled better coordination of services and improved patient care. In Nauru, we have helped enable virtual consultations, so that patients and medical staff in the country can leverage specialist medical services previously not available.
While digital communication has improved education and health outcomes in the region, there is still much more that needs to be done. While it's narrowing, the digital divide still exists in many areas, meaning that not everyone has access to the same services and resources. Again, we see partnerships as key to successfully driving education and health forward for our region.
TMC: Cyber security and resilience are becoming very important issues in many countries, with cyber incidents growing and impacting customers, in both developed and developing economies. Do you have any proposals or thoughts for how the industry can work together, and with their customers, to reduce these risks?
Shally: Cybersecurity threats are increasing globally and the Pacific is no exception. Recently we've witnessed instances of both private and public sector organisations being impacted.
Digicel Pacific has been working with Telstra and its global partners to strengthen our cybersecurity position to help reduce the risk of unauthorised access to our network. Our priority is to protect our customers' data. We've invested and continue to invest in our security capability. That said, cyber security is a team sport – we are all in this together – we all have a part to play in helping to secure our personal and private data and help protect it from criminals who want to profit from it. No one can be complacent, and no organisation can ever be 100 per cent sure that it is completely protected and safe. Working together with other organisations and educating our people on potential cyber risks is vitally important.
TMC: How important is gender balance and a focus on diversity and inclusion in ensuring that everyone is able to share in the benefits of digital connectivity? Does Digicel Pacific have specific targets for the company and its programs, and special initiatives to promote diversity and inclusion?
Shally: Gender balance and a focus on diversity and inclusion are important to ensure that everyone is able to share in the benefits of digital connectivity. Diverse teams ensure our customer base is represented in the decisions we make and lead to better business outcomes, more innovation and better engagement. Digicel Pacific has specific targets for the company and its programs to help ensure there is balance and diversity within our team.
Some core initiatives include:
Encouraging cultural and gender diversity when filling vacant roles. Our recruitment process provides equal opportunity for anyone who is interested and meets our prerequisite requirements. We always look at how our recruitment process can encourage cultural and gender diversity.
Increasing participation of females in STEM. We are focused on increasing female participation in typically male-dominated roles, particularly in the field of STEM. As an example, in Fiji, we participate in careers fairs to showcase opportunities within the business including technical and IT-related roles. We provide examples of females in the business working in those fields that match student interests. Showcasing females doing well, in typically male- dominated roles, helps to inspire young females to pursue their studies in STEM.
We have a strong representation of females across our business:

44% female employees across our Pacific hubs, with some countries having up to 80% of females in the workforce (Nauru)
In leadership roles, our pacific hubs have a 50/50 split between males and females.
We continually focus on making sure our workforce reflects the diversity of the communities we serve, and we are committed to providing an inclusive work environment for all of our employees.
TMC: Finally, how can the industry as a whole help you to address the challenges you face in connecting the island nations of the Pacific?
Shally: I think the fundamental answer is that we need to work together – supporting each other and learning from our successes, and areas where we can do better so that we can ensure we take best practices to our stakeholder partners in government and in the NGO sector and aid agencies. I am therefore pleased that the GTWN has launched a Call to Action for 2023 for all industry leaders to make overcoming the digital divide a priority for all people around the world. I look forward to working with the GTWN as this project goes forward.
---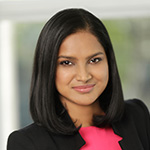 Shally Jannif is the Regional Chief Executive Officer for Digicel Pacific and in her portfolio has management oversight of 5 Pacific markets – Fiji, Samoa, Tonga, Vanuatu and Nauru. She leads a team of approximately 900 staff focused on providing the best telecommunications experience to all customers in the Pacific. Her key pillars are customer-centricity, simplicity in everything Digicel does and digital transformation. An accredited CPA by profession, Shally has spent the better part of her career in the Telecommunications industry in Finance in roles as a Chief Financial Officer, Pacific Hub and Finance Controller in the Fiji business. Recognised by Capacity Magazine in its March 2022 edition in its 20 Women to Watch segment, celebrating notable women across wholesale telecoms and the tech sector. Shally is passionate about staff empowerment, and customer centricity and is deeply committed to helping communities thrive. When not marshalling the team at work, Shally enjoys travelling with her son.