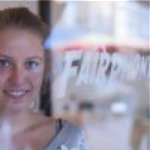 by Bibi Bleekemolen
Impact Development, Fairphone
Fairphone is a social enterprise that is building a movement for fairer electronics. We open up supply chains to understand how things are made and build stronger connections between people and their products.
The Fairphone 2 was were shipped to buyers in December 2015 and aims to shake up the industry and change how people interact with their devices. Its groundbreaking architecture and design make it the very first modular phone to hit the market. This unique design approach extends the life of the phone by focusing on repairability, while at the same time increasing Fairphone's influence over partners and practices within its supply chain. One recent example of the benefits of supplier collaboration is the creation of the first-ever Fairtrade gold supply chain within the electronics industry.
We developed the Fairphone to help us tell a much bigger story. Our phone serves to uncover production systems, address challenging problems and stimulate discussions about what is truly fair. We're making a positive impact across the value chain in mining, design, manufacturing and life cycle, while expanding the market for products that put ethical values first. Together with our community, we are changing the way products are made. Fairphone has over 40 employees with 20 different nationalities and 17 languages spoken. It is 100% independently financed (no donations or venture capital) to preserve our social values. We are supported by an enthusiastic community of Fairphone owners, over 91,000 Facebook fans, over 20,000 Twitter followers and over 45,000 newsletter subscribers. We are based in Amsterdam, the Netherlands.
Fairphone started in 2010 as a project of Waag Society, Action Aid and Schrijf-Schrijf to raise awareness about conflict minerals in consumer electronics and the wars that the mining of these minerals is fueling in the DR Congo. The campaign and related research ran for three years. In 2013, Fairphone was officially established as a social enterprise to help us expand the reach of our goals. By creating a smartphone, we are using commercial strategies to maximize our social impact at every stage of the value chain, from sourcing and production to distribution and recycling.
Fairphone is completely independently financed. We started as a project within Waag Society, a research institute that invests in creative technology projects for social development. At that time, Fairphone received funding from Waag, Stichting Doen and the NCDO (about 300,000 euros over two and a half years).

We also received 10,000 euros as winner of the ASN Bank World Prize. After becoming a social enterprise and working to produce the phone, we received 18,000 euros from Bethnal Green Ventures to participate in a startup boot camp in London and develop our business proposition, plus 400,000 euros in private funding to cover operational costs until the start of pre-orders in May 2013. Since that point in time, our operations have been funded by the sales of our phone, apart from a loan from Rabobank for industrial design and engineering of the Fairphone 2.
We want to source materials that support local economies, not armed militias. We're starting with conflict-free minerals from the DR Congo. We're focusing on longevity and repairability to extend the phone's usable life and give buyers more control over their products. Factory workers deserve safe conditions, fair wages and worker representation. We're working closely with manufacturers that want to invest in employee wellbeing. We're addressing the full lifespan of mobile phones, including use, reuse and safe recycling. We're working to create a new economy with a focus on social values. By operating transparently and sharing the Fairphone story, we're helping consumers make informed decisions about what they buy.
Our starting point was more ethical products in general. We decided to focus on phones simply because they are ubiquitous – nearly everyone owns or frequently uses one. The Fairphone is a storytelling device that provides a useful metaphor for complex, interconnected supply chains. This symbolic product guides our journey as we open up the processes behind production, one step at a time, and work to put social values first. We want to change the relationship that people have with their products and contribute to an economy based on different values. Our phone is just one result of that.
Is Fairphone the first fair mobile phone? In short, the answer is no. Our aim as a social enterprise is to use commercial strategies to create social impact. The Fairphone is still far from "fair", but it's a starting point for our step-by-step journey. There are literally thousands of social and ecological standards that can be improved in the production of smartphones, and we have defined interventions to gradually address some of them. But they can't be overcome all at once, and some things are simply impossible to achieve right now. We want to be completely transparent in all of our achievements, including the areas where we have not yet made progress. Part of our goal is to stimulate discussions about fairness and what it means. As the definition varies from person to person, a 100% fair phone is in fact unachievable. But it is certainly possible to make products fairer than they currently are.
The successful production and sales of the first Fairphone gave us financial foundation we needed to take our ambitions for fairness even further. In 2014, we decided to invest in a completely original design for our new phone, with a specific focus on increasing product longevity and supply chain transparency. This design approach gives us greater oversight of the supply chain, increasing our ability to select (sub)suppliers and build stronger relationships with those that share our goals. We sold 60,000 of the original Fairphones and we're aiming to have 150,000 Fairphone 2 owners in 2016.
Producing the Fairphone 2 is another step to develop the projects we started with the first phone further, including incorporating conflict-free tin and tantalum and financing a worker-controlled welfare fund, as well as contribute to a variety of new projects throughout the value chain. The Fairphone 2's inventive modular architecture gives users more control over their phone, including the ability to easily open and repair the most commonly broken parts. To help it last longer, the phone also features high-quality components and innovations like an integrated protective case.
Fairphone is driving a movement to change the electronics industry from the inside out. By producing a smartphone in a way that puts social and environmental values first, we're starting discussions and stimulating demand for fairer electronics. Our goal is to increase awareness and motivate the entire industry to act more responsibly. We're tackling issues within our supply chain by focusing on four core areas: Mining, Design, Manufacturing and Life Cycle. We're influencing positive change one step at a time by developing various projects in each of these areas.