Keri Gilder, CEO Colt Technology Services
---
A new network architecture (at the edge) is required to power the next stage of digital transformation, connecting a hybrid and geographically distributed workforce.
Colt and Lumen Technologies have entered into an exclusive agreement for the proposed sale of Lumen's EMEA business to Colt to build extraordinary connections for customers.
Networks must also be sustainable, meeting ESG targets; we are working with our partners and our peers to achieve this goal.
My vision for network services is based on the need to be able to provide our customers with extraordinary connections with on demand services at scale, by extending Colt's infrastructure to new geographic markets, boosting the services and capabilities it delivers to enterprises and partners. It is very important to actively listen, and make sure that I'm hearing what's happening within our customers' businesses to understand their end goals, how the network can help them, and shape our services to their needs putting the power of the digital universe in their hands. For that, we offer our customers the best experience possible by carefully choosing our partners. For example, Colt and IBM have launched a joint lab environment to help customers adopt Industry 4.0 technologies in the manufacturing value chain. It will create an environment for customers that will optimise their manufacturing operations performance while enabling the smooth convergence of IT and OT at the network's edge.
Since spring 2020, the COVID-19 pandemic has been accelerating structural challenges and trends that have long faced the telecommunications industry. This pandemic has changed our lives in many ways, and to me, as a network engineer and CEO of a digital infrastructure company one of the main ways it has changed our expectations is by raising customers' demand for access to their digital lives whenever, wherever and however they want. Whereas legacy IT models were built around centralized office locations and secured datacentres, the pandemic lockdowns suddenly meant that there were many millions of geographically distributed workers. This in turn created an unprecedented demand for applications, data and other network resources to be available in a decentralised fashion. It soon became apparent that legacy infrastructure and architectures are insufficient for supporting the real-time access and security demands of next-generation applications and technologies.
Cloud has made data backup, disaster recovery, and business continuity easier and less expensive because data can be mirrored at multiple redundant sites on the cloud provider's network. What cloud has done for compute in terms of cost savings, customer responsiveness and efficiency gains, this new network architecture must now do for connectivity. We provide an On Demand flex model for customers who want to benefit from the full flexibility of the On Demand platform. What we were able to do, because we already had that On Demand infrastructure in place, was actually turn up enterprise circuits in 3 minutes. That's where the remote capability comes into play. We didn't have to roll out trucks. We didn't have to roll out people, but we could enable terabytes of bandwidth on demand within 3 minutes when, where and how our customers needed it.
In terms of networks, it is now all about creating a hyper-scale digital infrastructure service and global connectivity driven by the customer's consumption demands, which will drive how we build out our networks in future.
SASE: A New Architecture
As enterprises have increasingly adopted a software- defined wide area network (SD-WAN), which is a virtualised service that connects and extends enterprise networks over large geographical distances, the complexity of these systems has created a whole new set of network management and security challenges.
Secure Access Service Edge (SASE) is a new architectural framework designed to meet the challenges of the modern distributed enterprise. The SASE framework represents the convergence of several established technologies which aim to merge comprehensive SD- WAN capabilities and network security functions into a unified approach. There is an expectation that the applications and the data that workers require will remain always available, optimised for performance needs, and protected irrespective of where they are connecting from.
SASE was designed with the end user in mind and begins with the idea of zero trust. As long as the user can verify their identification and the connecting device then it doesn't matter where the user is physically located. In this type of environment, a trusted user can only connect to the specific resources they're trying to access and nothing else, which is often enabled by a software-defined perimeter.
And unlike traditional VPN solutions which centralise all of these inspection points, a SASE approach distributes all of these checkpoints across various regions, improving the efficiency of network resources and reducing the latency found in a conventional 'hub and spoke' model.
Ultimately this helps address the complexity of managing these components as separate point solutions that each require their own sets of tools to master. SASE offers a common and centralised cloud-based toolset that improves visibility and control across these systems, which can then be managed and orchestrated in the cloud with policy-setting distributed at the network edge.
SASE provides a range of benefits for organizations with distributed users and applications:
It optimises network and application performance wherever users are based while enhancing access and response times to cloud-based applications;
It leads to significant cost savings to offer on demand, automated services, rather than manual interventions;
It accelerates security deployment and incident response, resulting in cost savings;
It simplifies visibility and control of consolidated networking and security services;
It automates networking functions, allowing you to do more with fewer resources, enabling enterprises to confidently adopt immersive digital experiences across distributed environments.
To continue to provide the best possible networking capabilities to its customers, Colt and Lumen Technologies have entered into an exclusive arrangement for the proposed sale of Lumen's Europe, Middle East and Africa (EMEA) business to Colt for $1.8 billion. This transaction would mark the next chapter in Colt's exciting story of global growth and world-class innovation and will enable Lumen to continue to deliver a seamless experience for its multinational customers with needs in EMEA. Lumen Technologies and Colt envisage the transaction would close as early as late 2023.
Ensuring sustainability
At Colt, we put environmental awareness at the heart of everything we do because we know it's the right thing to do for our planet. That's why we took the ownership to reduce our environmental impact globally and make sustainability a key strategic driver. We started three years ago to review the sustainability of our business, by focussing on the impact on the 3P's – people, planet and process in a program that we called 'Sustainability by design.'
By making sustainability and climate impact a priority for our business, we immediately prioritised efforts to reduce our carbon footprint and increase our social benefit. While efforts to minimise climate impact may not pass a business case (in the traditional sense) we recognised that we also had to take account of other, less immediately tangible factors and costs – including shareholder and stakeholder requirements for ESG compliance, and next generation requirements for more efficient and sustainable ways to do business.
In October 2022, we obtained a Gold rating from world leading sustainability ratings provider, EcoVadis, for our environment, social and governance (ESG) performance, and a B rating from the Carbon Disclosure Project (CDP) for company environmental performance. The long-term strategy of Colt is to create a lean, green and modular network whereby network optimisation is instilled as a continuous discipline.
Our aim is a carbon reduction of 47% by 2030 to meet the ambitious target of limiting temperatures to 1.5 degrees. Our objective is to provide renewable energy power and achieve 75% renewable electricity for all sites globally by 2023. Future savings will be achieved. We will decarbonise our in-house fleet through electrification, and we have committed to a 75% pure electric fleet by 2030, with an interim target of 38% by 2025.
We continue to adopt energy efficient technologies to transform our network infrastructure and data centres of Colt DCS and improve our energy efficiency by reducing emissions by 28%.
In our approach, when we are replacing our equipment with new hardware, we take all these aspects into account to make a difference. For example, at the end of December 2022, we will have all our SDH network equipment (99.99%) removed. It is not only looking at the next generation things, but also looking at our processes in our organisation to see how we can do things in efficient way and how it will enable more sustainable infrastructure in long-term.
In summary, my vision for the network of the future is one where the customer's needs are paramount – both in terms of network architecture and characteristics as well as sustainability and environmental impact. I am working with my peers in the industry to make this vision a reality.
---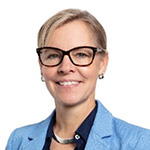 Keri Gilder is the Chief Executive Officer (CEO) at Colt Technology Services since May 2020. She is responsible for executing Colt's strategy which centres around transforming the way the world works through the power of the digital universe.
Before becoming CEO, Keri was Colt's Chief Commercial Officer (CCO), leading global teams across sales, presales and marketing, as well as working closely with the wider organisation to ensure Colt delivered for its customers.
Before joining Colt, Keri held several leadership roles at Ciena but was most recently its Vice President and General Manager EMEA, responsible for guiding Ciena's EMEA service provider and enterprise customers, as well as partners.
Keri is passionate about promoting Inclusion and Diversity to ensure Colt is a business where everyone feels they can bring their true selves to work. In addition, Keri brings this passion to the wider industry as the Chair of the TM Forum's Diversity & Inclusion Council and President of the Global Telecom Women's Network.