WoMARS team members Julie Hartz and Laurène Delsupexhe were interviewed by The Mobile Century
In the last two weeks of October 2021, an all-female crew of 6 scientists, engineers and geologists will begin a 14-day mission under Mars-like conditions. Being one of the few all-female Mars Desert Research Station (MDRS)1 crews, the team believe this is a great opportunity to study the scientific, social, and medical performances of the team. In addition, each member of the team will conduct innovative scientific research related to their own field of expertise and their role as crew member at the MDRS.
Two of the 6 WoMARS team members – Crew Commander Julie Hartz and Crew Engineer Laurène Delsupexhe – share their thoughts on the future role of women in space exploration, as they continue to prepare for their mission. We wanted to understand more about the motivations behind this ambitious project, and what they hope to achieve for women's future involvement in space.
—
"The inspiration for the WoMARS project came about largely by chance", says Laurène Delsupexhe, who is now the Crew Engineer. "I met Marta, a materials engineer working on high temperature coatings for aerospace and space applications, and she encouraged me to get involved in astronaut training. I then set about bringing together a team of highly qualified young women with a variety of science backgrounds to demonstrate that it is possible to have an all-female space crew."
Laurène's first pick to join the team alongside Marta was Julie Hartz, who will take the role of team
Commander. Julie is a geologist who has the special knowledge and skills required to lead a diverse team, and who also has the in-depth knowledge of geoscience required for the project. Together they set about identifying and bringing together the other members of the team, with the aim of covering a broad range of skills and backgrounds, to complement each other.
"We knew it was very important to ensure that we could cover a broad range of science disciplines with direct application to future space exploration", says Julie. "We were therefore very pleased to be able to welcome biologist Paula Peixoto to the team, as both crew biologist and health and safety officer. She has worked in a hospital environment and is highly trained in biological sampling and has a keen interest in helping to achieve the goal of furthering the participation of women in space exploration".
Realising that it would be critical to have team members who could work quickly under pressure, and apply engineering and problem-solving skills to any issues that may arise, the group expanded to include Cristina Reyel, an aerospace engineer who is passionate about all aspects of aerospace design and finding creative solutions to engineering challenges. Rounding out the team is Alice Barthe, an aerospace engineer and data scientist who will have responsibility for earth observational awareness and gathering and curating all of the data that emerges from their time at the MDRS.
"Our motivation is not to prove that that women
alone should be involved in space exploration, and that we do not need to work alongside men", says Julie. "It is to prove to ourselves that we have the skills, and temperaments, to take the lead on important space projects. Women are no longer sidekicks, like they were shown in shows like Star Trek. They can be the commanders, the leaders who are making the key operational decisions."
It is also very important to the team to be role models for younger women who may be hesitant about taking the leap into space related subjects and occupations. "Young girls and women need to understand the breadth of engineering", says Laurène. "I think sometimes women fear that as engineers they will spend their lives in the back office of a manufacturer, never getting out and doing exciting and ground-breaking work in the field. Engineering is such a diverse discipline, and includes specialisations such as bio-engineering, or health related engineering, and of course space engineering. All of these areas offer great opportunities for women to make their mark, and to bring about positive change in the world."
Julie is also keen to show that the WoMARS team is comprised of six different female engineers and scientists, who have all taken a different path to reach the goal of space exploration. "It is important to have an engineering or space background", says Julie, "but of most importance are the human factors that enable the team to work together smoothly and without egos, to achieve our common goal. Above all it is the diversity of culture, background, interests and thought processes which will make this a successful team. Similarly, we need to encourage females of all backgrounds to grasp the opportunities that are now being presented by the future of space exploration, and to work towards achieving their life ambitions through space."
But how does a group of young women prepare themselves for space exploration? What are the key personality traits that are essential and how do you identify and build on those skills and qualities amongst the team? Given the severe restrictions in place across most countries during the COVID-19 pandemic in 2020, the team has not been able to meet in person but has had to rely on meeting via Skype or Zoom. This has added an additional challenge but has also forced them to think very carefully about the sort of training and preparation that they can do during this difficult time.
"We have engaged everyone in team building sessions", says Laurène, "and we have relied heavily on the program set out in British Astronaut Tim Peake's Astronaut Selection Test Book. Surprisingly, the emphasis is not as one would expect on higher level mathematics and science knowledge, but on co-ordination and the ability to work together in an isolated environment as one whole. The personality trait that this training identifies is above all honesty – with oneself and with the other members of the team. So once again, it is the human factors that are important, to ensure success in space exploration."
Julie agrees that, as Commander, she needs to be able to rely on each individual member of the team to put aside her ego, and to work tirelessly towards a common goal. "It is important that we all realise that we are pursuing something that is far more important than our own individual egos. We need to bring our best selves to the task and support each other where we need to."
While even today it is unusual for women to be engineers, let alone space engineers, the members of the WoMARS team are demonstrating that women can take on leadership roles in this most challenging area. For Julie, the role of Commander is new, and requires her to take on much greater responsibility, and to step up to be a leader. "I had never thought of myself in a leadership role", comments Julie. "It is true that my male colleagues would probably never question whether or not they were up to the task – either in this type of role, or else even just setting out to head a new start-up. They never seem to question themselves, whereas all too often, women often doubt their own abilities and may succumb to what has been called 'the imposter syndrome' – never believing that they are good enough."
Laurène agrees but thinks that this could also be an advantage to the team. "We don't take things for granted like others might", she says. "We are very aware that we need to prove ourselves and our ability to lead and carry out this important mission under difficult circumstances. Women often work harder to achieve our goals."
Both women see great opportunities for the future in space exploration and women's role in it.
"In the past it was just the government actors, principally the USA and the USSR who were involved in space exploration", adds Laurène. "Now there are many new private sector players involved, including SpaceX and Lockhead Martin. And many other countries are getting involved in space industries. It is important, in this new space age, that the public, including of course young women as well as men, engage themselves with the issues about the future of space, and what objectives are driving the investment in time and resources that many countries are making now in the space sector. It is important that the exploration of space is undertaken within a framework based on humanity and kindness. Future women leaders in space should, in the words of NZ Prime Minister Jacinda Ardern, be both compassionate and strong."
The WoMars Team Members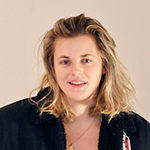 Julie Hartz 
Commander and Geologist
Julie's initial background was in physics and geoscience that she acquired in her home country, Switzerland. After a year spent on travels and internships in marine biology and numerical modelling at the French National Geological Survey, she spent two years in Sydney, Australia, to specialise in geochemistry. Soon after she started her postgraduate degree at Macquarie University, Julie discovered the interdisciplinary field of Astrobiology and decided to dedicate her academic life to the search for life in the Universe. Her ongoing and already awarded research focuses on the traces of microbial life that are preserved in rock samples from Martian analogues.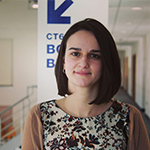 Cristina V. Reynel
Crew Executive Officer
Cristina is an enthusiastic aerospace engineer passionate about all areas of aerospace design. She possesses natural leadership qualities and is an effective relationship builder with strong team-working and problem-solving skills, always trying to create a positive team environment. During her MSc, her group project and thesis were related to the Augmented Reality technology applied to Aircraft Maintenance. Currently she works as an Aerospace Design engineer at Caeli Nova. During her career she has gained essential skills such as how to work with different people and how to promote teamwork.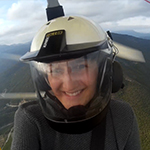 Laurène Delsupexhe
Crew Engineer
Laurène graduated with a Master in Space Transportation Systems (Launchers and Re-Entry Vehicles) from La Sapienza University in Rome. Prior to that, she graduated with a Diplôme d'Ingénieur from Ecole Supérieure d'Ingénieurs Léonard de Vinci in Paris and spent a year at the Politecnico di Milano studying for a Master in Aeronautical Engineering. She completed a 6-month internship at the European Space Agency where she joined the Vega program and worked on the SSMS (Small Spacecraft Mission Service) and Space Rider projects. Laurène is currently working for ArianeSpace, still on her favourite launcher, Vega, more particularly on the code behind the AVUM engine of the rocket's last stage.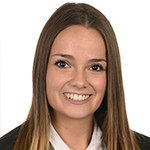 Marta Ferran Marqués
Crew Scientist & Media Officer
Marta graduated in Nanoscience and Nanotechnology from the Autonomous University of Barcelona, Spain. She then completed an MSc in Aerospace Materials at Cranfield University, where she was offered a co-joint PhD position with Sensor Coating Systems Ltd. and Cranfield University. Marta's objective is to understand and improve the Thermal History Coating, a heat-sensitive luminescent coating that can detect and memorize temperatures up to 1'600°C and potentially open up a range of new application opportunities. Marta received a Royal Commission for the Exhibition of 1851 scholarship, awarded annually for a period of three years to "young scientists or engineers of exceptional promise".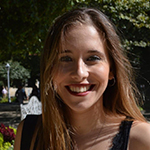 Paula Peixoto
Crew Biologist
Paula Peixoto graduated in 2017 in Nanoscience and Nanotechnology from the Autonomous University of Barcelona, Spain. She decided to pursue a Nanomedical career by completing an MSc in Translational Biomedical Research at Vall d'Hebron Hospital, Spain. Today, she works in the laboratory studying the pathogenesis of immune-mediated neuronal disorders. The main objective of her project is not only to understand how information is long-term encoded in the brain, but also develop an animal model that could help understand several neurological rare disorders.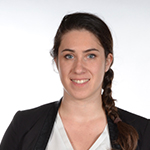 Alice Barthe   
Crew Data Scientist
Alice graduated as an aerospace engineer specialised in applied mathematics from ISAE Supaero in Toulouse. During her gap year she took the opportunity to spend one semester in the space engineering master of Kitakyushu Institute of Technology in Japan and another half year working for a space software start-up in Sydney, Australia. She worked as an R&D engineer in the Guidance Navigation and Control department in the UK, looking into technologies such as H-infinity control, nonlinear guidance techniques, LIDAR signal processing and Simultaneous Localisation and mapping. Alice is currently working for a Space Agency where she is looking at commercial applications for Earth Observation leveraging new digital technologies.
Interview by Vicki MacLeod, Editor-in-Chief of TMC