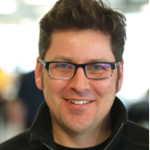 by Guy Pattison
CEO Long Run Works
Twenty years ago, about the same time that the GTWN was being established as a leading group of women in tech, a group of campaigners for women's rights came up with a simple idea to capture a female vision for society.
It was to ask the question "What do you want?" on a postcard. No lists. No prompts. No limits. The founder of The Body Shop chain of cosmetics stores, Anita Roddick (later Dame Anita Roddick), personally backed the campaign as part of her ongoing campaign for various social and environmental issues. The Body Shop distributed the cards along with the Co-op Bank, Cosmopolitan magazine and many others. With complete freedom to say whatever they liked, in their own words, women sent replies from all of the UK and from all parts of society. More than 10,000 women filled out a postcard, giving over 46,000 answers that generated newspaper headlines and debate, from the UN to across the UK in a town hall tour, book and festival.
The responses offered unprecedented insights into women's thoughts, opinions and needs that had a significant impact on the gender debate at the time. The survey also showed that while women may had won so-called equal rights, women were far from having equal influence in society.
March 8, 2016, which is International Women's Day, we are launching What Women Want 2.0 and this time we aim to reach over one million British (and hopefully other) women. 20 years on, we will take advantage of digital technology and social media, to involve as many women as possible in rich and robust debates that make change irresistible here in the UK, before launching globally.
We are using a ground-breaking digital tool called Appgree to generate a level of data and insights that wasn't possible in 1996 and has yet been seen today.
Our aim is to capture and share the insights with businesses, not-for-profit and communities so that they can use the data to help make the changes that we're still waiting for.
Partners already on board range from vInspired and City & Guilds to The Women's Institute and The Fawcett Society.
Over 50 high profile supporters are on board to help us spread the word in the worlds of business, politics, sport, science and culture, ranging from Dame Tanni-Grey Thompson, Justine Roberts and Layla Hussein to Gina Yashere, Maddy Hill and Hayley Atwell.
This not-for-profit campaign is being driven by a collaboration between We Are Women, led by Sue Tibballs OBE, who was part of the team 20 years ago and Long Run Works. They are being supported by a number of inspirational volunteers.
The other major benefit and where this campaign could be truly transformational, is in the data that we can capture and how that can be used to support change. With Appgree, millions of women can share their ideas andreach consensus in a matter of seconds, thanks to their algorithm DemoRank. For me, what's really exciting is that by removing lots of the bias that exists in social media, Appgree starts to deliver some of the promise that digital connectivity holds, and it turns the campaign into a platform for true democratic expression. With the scale and scope of the data that the technology allows us to capture, the findings will also represent a powerful mandate for change. If you are a political party, public authority or issues-led organisation you could have a new level of insights and data that can give you the confidence to change a policy, strategy or activity. If you are a business, this could be an incredible opportunity to gain insights into the needs, wants and desires of women.
So come on, get involved and tell us What Women Want at www.thisiswhatwomenwant.org, through social media or by sending us a postcard.
As CEO of Long Run Works, Guy Pattison sees his mission as bringing together innovation (a new way of doing things) with purpose (having a positive impact on the world) to create powerful new stories and opportunities for change. Long Run Works is about taking a long run view of issues, so his other drive for this campaign is thinking about the world that his two young boys are growing up in. He hopes that this campaign will be a small but significant step in getting everyone – men and women – to listen, take a more balanced perspective and do things differently.