Simay Dimic, Co-Founder, Recontact Games
Once seen as a peripheral part of the digital media and communications industry, the video game sector is fast being recognised as a key driver of economic and social connectivity into the future. Its potential has been clearly demonstrated during the COVID-19 pandemic, where lockdowns and physical isolation have led people to seek new ways to form connections with others. Video gaming has been one of the clear winners out of a very bleak and disastrous period in our human history.
Many in the video gaming sector have been busier than ever since the beginning of the pandemic. In fact, we have felt in some ways that our work in the industry has suddenly become recognised and valued like never before. Working in the production and distribution of video games, I have of course long recognised the potential of the technology to foster and grow social and business connectivity, in contrast to the stereotypes we often see in commentary on the social value of the industry.
As the virus spread and shelter-in-place orders and curfews were put in place, many millions of people became trapped in their homes for weeks and even months at a time, virtual connectivity in all of its forms became a vital tool for both business and society at large. Video games and VR became a means of escaping from the reality of being locked inside four walls day and night. During lockdowns worldwide, many have turned to mobile games as a form of entertainment and diversion. There are now estimated to be 2.6 billion mobile gamers in the world. As well as Netflix Party film viewings, Zoom, Teams and Skype chats, and many other online video and VR applications, video games have enabled many people, some for the first time, to experience the community of online gaming. Gaming over video chat has replaced person to person interaction and has become a social lifeline for many. As a result, the industry is starting to be recognised as a major force in the future of the digital media landscape.
Video games: diverse and transformative
As a game producer my passion and my aim is to make people fully understand that the gaming industry involves and is enriched by many different disciplines and people of many backgrounds. Far from the stereotypes often shown in the media – with the emphasis being on gambling, violence and addiction – the online gaming community encompasses people of all ages, genders, backgrounds, nationalities and outlooks, and is thus arguably one of the most diverse and inclusive sectors in the digital tech sector.
Because of this inherent diversity, I've always believed that video games have a multi-disciplinary power to overcome difference, to change the world and empower the younger generation in the 21st century. Games can generate a world-changing transformative movement. Interactive power through participating in a game arguably provides more visceral insights to the user than either a book or a film can do. Many creators are now using games as a powerful storytelling medium, or as a tool for education and communication of ideas. There is also the growing sector of competitive online video-gaming known as e-sports, which are aired on mainstream US media such as Fox and ESPN, and which are now becoming hybridised with real sports through the involvement of major sports stars as players, online characters and as investors.
The business of gaming
According to estimates in a May 2020 report by industry analytics firm Newzoo1, the global game market was predicted to generate USD 159.3 billion in revenue in 2020. That would equate to 9.3 percent year-over-year growth and mean that the global video games sector is three times as large as the cinema and music industries. In contrast, Disney has reported losses throughout all of 2020, while the movie industry as a whole lost billions in 2020 according to multiple analyses as the shutdowns restricted or closed many sectors of the traditional entertainment and leisure industries. Furthermore, the gaming industry was predicted at the time to surpass USD 200 billion in revenue in 2023. The growth over 2020 may in fact show these to have been under-estimates of the industry's potential, as we anticipate that the market will in fact generate USD 217.9 billion in 2023.
All game segments saw an increase in engagement and revenues as a result of the CoVID-19 measures During the past year, we have seen the biggest growth in mobile gaming, as many internet cafes have been closed during the pandemic and the accessibility of mobile devices and smart phones has been growing around the world. According to Newzoo, mobile gaming will account for USD 77.2 billion in revenue in 2020, an increase of 13.3 percent from 2019. Of the USD 2.7 billion total gamers playing in 2020, 2.6 billion will have been playing on mobile devices. However, only 38 percent of these will pay to play games on mobile, according to the analysis.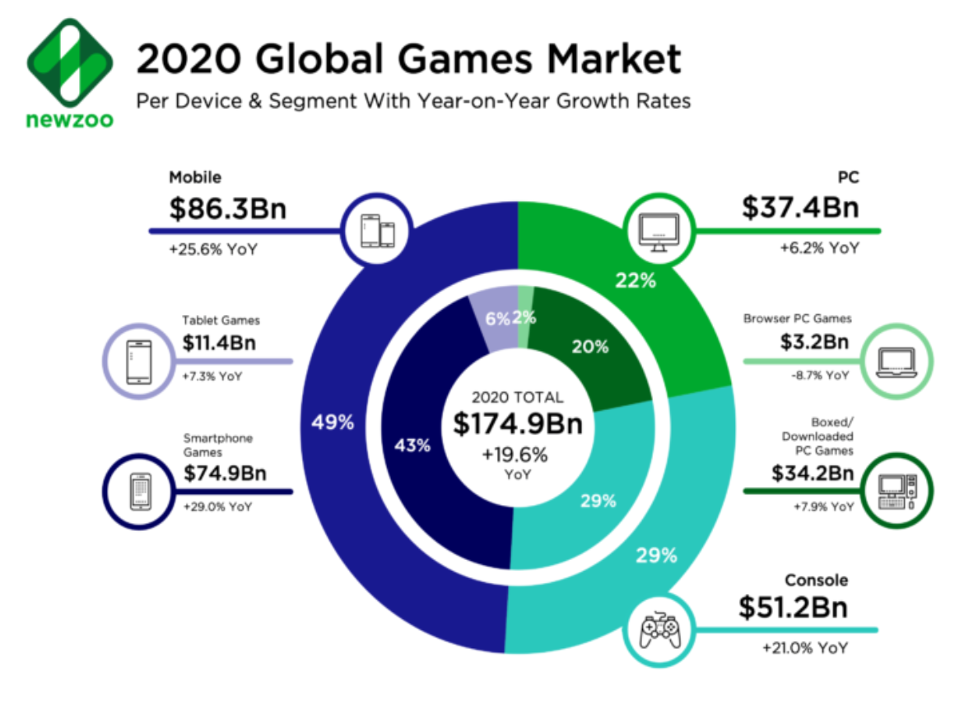 Gamers and gaming are becoming more sophisticated. New era game creations will be differentiated by the evolution of human mobile interaction. Video streaming and 5G will have a key role to play in reimagining the future of gaming, as the technology becomes deployed in a broad range of areas, including healthcare, education, business, entertainment, sports, aged care and of course online conferencing. The technology will also rapidly evolve, through the increasing application of AI, AR and haptic (touch) technologies which will combine to change the consumption habits and preferences of gamers and other users.
Reflecting this potential, the game industry saw an estimated USD 20.5 billion in acquisitions, investments, and IPOs in the first nine months of 2020, according to game investment tracking firm InvestGame. The first three quarters of the year saw 211 gaming deals, 112 platform and tech deals, 89 esports deals, and 25 deals in other categories. Those deals generated USD 15.35 billion in value for gaming companies, USD 3.97 billion for platform and technology companies, USD 685 million for esports companies, and USD 504 million for others.
Mental health and VR
The pandemic has caused a mental health crisis around the world. Lockdowns have led to a new level of anxiety, depression and claustrophobia among the general population of all ages. Doctors are now turning to a contemporary solution – VR. When I talk to neurobiologists who work on VR, they say immersive technology has a unique ability to convey a sense of just 'being there'. What we definitely need in lockdown is a sense of being able to escape to wherever we would like to be. It might be walking in the mountains, being down by the beach, or just simply hanging out with friends, which we can do without even leaving our couch. There are many scientists around the world who have been discovering the surprising health benefits of VR, from treating PTSD, to pain management, to stroke recovery, and to managing dementia and alzheimers".
I believe that in the near future doctors could start prescribing video games and Virtual Reality to treat a range of mental health conditions, instead of just relying on medication. However given this potential, it is a concern that according to technology research firm Omdia, only 26 million consumer headsets2 are owned globally. Once there is more understanding of the range of potential health benefits, we expect this number to increase significantly by the end of 2022.
A new form of playable arts
Our motto at Recontact Games is that we are making playable arts. We aim to build games on the basis of a cinematic experience, applying direct game dynamics, not using the usual multiple choice storytelling model. We are bridging the gap between what were considered separate genres by combining cinema and video games into a new art form through pioneering technologies. Recontact integrates all branches of audiovisual art forms – cinema, photography, video, art, music and literature – all in one game.
Building on our experience and strengths in this area, we are so excited to be releasing an upcoming new game called Recontact:London. This project clearly demonstrates how playable arts are becoming reality. The lead actor in the game is Ross Mullan, who plays the character Whitewalker in the world-famous Game of Thrones television series, and who has also made a name for himself in projects such as Doctor Who and Clash of Titans. The original music which has been composed for Recontact:London is performed by 60 amazing symphonic musicians from a leading orchestra. The action takes place in parts of the British Museum, which was used by the Recontact Team for shooting the key scenes. This combination of genres with real life experience has enabled us to create a unique artistic experience for gamers. We believe this approach represents the future of video gaming.
---
1 https://newzoo.com/insights/articles/newzoo-games-market-numbers–revenues-and-audience-2020-2023
2 https://www.cnbc.com/2020/05/02/coronavirus-could-be-catalyst-to-reinvigorate-virtual-reality-headsets.html
---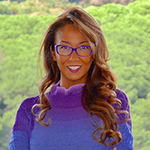 Simay is the co-founder of Recontact Games, an Istanbul & London based brother (Eray Dinc) and sister (Simay Dinc) duo with backgrounds in the film industry in directing & producing. Their expertise in these fields is reflected in their award winning cinematographic mobile game series 'Recontact' which been lauded in the industry for its original content and approach. Simay is an executive board member of OYUNDER, which is a non-profit association founded for the purpose of supporting and representing the Turkish Game Industry as well as the founder of "Women in Games TR" that aims to promote the involvement, as well as the energy and creativity, of women in this industry.