Bridget Cosgrave, GTWN Global President 
Candace Johnson, GTWN Founding President and Member of the Board1
---
Looking towards the future of digital technology, it is timely for the Global Telecom Women's Network (GTWN) to reflect on the contribution of our members to increasing the leadership of women in the sector.
Founded in 1992, by a group of women leaders, the GTWN is something unique, pushing the boundaries for women. The GTWN has followed the trajectory of the industry expanding from telecommunications to everything digital, which is now pervasive in society. When we reflect on the role of women leaders in this journey it is amazing to see how far we have come.
The GTWN inaugural meeting was at the 1992 CeBIT fair in Hanover, Germany with Elke Geising, Dr. Susanne Paech, Janice Hughes, Dr Jessie McLeman, Lillemor Larsson, Susan Dark, Laureen Cook and Candace Johnson. These women were drawn together by a common career in telecommunications where they enabled and witnessed the power of this developing technology to change the world. GTWN founding members were united in a belief that women can achieve great things and wrote their motto up on a blackboard: "The Changing Culture of Communications". Numerous meetings followed, typically on the occasion of industry trade events, in Washington DC, London, Munich and Cologne, with the founding members growing the movement around the world. In 1995, the GTWN was officially registered as a non-profit association at the Cologne Chamber of Commerce and Industry, in Germany. In the same year, we held our first GTWN "Power Breakfast" based on similar events at ITU meetings, organized by one of our early Board members, Walda Roseman.
The inspiration
In the beginning we were inspired by amazing women such as Ambassador Diana Lady Dougan. Ambassador Lady Dougan was a trailblazer as the first woman appointed to many senior industry roles, notably as US Ambassador to the World Administration Radio Conference, head of the U.S. Federal Communications Commission International division, Director of the Corporation for Public Broadcasting, and Non-Executive Director of Qualcomm. Today, Diana devotes her considerable energies to documentary film making about women facing challenges, with tremendous results. In 2018, she shared the Peabody Award as co-producer for the documentary, "The Judge".
Another key figure who helped establish the GTWN was Marie- Monique Steckel, then President of France Telecom USA. Marie-Monique was a pioneer in data-transaction networks and joint ventures amongst industry leaders. Today Marie- Monique continues to embrace cultural exchange between nations as the President of the Alliance Française in the US.
Janice Hughes demonstrated the same qualities in co-founding the GTWN as she did in her world leading strategy companies. Janice brought the newest technologies to the GTWN Board meetings, such as in 1997 when she demonstrated her new mobile phone. Janice was awarded a CBE for her services to UK technology exports, charitable healthcare abroad, and her work with the GTWN. Janice continues to find solutions to new challenges, combining technology with the environment, art and design. She has continued to mentor younger entrepreneurs; for example, the founders of lastminute.com began their careers with Janice before starting their own company.
Walda Roseman, currently Chair of the Arthur C. Clarke Foundation, inspired us, women and men, to go boldy forth and change the world through the power of telecommunications. Walda led the first international communications office of the Federal Communications Commission. She held executive positions with Intelsat and served in many senior executive positions, including as: Director of Public Information and Government Affairs with the former White House Office of Telecommunications Policy; and Chief Operating Officer and Chief Strategic Communication Officer of the Internet Society. Walda created the concept of Women's Breakfasts at the ITU, even before the GTWN's Power Breakfasts. She helped the ITU to rejuvenate its leadership through the International Youth Forum with countries sending one female and one male participant.
As Director of the Cologne Chamber of Commerce and Industry, Elisabeth Slapio was the GTWN's "rock" for more than 25 years. She helped to officially incorporate the GTWN and provided a corporate base. She led our engagement with the Worldwide Chambers of Commerce and their role in the digital transformation of SMEs. Elisabeth is now enjoying her retirement from her position as Managing Director of the Cologne Chamber of Commerce where she led the innovation and environment divisions.
Anne Glover co-founded Amadeus Capital Partners in 1997 with Hermann Hauser and has been a venture capitalist for other thirty years. She has been our guide to understanding innovation and its connection to the world of investment. Anne was appointed as a Non-Executive Director of the Court of the Bank of England in 2018 and in 2019 became a member of the Investment Committee of Yale Corporation, which is responsible for oversight of the Yale University Endowment.
Anne was awarded a CBE in 2006 for services to business and is an honorary fellow of the Royal Academy of Engineering. She has recently been appointed NED of CDC's Investment Committee.
A GTWN Board Member for two decades, Heather Hudson was awarded the prestigious "Pacific Telecommunications Council Richard Barber Award" in 2021 in recognition of her forty years' service to the PTC. Heather is Professor Emerita at the University of San Francisco and Affiliate Professor of Communications Policy and former Director of the Institute of Social and Economic Research (ISER), University of Alaska Anchorage. Heather has planned and evaluated communication projects in more than 50 developing economies, including the Pacific Island nations. She is the author of numerous articles and several books. Her latest book is Connecting Alaskans: Telecommunications in Alaska from Telegraph to Broadband.
Our GTWN Emeriti Board: We also applaud the significant contribution of our many founding members, including Susan Dark, Dr. Jessie McLeman, Dr. Suzanne Paech, Dr. Mina Schachter-Radig, and Elke Geising. Although they have gone on to pursue activities in other sectors, be they energy, water conservation, private equity, the arts, politics or media, they contributed mightily to laying the pillars of our organisation.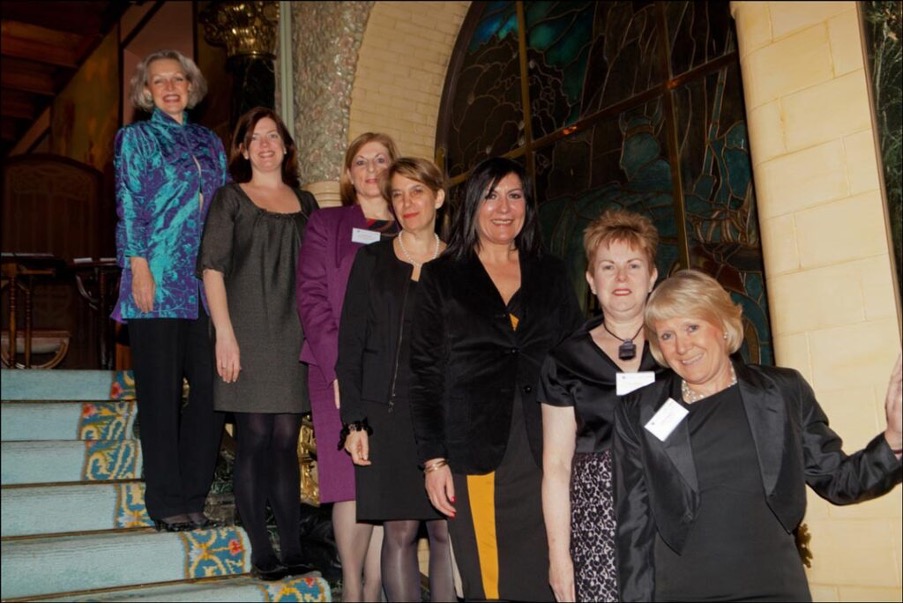 Building our network
Carla Cico was introduced to the GTWN by Janice Hughes. As President of Brazil Telecom, Carla was named by Forbes as one of the 50 Most Powerful Women in Business in 2002 and 2003. Carla has credited being an athlete with helping her promote a corporate culture of discipline, preparation, focus, and teamwork. She went on to become a member of the Board of Alcatel Lucent, Allegion, and to head one of Italy's largest holdings in China. Throughout it all, Carla has continued to be a leader within the GTWN and to show us the way in Governance, Ethics and Sustainability.
Sallye Clark is a space and satellite attorney and partner at Mintz & Levin and is highly regarded for her ability to negotiate market access around the world and is well known for securing host nation authorizations for US military and government satellite ground networks and unmanned aerial vehicles (UAVs). When the US President boards Air Force One, his communications to the world are possible thanks in no small part to Sallye's ground-breaking work.
Laureen Cook was a Director of Satelindo in 1992, bringing telecommunications to the islands of the Pacific, when she joined the GTWN. She became Vice President 4G/LTE Strategy for Alcatel-Lucent, a critical role for that ground- breaking technology. Later, as a senior member at the World Bank IFC Global TMT Team, she was responsible for technical, commercial and financial due diligence of emerging market TMT & satellite investment. Laureen has recently resumed the helm of Extelcon Consulting and is also a BOD member of Rising Tide III, a European Angel Investment Fund, providing financing to female led start-ups.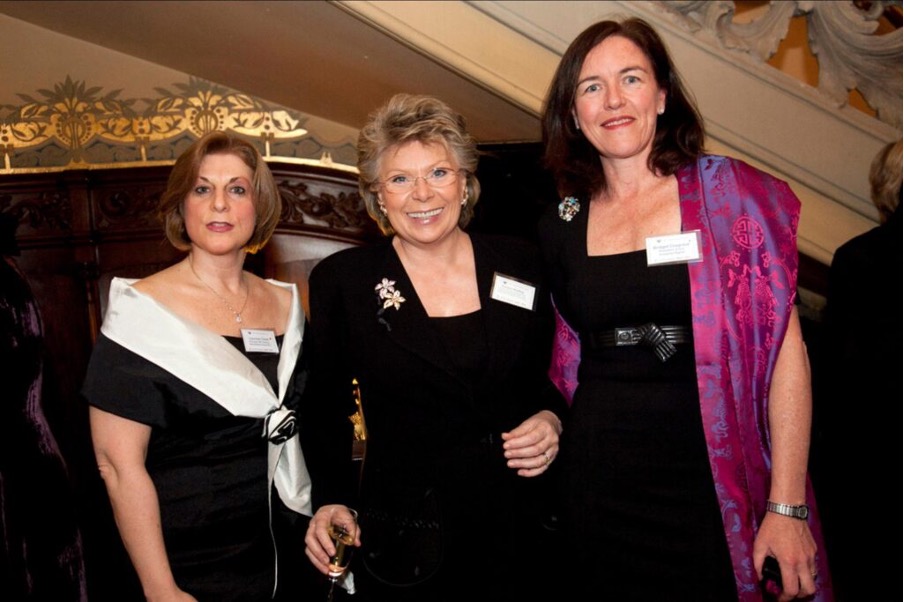 Victoria Hernandez has been a C-Level executive of major telcos such as BT, Orange and Proximus, as well as a Business Angel, Board Member and most recently a Member of the Board of Caixa Bank. Catalonian of origin, resident of France and a global citizen, Victoria pushes the boundaries of the cross-sections of telecoms, investment, fintech and payments. Victoria will always be "Our Woman in Barcelona", calling on her extensive network of high-level contacts, both in her native Spain, in France and abroad, to secure exclusive venues for the GTWN's events.
Sue Major is a global leader in executive search. As an entrepreneur with her epynomous firm Sue finds the best talent for telecommunication companies, Sue is a relentless supporter of women in technology, having two wireless technology patents herself and a prior star-studded career at Motorola. Sue regularly co-sponsors the annual Women in Wireless event at CTIA and GTWN events at Mobile World Congress.
Australia and New Zealand have a champion of broadband and connectivity in Kate McKenzie, our GTWN regional president. Kate has been instrumental in helping to create the commercial and policy frameworks to accelerate broadband network rollouts in both countries as COO of Telstra in Australia and then CEO of Chorus in New Zealand. Today she is a Non- Executive Director of Australia's National Broadband Network (NBN). Kate has been a steadfast supporter of the GTWN and sponsored our 20th Anniversary, our 25th Anniversary and numerous other events together with other colleagues.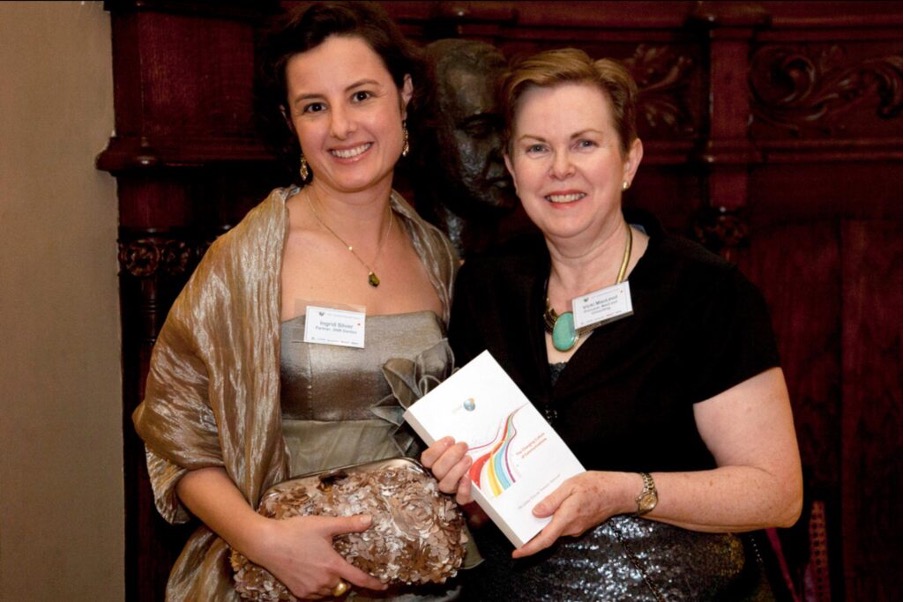 Ingrid Silver (shown above on the left with GTWN Secretary- General Vicki MacLeod at the launch of our 20th Anniversary publication at the Circulo Equestre on 27 February 2012), was our legal and moral conscience for 20 years and our GTWN Regional President Europe for almost as long. She has also been publisher and sponsor of many editions of our GTWN Newsletter, which preceded The Mobile Century, as well as our 20th Anniversary book. A fervent advocate of mentoring the next generation, it was Ingrid who added to our GTWN slogan originally coined by Janice Hughes the words and emphasis "… from Generation to Generation." A native Australian and trilingual in English, French and German, she was our perfect GTWN President Europe, before returning to Australia to become General Counsel at the ABC Australia. Before this, Ingrid was a highly-regarded Partner in the Global Entertainment and Media Group at Reed Smith, providing commercial and regulatory advice to the media and entertainment sector. Ingrid is the only lawyer elected to the global board of the Mobile Ecosystem Forum, the leading industry body. She has been voted by the industry as one of the top 50 women in the mobile sector.
It is no wonder that numerous Asian publications have named the GTWN's Regional President for the Asia Pacific. Myla Vilanueva, amongst Asia's most influential women. As Chair of MDI Group, and through her many companies and start- up investments in the Philippines, Myla has been a driver of disruptive technological transformation and entrepreneurship. She introduced one of the country's earliest broadband wireless companies targeting educational institutions and developed software to enable low-cost access to online content on mobile devices, both start-up ventures that were eventually acquired by telecommunications giant Smart Communications. Myla has hosted numerous GTWN events in Asia Myla is the epitome of what the GTWN aims to achieve – bring about global impact via telecommunications to change the world.
It is thanks to Myla Villanueva that Marge Salem joined us at the GTWN more than 20 years ago. A young team member at the MDI Group, Marge came to support the GTWN. Over the years, Marge has become a sought-after 'Digital Manager' in the Philippines and Asia. Marge has supported all our online and offline publications and to ensure the image of the GTWN remains fresh and always conforming to our core values.
Vicki MacLeod was Executive Director of the International Institute of Communications when she joined the GTWN and became our Secretary General in 1998, a role she continues to this day. She has edited all the GTWN's major publications and is now Editor-in-Chief of The Mobile Century. Vicki is a specialist in innovation and digital transformation with extensive industry and government experience in Australia and internationally. She combines her industry knowledge with her linguistic abilities in German and French, to help the GTWN to be international and globally relevant.
The journey continues
Mosiri Cabezas and Gema Estaban Garrido first began their association with the GTWN in 2014 as colleagues at Telefonica. Mosiri showed early her passion for using digital technology to transform society in a sustainable way. Mosiri left Telefonica to join IKEA as their Chief Digital Officer, where she helped the company through the digital transformation of its business. She now advises on Digital, Innovation, Data Science and Medical Transformation at AstraZeneca. Mosiri has continued her education, at the Harvard Kennedy School of Management and the IE Business School, etc. to always keep ahead of the curve and bring real value to her customers and colleagues.
All of us at the GTWN like to claim that we mentored Gema. Following our meeting in 2014, both she and Mosiri worked hard to enable Telefonica to sponsor the GTWN Welcome Reception at the 2015 GSMA Mobile World Congress. Gema rose quickly through Telefonica, and in 2017 was selected as the Environment, Social and Corporate Governance (ESG) Investor Director for the company. Within three years, Telefonica issued a 1 Bio USD "Green" Bond, establishing them as a global ESG leader. Gema has transitioned from a 'traditional' telecoms executive to a global ESG expert. She is now Global Head of ESG at IG4 Capital.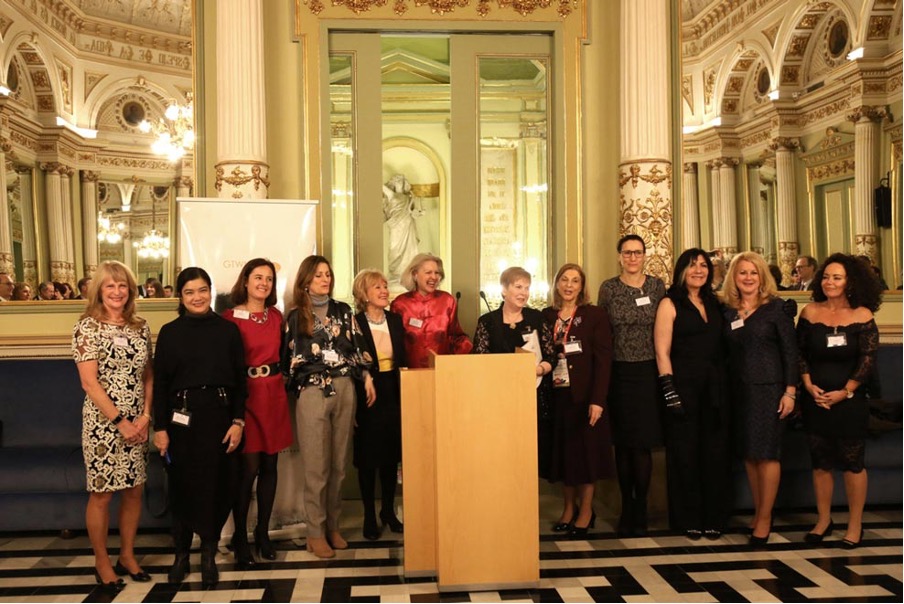 Lucy Lombardi is a technological and innovation guru. For almost 20 years, Lucy has been leading technological innovation for Telecom Italia and has also been an Executive Management Committee Member of the GSMA, together with our President for Asia, Myla Vilanueva. Lucy is now heading up the Subsidiaries Technical Governance in the Telecom Italia CTIO Office. Lucy has always been a firm supporter the GTWN, including hosting events in Rome.
Michele Merrell is our North America President and is active in various regional and global telecommunications companies as a Board Member, an executive, and an advisor. She is a tireless supporter of the GTWN and women's programs at the GSMA. Michele is a true telecommunications professional with broad experience from wholesale and back-bone networks to mobile and satellite. She is a renowned expert on the power of branding, public relations, digital marketing, and influencer engagement.
Julie Meyer burst on to the European scene in 2000 with Ariadne Capital, bringing the "Entrepreneurs Backing Entrepreneurs" model from her native California to Europe. In her various positions at First Tuesday, Entrepreneur Country, and recently Viva Capital, Julie has built global leading technology-enabled firms, financed entrepreneurship and helped founders build and define their industries. She has advised ground-breaking companies including Monitise, a global leader in mobile money, and has backed many explosive growth companies. Julie was awarded an MBE for her services to entrepreneurship in 2012, a rare UK honour for an American citizen.
Laina Raveendran Greene understood the potential for technology to change lives for the better during her extensive travels and looked for innovative business and financing models to enable remote and poor communities to access technology. When Laina started an e-learning company in 1997, she was one of the very first female techpreneurs in Singapore. In 2000, she founded Silicon Valley-based consultancy GETIT Inc, focused on greening the IT and telecom industry, GHG reduction overall. She has since co-founded Angels of Impact, a tech platform which connects women-led social enterprises working on alleviating poverty with consumers, funders and corporates.
As Vice President and General Manager of AT&T Mexico, Cristina Ruiz De Velasco is a true telecoms professional. Cristina was instrumental in facilitating AT&T Mexico's sponsorship of our Welcome Reception at the Mobile World Congress in Barcelona in 2012. Thanks to this generous sponsorship, we were able to hold a memorable event at the world famous Circulo Liceu. Cristina has successfully transitioned from a paging network executive to a senior telecoms executive and General Manager of AT & T Mexico. In so doing she has demonstrated her talent and determination, as a next generation GTWN Board Member, to bring enhanced broadband connectivity and services to her fellow citizens in Mexico.
Ellen Strickland was first introduced to Candace Johnson and the work of the GTWN at an ITU Women's Breakfast organized by Walda Roseman. Ellen was then based in New Zealand working with the Pacific Internet Society. From that chance encounter "OWNSAT – Oceania Women's Network Satellite" was born. OWNSAT is an early stage investor in Kacific, "the Heart of Broadband" bringing High Through-Put Internet to more than 25 Asian Pacific islands. Ellen has also played a leading role in "The Christchurch Call", a response to the two terrorist attacks on the mosques in that city. Travelling with NZ Prime Minister Jacinda Ardern, Ellen joined a senior governmental and industry meeting in France to secure public private cooperation to combat violent extremist online content. Ana Tavares Lattibeaudiere (shown above third from right with GTWN Board Members Michele Merrell, Laureen Cook and Myla Vilanueva and GSMA Director General Mats Granryd), was inducted in 2019 as a 'next generation' Member of the GTWN Board at our annual GTWN Mobile World Congress Welcome Reception at the famous House of Silk. Ana was at the time GSMA Head of North America. What better way to honour Ana and her tireless work at the GSMA and for women in the telecoms world, and to herald the start of Ana's new career advising companies on digital transformation. She is now Executive Director of GlobalPlatform.
Our colleagues and supporters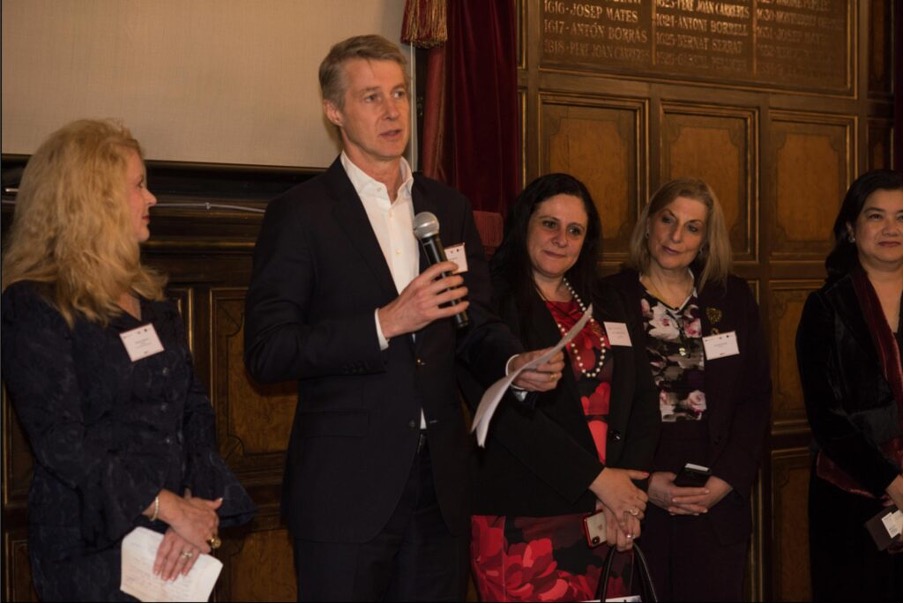 The work of the GTWN in promoting and furthering the role of women in the digital technology sector has been made possible over the years by many organizations and individuals who share our desire to bring about positive change. We are profoundly thankful for the support and encouragement of many women and men at the helms of the world's largest TMT companies and industry organizations, who have supported us in terms of sponsorship, collaboration, and indeed encouragement.
In particular we appreciate the close cooperation we have enjoyed with the GSMA, through the regular participation of the GSMA Board, executive and senior managers in our annual Welcome Reception at the Mobile World Congress in Barcelona. The Director General of the GSMA, Mats Granryd, has been a keynote speaker at many of our events, continuing a tradition which began with his predecessor Anne Bouverot addressing the 20th Anniversary celebration at the Circulo Ecuestre in Barcelona on 27 February 2012).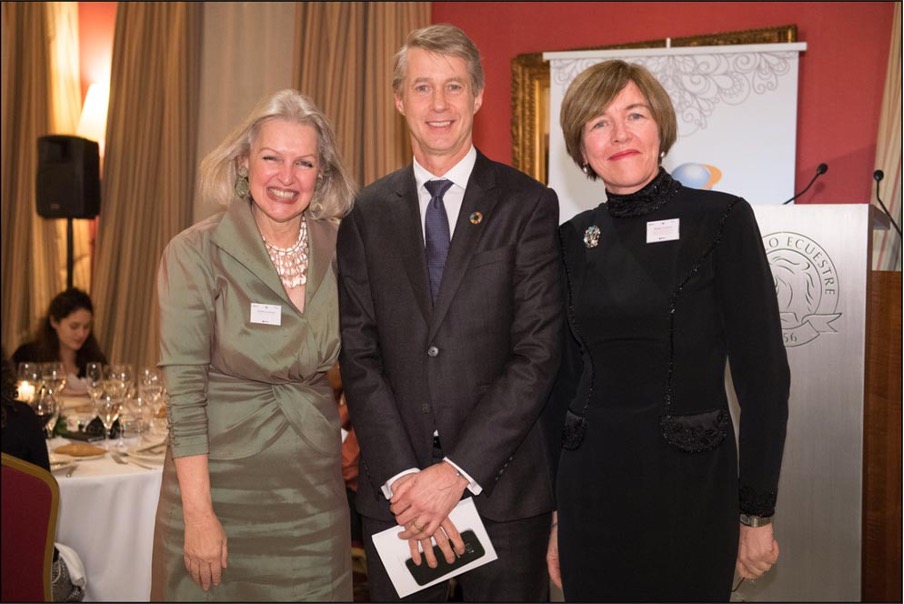 It has been a two-way collaboration, as we have supported the GSMA in its initiatives aimed at furthering the take up of mobile technology in the developing world, including the mWomen program. We have also worked closely with the Connected Women program, developed by then GSMA Senior Memberships Director Vicky Sleight, to encourage more women to develop a career in mobile technology. We continue to support the GSMA in its aims to reduce the gender gap in the mobile industry through the Women4Tech program.
Over the past two years, we have been particularly thankful for the support of CMS, who have sponsored the production of the 2021 and 2022 editions of The Mobile Century and have helped us to adapt to the changing circumstances during the pandemic by hosting online events.
In summary, we can say that the founding and growth of the GTWN has closely tracked the growth and rise of the telecommunications sector to become the backbone of our digital economy and society. From humble beginnings, the GTWN has continued to expand and evolve and has pursued the aim of promoting the role of women in this industry. We can indeed look back on the past three decades with pride and look forward with immense hope for the future.
1 This article first appeared in the 2021 edition of The Mobile Century. It has been updated.
---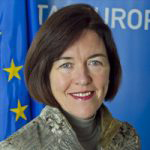 Bridget Cosgrave is a former Founder Chairman & CEO of BICS, Deputy Director of ETSI (European Telecommunications Standards Institute) and Director General of Digital Europe. Bridget is a pioneer in gender diversity in corporate governance serving as non-executive director for numerous for public and private TMT companies. She is currently on the board of Sinch AB, the world leader CPaas provider for customer engagement. Bridget is a co-founder of the Global Board Ready Women, a founding member of Rising Tide Europe angel investment fund, and Oceania Women's Network Satellite (OWNSAT). Bridget has been a frequent host and sponsor of GTWN events and has mentored many young women throughout her career.
---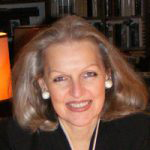 Candace Johnson is a global infrastructure, network and innovation expert and entrepreneur. Currently, she is Vice Chair of NorthStar Earth and Space, the world's first private satellite constellation dedicated to solving two of the most important issues of our time — space debris and climate change. She is also Chair of the Advisory Board of Seraphim Space Capital, the world's largest venture capital fund dedicated to space and space-related ventures. She is co-initiator of SES/ASTRA for which she was named an Officer of the Luxembourg Oak Leaf Crown and architect of SES Global, one of the world's largest satellite systems for which she was named Commander of the Luxembourg Order of Merit.