Renee Lalonde, CEO iTalent Corp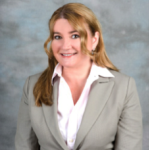 TMC: What lessons have you learned, as a successful female entrepreneur, about the differences between how men and women run their businesses? Do you think that men or women have any particular innate advantages? And how do you see women's role in the tech sector relating to Social Knowledge Management, which you and your business partner, Fred Walters, have pioneered?
Renee Lalonde: iTalent share a common vision of innovation and entrepreneurship in the tech space, and we also believe wholeheartedly in the important role that women can play in this industry.
Women in the tech sector are faced with an environment and a culture that can be very male dominated. In my opinion, and in my experience of discussing this with other women in the industry, most do not want to have to compromise their perspectives and personalities as women, just to succeed in business. And frankly, we do not believe that this is at all what is required now.
As a woman entrepreneur in the tech sector, I learned that to succeed as entrepreneurs, women would have an advantage through their natural capacity to share and collaborate with others. I realized also that in the Knowledge Economy, successful businesses would need to do much better in organizing, discovering, retaining, iterating and sharing their collaborative knowledge. The key message here is the principle that value is what is shared, not just what is known.
Our book, Social Knowledge: Organizational Currencies in the New Knowledge Economy which I co-wrote with Fred, responds to the increasing demand in the enterprise to capture and fully utilize employee generated knowledge assets. We view SKM as a new discipline that businesses will benefit from. Our book aims to help organizations prepare for, and grow in the new Knowledge Economy.
TMC: So, what is the key to success for businesses who want to maximise their opportunities in this new environment?
Renee Lalonde: The key to our approach is that it leads every individual to focus on collaboration and sharing knowledge and experience. Neither women, nor men, can solve all of the challenges before us. We need to recognize each others' talents and strengths, and support each other where we have any areas where we are less experienced. This is what social entrepreneurs do naturally. They share, collaborate and support each other. It is also what I know that the members and supporters of the GTWN do as a matter of course, which is why I support your work.
TMC: Can you give us an example of how this can make a difference to an organisation's culture change journey?
Renee Lalonde: Social Knowledge Management helps our clients unlock valuable collaborative assets that represent the true scope of knowledge management. Our goal is always to rise above the traditional knowledge management solutions to provide specific strategies that enable companies to retain social knowledge as part of their corporate memory. The key is effective communication within connected organizations – something that many companies find challenging. The goal is to increase the intellectual capital created by your employees.
Social knowledge gives you two kinds of very important insights: knowledge of your community, and knowledge about your community. The first is important because it will help you find and develop expertise. The second is important because it will help you wield influence. Effective executives need both. By focussing on collaboration, team work and knowledge sharing, the senior management team can easily identify who is most supportive of the SKM culture – and who may need more support on this journey.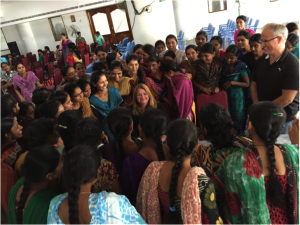 Renee Lalonde and Fred Walters meeting with KITS engineering students after giving a presentation
TMC: One of the challenges of the Knowledge Economy is its global nature. Business leaders are discovering that it is no longer sufficient to become a success in your own particular region. Companies are looking for support in order to reach their customers, wherever in the world they may be. How is iTalent supporting its clients to address the global nature of the Knowledge Economy, and what cultural challenges are you finding?
Renee Lalonde: iTalent is already a global business, with our base in San Jose, California, and already a number of offices around the world in India, China and Europe. We are therefore ideally placed to help our clients to support our clients wherever they are. We find that the key to cultural awareness and acceptance is to look to the role of women, especially in many of the developing markets.
As social entrepreneurs, we are actively promoting the role of women in the technology sector wherever we open an office. For example, we have announced a partnership with Kodada Institute of Technology and Science for Women (KITS) in order to increase gender diversity in the Indian tech sector, and also to support female entrepreneurs in India. This partnership emerged naturally from our recently launched office based in Hyderabad, India, near High Tech City.
KITS was founded by Neela Satyanarayana in 2008, and is the first women's engineering college in the Nalgonda district in India. KITS is affiliated with Jawaharlal Nehru Technological University (JNTU) and offers B.Tech, M.Tech, MBA, and diploma courses. The college's goal is to empower women globally to become industry-ready engineers and architects of change in the world of technology.
The partnership will feature an internship program, through which iTalent India will select female engineering students from KITS to work on technical projects at the company's office in Hyderabad.
Internship candidates will gain real-world experience in a global technology company while preparing as students to enter the workforce. We're offering female engineering students at KITS an opportunity to put their education to use while working with a Western company that supports women in technology. Over time, this partnership could result in a solid talent pipeline for the company while creating job opportunities for top candidates at KITS.
All of us at iTalent are committed to increasing its gender diversity at its India office. I strongly support women in technology, and am committed to bringing more women on board at the company's Hyderabad Development Center.
TMC: Are there any other examples you would like to share with our network, which you see as indicative of how we can better prepare the next generation for the Knowledge Economy?
Renee LaLonde: We have also recently announced a new partnership with Wichita State University's Applied Technology Acceleration Institute (ATAI). ATAI promotes a practical approach to solving complex technology problems. This initiative will give WSU students an opportunity to participate in some of the latest trends in this space and help prepare them for new jobs emerging in the social knowledge and collaboration technology sector. We at iTalent are extremely excited to be working with ATAI, and students, to deliver cutting-edge social solutions that will dramatically enhance the student and partner collaborative experience at WSU, which in turn will be available to be shared within the community at large.
TMC: On behalf of the GTWN I congratulate you, Renee, and your colleagues at iTalent for your foresight and dedication to these goals. We wish you every success, and look forward to updates on your progress in future. Many thanks.
iTalent CEO, Renee La Londe is a successful business and tech entrepreneur, and an inspiration and role model to other young female professionals and entrepreneurs who are either contemplating starting or have already started their own venture. In 2005, Renee left her role in corporate America (as Senior Director @ NetApp) to start her own high tech, IT consulting services company. From bootstrapping to self-sustaining profitability, iTalent is now experiencing explosive growth even against big name consulting companies and has secured partnerships with heavy hitters such as Jive Software, Box, Salesforce, Zendesk and Lithium. Clients include eBay, Cisco, Yahoo, PayPal and LinkedIn. Renee recently won the bronze Stevie Award for Female Entrepreneur of the Year, and participated as an expert speaker on innovation and entrepreneurship at the GSMA Connected Women conference in Atlanta, USA in October 2014. Her business partner, Fred Walters has over 25 years of experience in transformative initiatives in Silicon Valley. Together they recently launched the book Social Knowledge: Organizational Currencies in the New Knowledge Economy. Renee has also been recognized as one of Silicon Valley Business Journal's Women of Influence 2015 and was nominated as a Women 2.0 Founder to Watch. iTalent won the Best in Biz 2014 International Gold Award as Most Innovative Service of the Year.