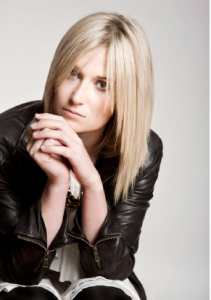 Wearable Experiments is rapidly developing wearable technology that is invisible, waterproof, durable and above all design-focussed.
Young Australian fashion designer, Billie Whitehouse and her business partner, electrical engineer Ben Moir, set up their company, Wearable Experiments (We:Ex) as a socially driven wearable technology company with a mission to bring together fashion and technology with a functional design aesthetic, and use creative problem solving to help us all live well and have a better quality of life.
According to Billie, often in technology design, the human element is missing, especially a more feminine approach which makes the technology more relevant to the needs and wants of women. Until now, a lot of wearable technology has been designed without a design brief – that is, it doesn't answer the question "what problem is this solving", but is tech for its own sake.
Growing up in a family of designers (the Whitehouse Institute of Design), Billie has always focussed on how to make technology invisible to the user. Intimacy, emotions and transparency are important for design, as is making the technology both beautiful and invisible.
The wearable technology market is estimated to be currently worth about $US 12.6 bn; however, there is huge growth potential here, as the industry has missed large chunks of the potential applications of technology, esp as it gets smaller and cheaper.
So far, wearable technology has largely ignored the five human senses, in particular the sense of touch. The skin is the largest organ in the human body, but has not been used for communication.
So how do you design wearable technology for movement? Humans exist in four dimensions – three spatial and one temporal. We need to take all of these dimensions into account. We need to focus on softness and touch as a way to expand wearable tech into areas of more appeal to female consumers, in particular.
Different areas of the body respond differently to touch. For example, the elbow responds to being touched by generating a feeling of empathy with others. That is why waiters in NY, for example, if they want a good tip, will touch the client's elbow (not the shoulder or the hand) as a way to get the customer to feel empathy with and therefore generosity towards the waiter.
The tech sector needs to understand this human interaction more and utilise it as a way to make their products more acceptable and empathetic to the user. We could also use the other senses, including smell, to communicate a holistic experience for the user, rather than just a visual impact.
We:Ex have explored using the other senses in a number of other projects. For example, the Fundawear experiment designed to enable long-distance couples to interact as if in the same room through their smartphones. Also the Alert Shirt, which was designed as a special promotion for Foxtel sports.
The Alert Shirt brings the user experience into alignment with the experience of the actual sportsperson on the field, through haptic feedback. There are a number of large sporting bodies interested now in developing the shirt for training as well as fan use. The key to an innovative business such as We:Ex is to be able to bring something to market very fast – typically in under 3 months. To do this, projects are divided into separate streams and developed in parallel by different teams, so that a delay in one area does not delay the whole project.
Equally important is not to forget the importance of discovery as part of the user experience. We need to delight and make the complex simple, with a sense of humour, to make the new technology more empathetic. At We:Ex the "connected home" is referred to as the "empathetic home" to emphasise the need to focus on the user experience at a human level.
There is an increasing interest in implanted or digestible technology, and several experiments have already been run on this. However, in designing such products, it is important to fully understand the end user in these cases, including the biology of the user, to avoid unintended consequences. For example, some implantables are only usable by people with white skin (as darker skin cannot be penetrated sufficiently by light).
There is enormous potential for growth in the wearable space, in the sport, fashion, and health sector, provided that the needs of the wearer are put foremost, and the design team really focuses on good design principles, rather than just the technology itself.
This article is based on a presentation by Billie Whitehouse and Ben Moir of Wearable Experiments given to Telstra staff in Sydney on 11 December 2014. http://wearableexperiments.com/ 
Wearable Experiments (We:eX) is a socially driven wearable technology company. Their mission is to bring together fashion and technology with a functional design aesthetic, and use creative problem solving to help everyone live well and have a better quality of life.
Billie Whitehouse is the designer of Fundawear , which was the catalyst to Billie founding the company WE:EX [Wearable Experiments]. The Fundawear campaign received a Silver Lion at Cannes Lions International Festival of Creativity.
Ben Moir, Billie's business partner, is a founding member of We:eX with responsibility for technical development and integration of electronics into fashion garments and accessories. He is formally trained as an Electrical Engineer. Ben is the designer of the 'Alert Shirt' – a fan jersey that uses wearable technology to enable fans to feel what the players feel live as it happens during the game; and the Navigate Jacket, which gives consumers their eyes back and removes the screen from their hands.