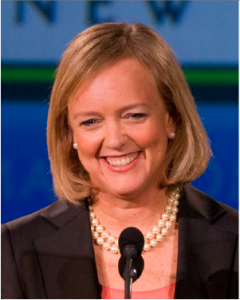 TMC: You surprised the industry and markets in October 2014 by announcing that Hewlett-Packard would be split into two separate entities – Hewlett Packard Enterprise and HP Inc. What do you say to those who have claimed that splitting the company in two will hinder innovation, rather than facilitate it?
Ms Whitman: First, we think that separating is the right thing for our customers, partners and shareholders. We've spent the last three years working to turn Hewlett- Packard around, and we now have the leadership, the go-to-market, the balance sheet, the confidence of our various constituencies and the innovation engine that allows us to separate successfully. Each company will have its own innovation agenda and own ability to fund R&D the way they think is best. We have established a Separation Management Office tasked with driving the process forward, so the rest of the company can focus on their work of addressing our customers' needs and on creating ground-breaking innovations.
TMC: When you became the CEO of Hewlett-Packard in 2011, you were facing the challenge of turning around a 72-year old incumbent in a rapidly changing PC market, as laptops, smartphones and tablets were entering the space. How is this turnaround journey going?
Ms Whitman: I believe that our turnaround journey has been successful so far. We're now in a position of strength and can take advantage of what's happening in the market. We've reignited innovation across Hewlett-Packard. We've fortified our balance sheet. And, we've finally stabilized our revenue trajectory, delivering flat topline revenue for the company on a constant currency basis for the full fiscal year 2014. We were able to deliver this performance while continuing to invest in the critical innovation that will be the foundation of our future. In fiscal 2014, we increased R&D spending by 10 percent over the prior year. We also increased investments in every segment including cloud, infrastructure, 3D printing, and The Machine. I believe we have the strongest portfolio we've had in a decade. The innovation engine is alive and well at Hewlett-Packard, and I expect that our pace of innovation will only accelerate as we progress through 2015 and separate into Hewlett Packard Enterprise and HP Inc.
TMC: How has your experience in previous roles helped you to address the challenges you have faced at Hewlett-Packard?
Ms Whitman: Something I learned when I was at eBay is that it's really hard to kill founder DNA. For Hewlett- Packard, that's a really good thing because innovation and partnership is in our DNA. So, when we started the turnaround, I knew that it was essential for us to pivot back hard to the channel and reinvest more in innovation and engineering. I also learned about the importance of having the right people in the right job at the right time with right attitude. Someone who excels when a company is growing quickly, like in the early eBay days, is not necessarily someone who excels in a turnaround. And to succeed in a turnaround, you absolutely need the have the right leadership in place.
TMC: You obviously believe that clear team leadership is essential for company success. What is your secret formula for success as a leader?
Ms Whitman: I talk about having the will to win with Hewlett- Packard employees a lot. To me, it means executing, communicating, collaborating and being accountable. Things are never going to be perfect. There's always going to be some disadvantage that has to be overcome. But winners don't wait around for perfect conditions. Winners improvise. They fight on and they refuse to lose.
TMC: Turning to one of the biggest innovations facing your industry, how do you see the future of 3D printing and Hewlett-Packard's place in this new market?
Ms Whitman: There is a lot of excitement around 3D printing today, mostly in the consumer space. However, the larger opportunity is for the hyper growth commercial space, and that's where we're focusing. We will transform the printing industry with our 3D printing technology, MultiJet Fusion. We have overcome the barriers of speed, quality, and cost and laid the foundation that will revolutionize industries and change additive manufacturing. MultiJet Fusion allows for functional parts to be printed 10 times faster than the fastest 3D printing technology on the market today, enable the creation of parts that have the combination of robust mechanical properties and precise high-resolution details – all at a lower cost. This is a real game changer and the type of innovation that you should come to expect from us.
TMC: So how do you see 3D printing fitting into the existing Hewlett- Packard printing business?
Ms Whitman: Part of HP Inc.'s strategy includes tapping into our 30 year print expertise to create MultiJet Fusion. With 3D printing, we're leveraging our investments and intellectual property, including more than 5,000 patents from our core. We are focused on disruptive, breakthrough innovation and bringing our vision of a seamless physical and digital world to life with what we call Blended Reality. This is an entirely new concept and vision which enables us to move objects from the physical world to digital, manipulating, mashing and creating something that we can then bring back into the physical world through 3D printing.
TMC: Despite an increasing focus on the important role of women as leaders in business, it is still considered newsworthy to have a female CEO of a tech company. What is Hewlett-Packard doing to ensure that women are more broadly represented in the executive ranks of the company?
Ms Whitman: We have a clear focus on developing and promoting women at all levels. The National Association for Female Executives (NAFE) in the U.S. named Hewlett- Packard as one of the top 50 companies for women executives in 2014. Hewlett-Packard was recognized, in part, for its 18-month Ascend sponsorship program for female VPs and Directors, which emphasizes global job rotations and has shown to increase internal promotions to executive positions. I make it a point to connect with this group at least two or three times during the program. At Hewlett- Packard, the CEO, CFO and lead independent director are women, which is something I've very proud of.
TMC: Many younger employees, in particular women, are seeking out companies and employers who represent a positive set of core values, and who ''walk the talk'' by demonstrating those values in their everyday business. What are HP's corporate values, and how is the company demonstrating them?
Ms Whitman: The HP Way is perhaps one of the most wellknown corporate philosophies. Trust, quality, integrity, teamwork and innovation were all founding principles of Hewlett-Packard. These characteristics are very much part of our culture today because they were instilled in our culture at the very beginning by Bill Hewlett and Dave Packard – they're part of our DNA. In turning around Hewlett-Packard, we found that some of these principles were a little buried. But we've given them a chance to grow again and they are thriving. Especially innovation. The innovation engine is humming at Hewlett-Packard. We've gone to market with some truly transformative innovations and we have some really exciting solutions in the works that I can't wait to share with the world.
TMC: Many thanks for your insights and for your inspiration as a role model for other women in the tech sector.