It may not have been planned that way, but the GTWN was delighted to notice that the 2014 Sir Arthur Clarke Award Ceremony, hosted at The Royal Aeronautical Society in London, UK, on Wednesday 8th October 2014 had a healthy recognition of both men and women who have contributed so much to space, science, and technology. The Sir Arthur Clarke Awards, presented annually since 2005 in cooperation with the UK Space Agency and the British Interplanetary Society, recognize notable or outstanding achievements in, or contributions to, all space activities. Current and Emeritus Board Directors include GTWN International Board Members, the Hon. Diana Lady Dougan and Walda Roseman.
Winners in each category are listed below.
1. Space Achievement – Industry/Project Team This award is for significant or outstanding achievements by a team in all space activities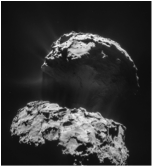 Winner: The European Space Agency (ESA) Management and Design Team for the Rosetta comet-chaser mission.
After 10 years, and a journey of more than six billion kilometres, in November 2014 the Rosetta spacecraft sent its fridge-sized Philae lander down to Comet 67P/Churyumov-Gerasimenko. Philae bounced when it hit the comet and came to rest in an area where it cannot get enough sunlight to recharge its batteries. So, after about 60 hours of experiments, the little lander is now in standby mode, "sleeping". Analysis of Philae's data continues and Rosetta maintains its orbit around the comet, sending back data of its own. Scientists had hoped the mission could help unlock answers about the formation of the Solar System, the origins of water on Earth and perhaps even life itself.
2. Space Achievement – Industry/Project Individual This award is made for significant or outstanding achievements by an individual in all space activities.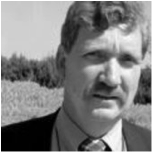 Winner: John Ellwood – Ex European Space Agency
John has made many significant contributions to several major Space programmes. He was ESA's project manager on the Rosetta spacecraft and played a crucial role in the design of the Solar and Heliospheric Observatory, SOHO, launched in 1995. As ESA Project Manager of the first Automated Transfer Vehicle, 'Jules Verne', he saw the first ATV docking with the International Space Station on 3 April 2008.
3. Space Achievement – Academic Study/Research This award is made for significant or outstanding achievements in space research.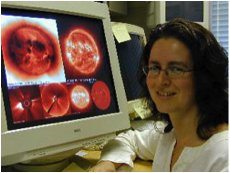 Winner: Professor Louise Harra – The Mullard Space Science Laboratory, University College London.
Professor Harra has been a leading figure in the UK and international exploitation of the Japanese Hinode Satellite. She has both coordinated and encouraged many of the 900 publications that have arisen from the mission and also made very significant personal contributions to the exciting science.
4. Space Achievement – Education and Outreach This award is made for significant or outstanding achievements in space education and outreach.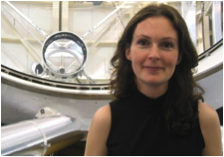 Winner: Dr Lucie Green – Department of Space and Climate Physics, MSSL, University College London.
Lucie has expanded MSSL's outreach programme to give over 7000 people each year direct contact with scientists and engineers through activities tailored for school students, teachers, adult learners and the general public.
5. Space Achievement – Student This award is made for significant or outstanding achievements by an undergraduate or postgraduate student of no more than 28 years of age for any space-related activity.
Winner: The Cranspace Team – Idriss Sisaid, Enrique Garcia Bourne, Edward Anastassacos – Idriss, Enrique and Edward have been exceptionally active and successful in their space-related extracurricular activities whilst on the Cranfield MSc course in Astronautics and Space The team's project website is here: www. cranspace.com and see also a video presentation at http://youtu.be/GLqHgU8tewI on an innovative system for radiation shielding and waste management which attracted the attention of the IAF and the Next Generation Plenary in Toronto in Sept/Oct 2014.
6. Space Achievement – Media, broadcast and written This award is made for significant or outstanding achievements in space media.
Winner: Sarah Barker and Tom Brisley – Arrow Media Sarah (freelance producer) and Tom produced the stunning 'Live From Space' series hosted by Dermot O'Leary in March 2014. Four documentaries were produced in total, for Channel 4 and the National Geographic channel, reaching an audience of millions. Their portrayal of life on board the ISS and Planet Earth was hugely inspirational, educational.
7. Lifetime Achievement: This award is made for exceptional achievement in an area of space activity.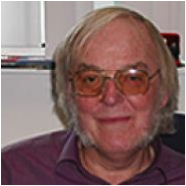 Winner: Colin Pillinger (9 May 1943 – 7 May 2014) – The Open University.
Colin, a renowned planetary scientist, started his career at the beginning of the space age with the analysis of returned Apollo samples. He established a leading research group at Cambridge and then the Open University. Subsequently, he turned his lab-based instruments into space-based ones by virtue of the talented team he had established.
8. International Achievement This award is made for significant or outstanding achievements which either feature or further an important international aspect in an area of space activity.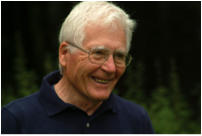 Winner: James Lovelock – Author and proposer of The Gaia Hypothesis, UK.
The choice of James Lovelock for the prestigious International Award by the Arthur C Clarke Foundation brings together the names of Britain's two best known futurists. Like Clarke, Lovelock' s works combine science and imagination in ways which push the boundaries of the impossible to pave the way for progress in fields ranging from outer space to energy conservation.